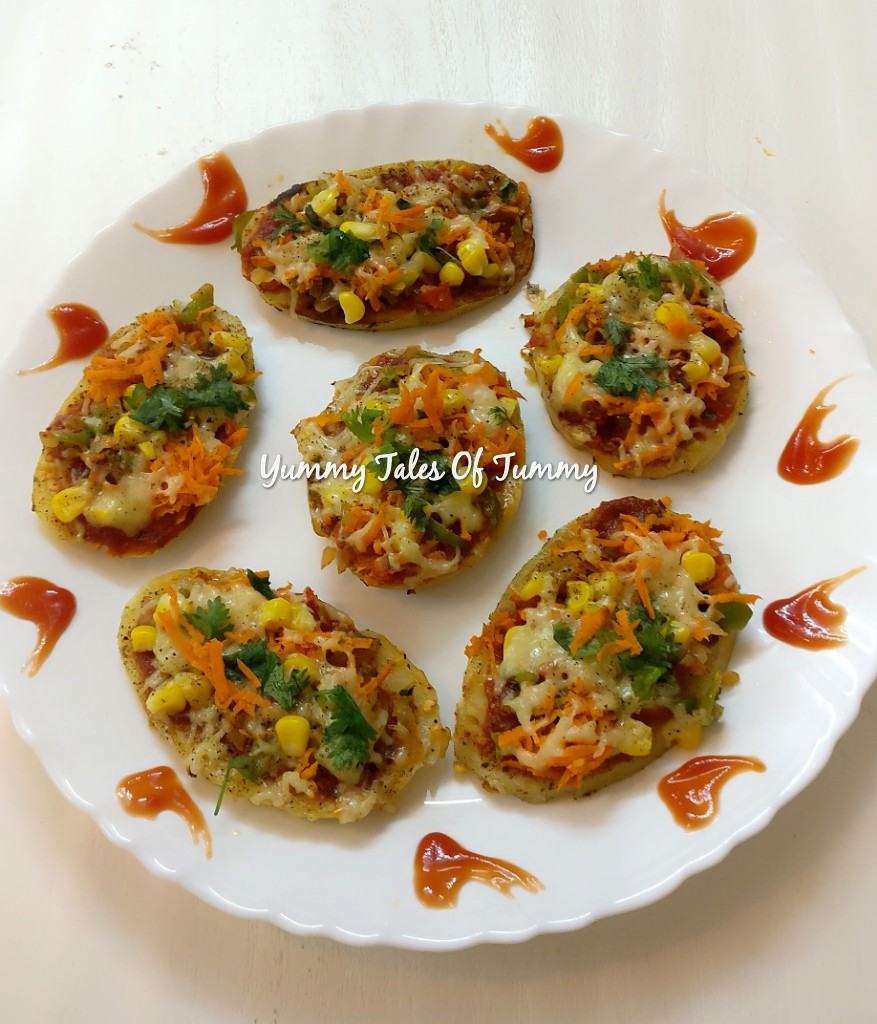 Life cannot be simpler than this!! These mini potato pizzas are surprisingly easy to make and taste delicious. You don't even need to heat up your oven, as these are made in regular pan.
When I hear my favorite word pizza, I usually think tomato cancasse, mozzarella cheese, vegetables and chicken. But after having this pizza at my friend's place, I am converted to a non-traditional pizza lover.
Who doesn't love pizza… if made right it's one of the most comforting and satisfying dishes ever. Potato pizza is very easy to prepare, no need for preparing the dough in advance and it's also gluten-free.
If you're in store for a new type of pizza, something out of the ordinary, yet pure genius at the same time then this is amazing recipe worth trying.
These no flour pizza bites can be another alternative to normal pizza and can be good snacks for kids.
Here we are using potato base as crust which is topped with all pizza toppings and herbs and are easily prepared.
The potato base is really delicious and you can always change the topping for more variety to suit to your family's taste. This potato pizza is great to be served as evening snack.
For variations of toppings you can use chicken tikka or even boiled chicken cut into shreds. When in hurry just apply pizza sauce, place some chopped onions and grate some cheese over it. You can play with variety of toppings according to your imagination.
Prep time : 10 Mins
Cooking time : 10 Mins
Serves 2 Person(s)
For the Base: Potatoes 2 big sized
oregano & chilli flakes 2 tsp
Lemon juice – 2 tsp
Salt to taste
For topping: Carrot grated 1
Green Capsicum finely chopped 1
Finely Chopped Onions – 1
Deseeded & Finely Chopped tomato
Boiled corn kernels 2 spoons
Salt to taste
grated processed cheese 4 tbsp
Pizza sauce as required
Chopped coriander leaves few
Pizza seasoning as required
Method :
Boil the potatoes and when they cool down, peel them and then cut them in thick round slices. Marinate these potato round slices in mixed herbs, salt and lime juice for at least 10 minutes.
On a non stick pan or a tawa, roast potato slices by brushing little oil. Slightly roast from both the sides on low flame.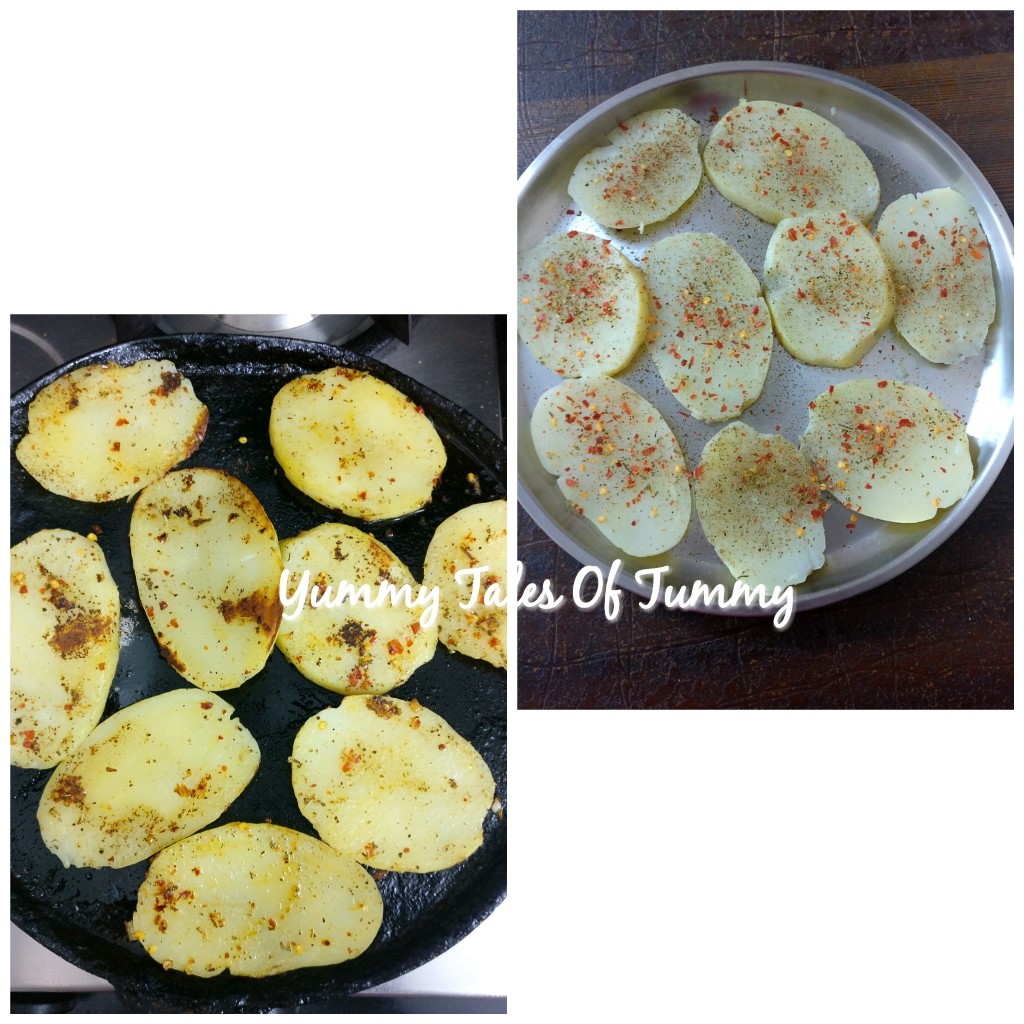 In a separate bowl mix in all the topping ingredients, except cheese. Saute in a pan with little oil till the vegetables are cooked. Lastly add in the pizza sauce.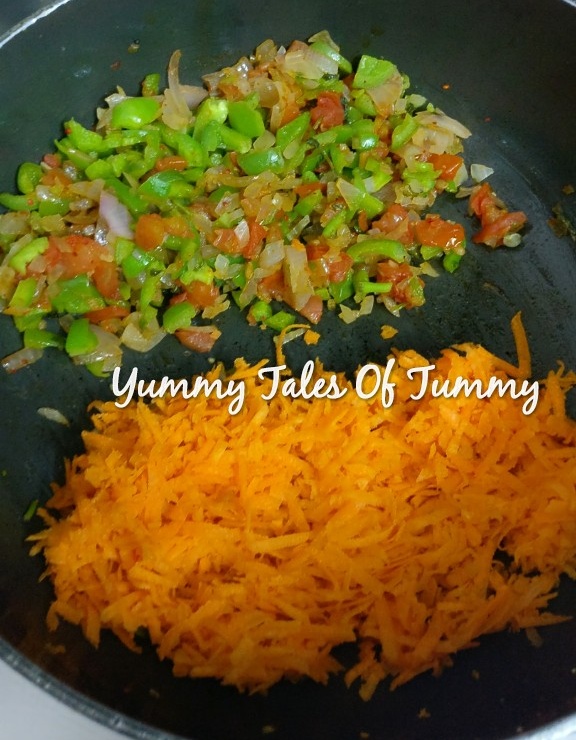 For making the pizza :
Place the topping mixture on the roasted potato round slices, place these in regular pan, cover and cook for 5 minutes. Then uncover it and press the topping with a flat spoon/spatula very gently so that it sticks to the potatoes properly.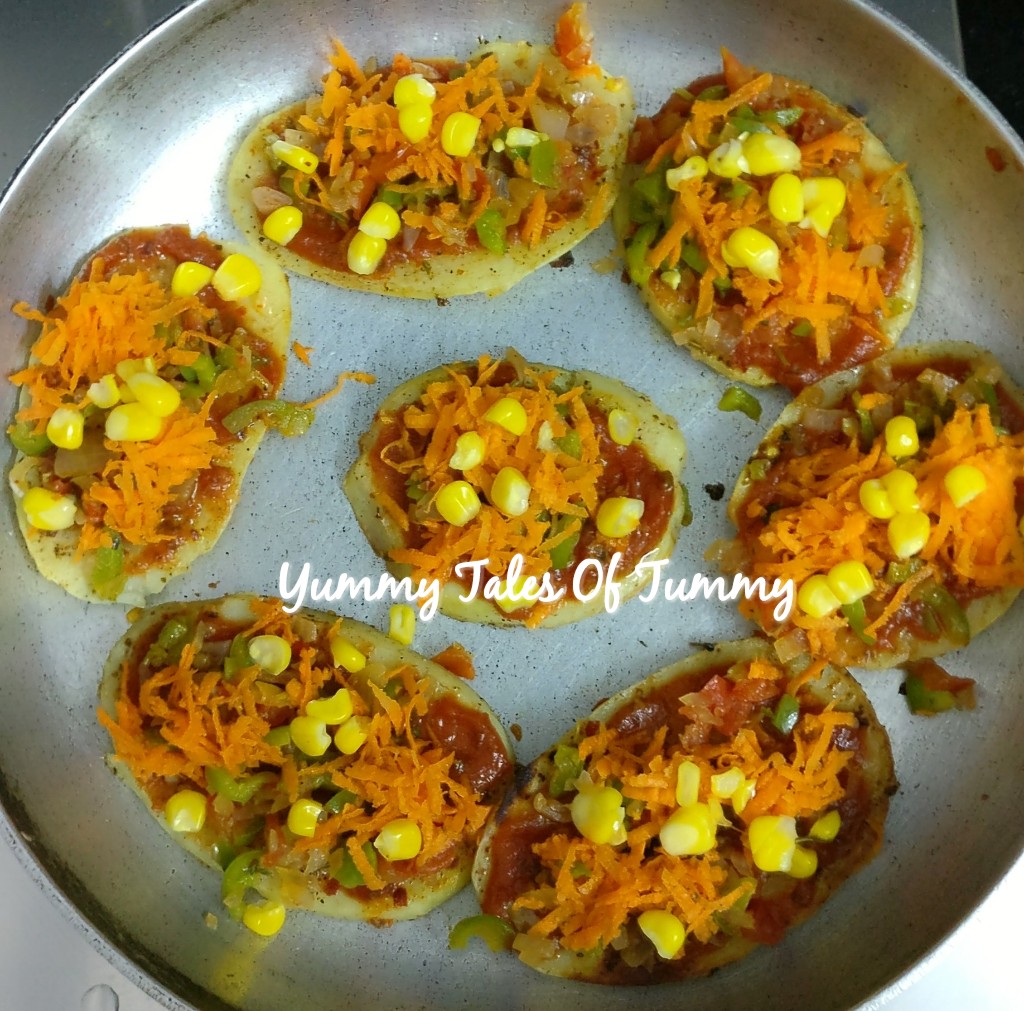 Sprinkle grated cheese on each of them and again cover the pan and cook for 2 minutes or until the cheese melts.
Sprinkle some pizza seasoning over it. Garnish with coriander leaves. It is ready to be served.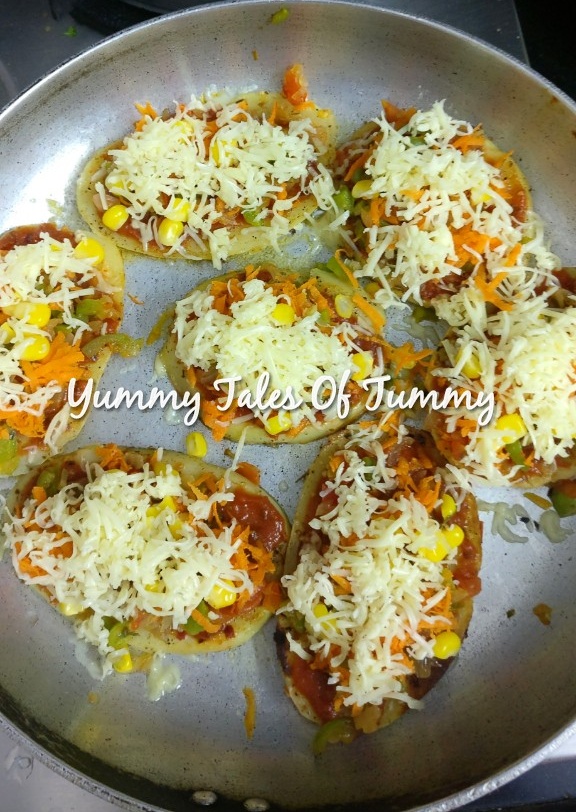 A perfect snack for tiffin or 'shaam ki 4 baje wali chhoti si bhook'.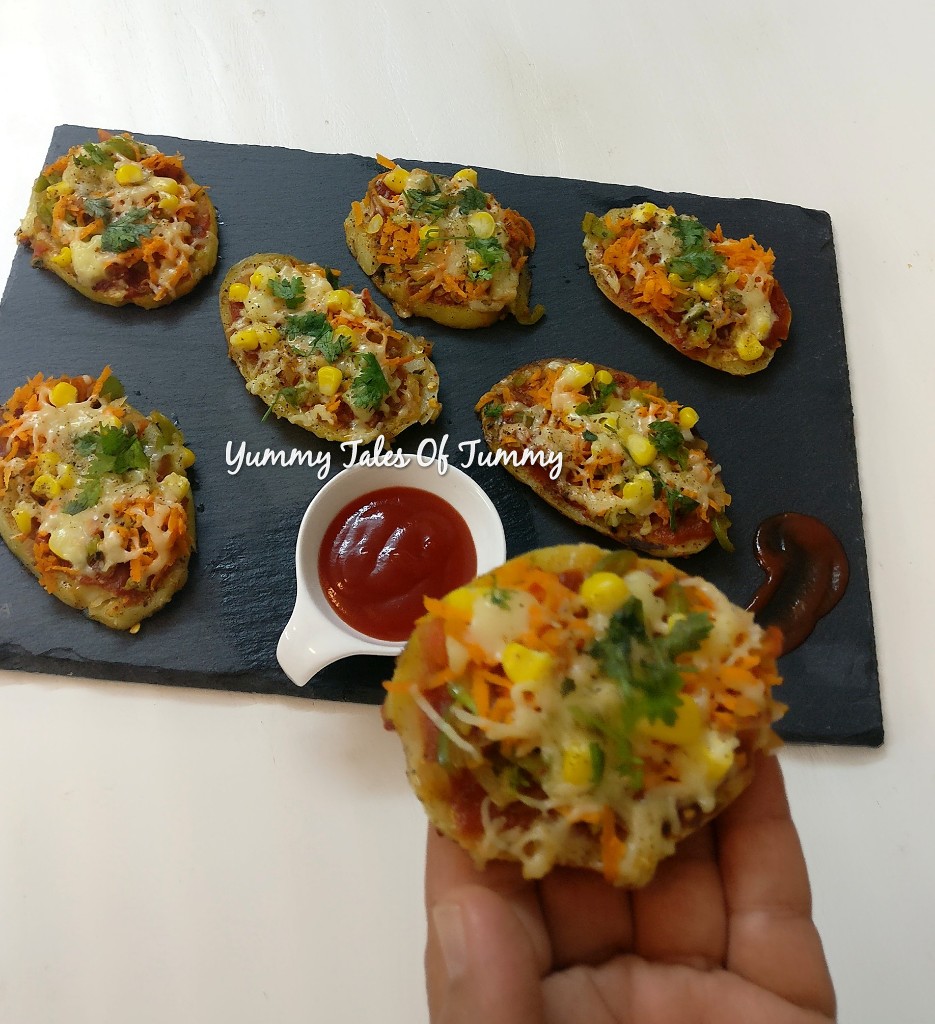 Enjoy !!
Thank you for stopping by my blog, I hope you liked the recipe. Please do share your valuable feedbacks, I love to hear from you all. Happy cooking!
You can now also follow me on Pinterest and Instagram.