Moong/green gram Kebabs

Green gram/ moong  is one of the best vegetarian superfoods that has been praised for its amazing health benefits. It's basically a tiny circular shaped bean that is green in colour.
Sprouted moong dal is a powerhouse of nutrition. They contain abundant enzymes, protein, chlorophyll, vitamins, minerals and amino acids.
It helps in weight control, lowers blood pressure and  is lean source of protein.
My family  loves to eat moong preprations. Be it  parathas or sabzi or in form of tikkis/kebabs.
So this time i decided to make kebabs of moong. And they turned out delicious.
Preparation time : 20 minutes
Cooking time: 10 minutes
Ingredients:
Boiled whole moong around 200 gms ( don't overcook moong, around 2 whistles)
Drain water if any.
Boiled & mashed potatoes 2
Spring onion green part chopped few leaves.
Bread pcs 4 soaked & drained
Garlic & green chilli paste( 8 garlic flakes)
Chaat masala 1 tsp
Salt to taste
Red chilli  powder 1tsp
Lemon juice approx 2 tsp
Onion rings to garnish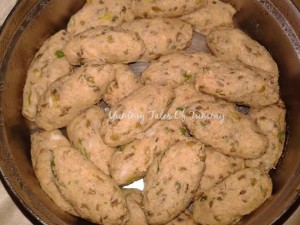 Method:
Soak green gram/moong for 10 minutes in hot  water. Pressure cook it upto 2 whistles. Drain water if any.
In a bowl put boiled moong, boiled potatoes soaked & drained bread pieces and  chopped spring onions greens. Add above mentioned masalas.
Gently mix everything together and give shape of kebabs. You can make round, oval or any shape of your choice.
Keep in fridge for about half an hour.
Take out and deep fry. Serve hot with green chutney or tomato