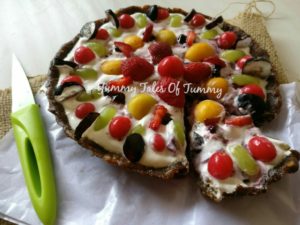 Mix Fruit Pie (No Bake )
What you could probably do with pie other than baking for something new? It clicked to me that why not go for NO BAKE.
The recipe for this delicious and speedy summer pie is very simple. The filling requires no baking, is quick to prepare, and can be varied to suit whatever combination of berries and fruits is in season.
When I think about summer desserts, this pie is always the first thing that pops into my mind. It's indulgent, yet light. It's casual and simple. With just a handful of ingredients, it's a simple dessert that doesn't require any fuss. And more importantly, it doesn't heat up the kitchen.
Other variation which i have dared to change is pie base and using absolutely NO SUGAR.(i have used honey instead )
The base is gluten-free which is made from almonds, cashews, dates, figs & walnuts, which together provide an excellent boost to your helath.
A simple, naturally sweetened mixed fruits & berries pie is gluten free (yipee.. no maida) and full of fibre rich fruits and dried berrries.
Prep Time
20 min
Chilling time
30 minutes
Serves 4
Ingredients to make pie crust
1 cup walnuts
1 cup cashews/ kaju
1/2 cup Almonds /badam
1 cup Anjeer/figs
2 cups pitted dates, roughly chopped
For Whipped Coconut Cream :
1 can coconut milk, refrigerated over night
1/2 cup mascropone cheese
1 tablespoon honey
Berries
1 cup strawberries, fresh
1/2 cup yellow berries fresh
1 cup blueberries dried
1 cup cherries dried
2 tsp honey
Cook all mix berries in a pan. Add honey. Cook till berries soften.
Instructions to make Crust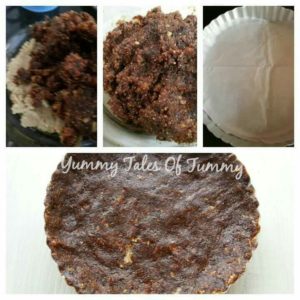 Add the all nuts to a blender and pulse into a coarse meal.
Add the chopped dates & figs/ anjeer to the blender and blend until a dough forms. You may need to stop occasionally to scrape down the sides.
Now add powdered nuts mix well and form a dough.The dough should stick together when you squeeze it together.
Press the crust into a loose base tart tin. If the crust sticks to your hand as you're pressing it into the sides use a small sheet of parchment paper to keep from sticking.
Set in the fridge or freezer to firm up for about 30 minutes.
To make whipped Coconut Cream
Place the coconut milk can in the fridge overnight. It will solidify the cream.
Carefully scoop out the solid cream and place in a metal or glass mixing bowl.
Add mascropone cheese and honey.
Beat the coconut cream on a medium to high speed for a couple of minutes until it becomes whipped and airy.
To assemble :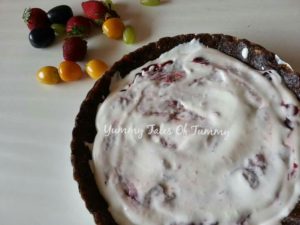 Spread the whipped coconut cream- mascropone cheese mix on the dried fruits, anjeer & dates crust, using the back of a spoon to evenly spread if out.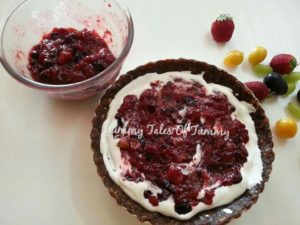 Scatter the cooked berries over the top of the coconut cream in an even layer. Again cover it with whipped cream layer.
Decorate with fresh fruits.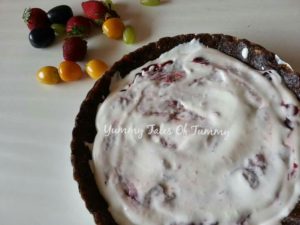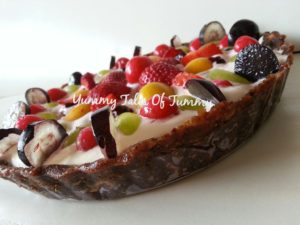 Serve immediately or keep in the fridge until you're ready to enjoy.
Notes :
While fasting you can use hung curd mixed with honey or sugar instead of mascropone cream cheese.
Pin it for later :