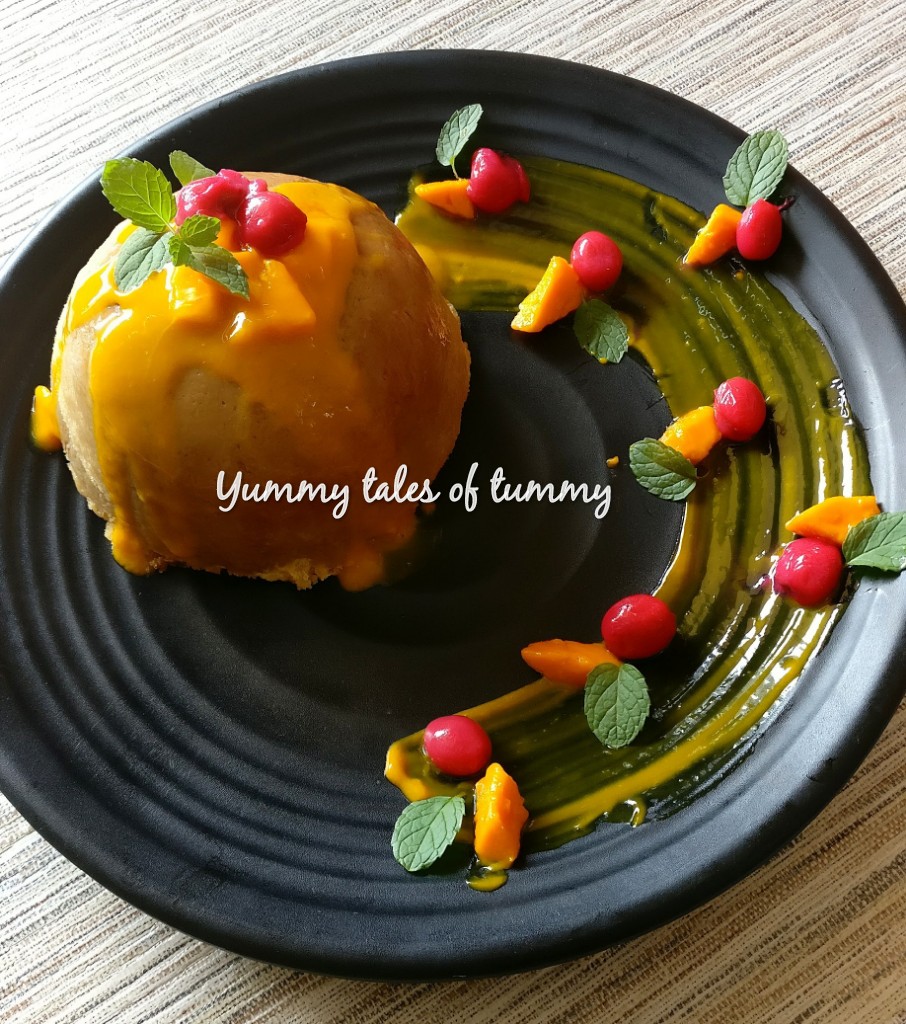 It is not uncommon to wait for the summer season to be able to feast on mangoes. Are you  smelling the sweet aroma of ripe mangoes? For me it's a big YES. My big haul of organic and  direct from the farm Hapoos mangoes, has arrived. My hands are itching to experiment with many recipes with mangoes.
There are umpteen ways to relish this fruit and to turn your meals interesting. So beat the heat, stay cool and energised with a sense of contentment this summer with this comforting and soothing fruit.
There are so many ways to enjoy this fruit. Some ways are fun, some are indulgent and some are healthy. A sliced mango by itself or get creative and brighten up boring meals. Take your pick and have a blast with this delicious fruit.
To begin with, I have made a delicious dessert made with vanilla sponge cake and filling of whipped cream & mangoes. Its shaped like a dome.
This dessert has different textures. The filling is soft, the cake is chewy. The dessert is sweet and balanced with the little tart mangoes.
It has everything you need to keep your taste buds singing with happiness. So are you ready guys 😊
Preparation time  15 minutes
Cook Time             35 miutes
Serves     1
Ingredients to make Mango Dome :
Let's make sponge cake first as this is the base for the dessert :
Sugar 125 gms
Unsalted Butter at room temperature 50 gms
Eggs 4/ or 1 cup buttermilk/condensed milk
Vanilla essence 1 tsp
All Purpose Flour 125 gms
Baking Soda 1 tsp
Baking powder 1 tsp
Salt a pinch
Coconut milk 1 cup or less
Simple Sugar syrup 3 to 4 tsp
Mango puree 1/2 cup
Mango pieces chopped
Whipped Cream 1 cup
Mint leaves to garnish
Canned cherries to garnish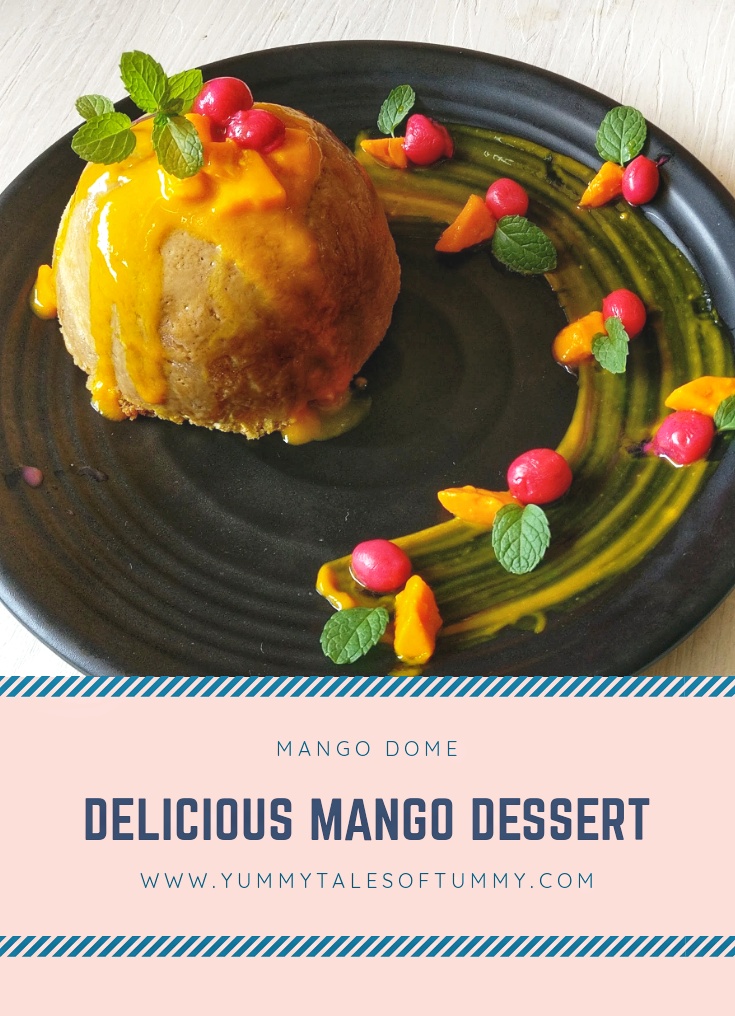 How to make Mango Dome :
To make sponge cake, cream butter, eggs/condensed milk/buttermilk & sugar together.
Add vanilla essence and beat it with hand blender
Add dry ingredients like Maida/APF, baking soda & baking powder.
Add a pinch of salt
Beat again to blend everything together
Next add coconut milk to adjust the consistency
Pour in greased baking pan and tap on kitchen counter few times to remove air bubbles.
Bake in preheated oven at 180 degrees for 35 to 40 minutes
Remove and cool it on wire rack.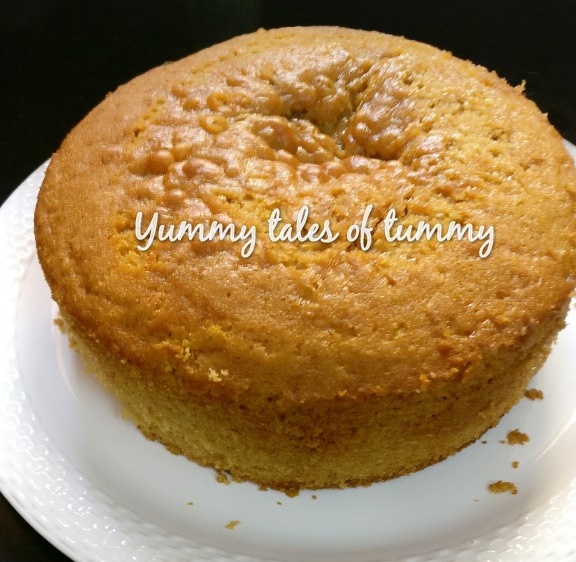 Take a bowl/ steel katori and cut the cake in dome shape. Make 2 semi circle pieces for dome shape. One for upper layer and another for down layer.
Now cover the glass bowl with cling wrap on inner side and let the cling film hang loose.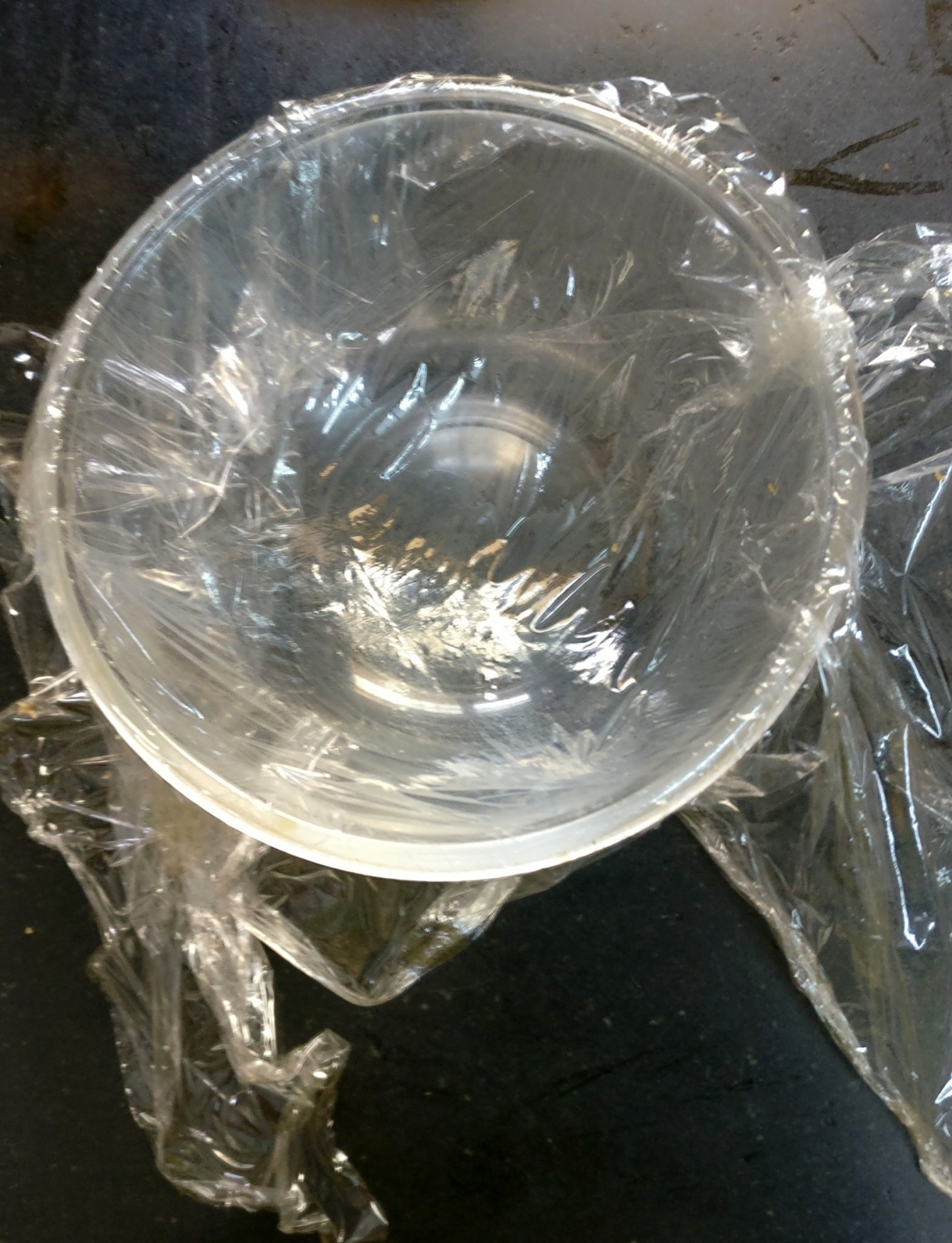 Fill lower part with 1 piece of cake and cover till corner of glass bowl. If necessary, take few crumbs of cake and adjust the shape.
To make simple sugar syrup :
Traditional simple syrup is made from one part water to one part sugar (1:1).
 Heat the water first, before adding the sugar. Heating the sugar and water together won't ruin the syrup — it just takes longer to heat. Once the sugar is dissolved, let the syrup cool. Store it in a glass container in the refrigerator for two to three weeks.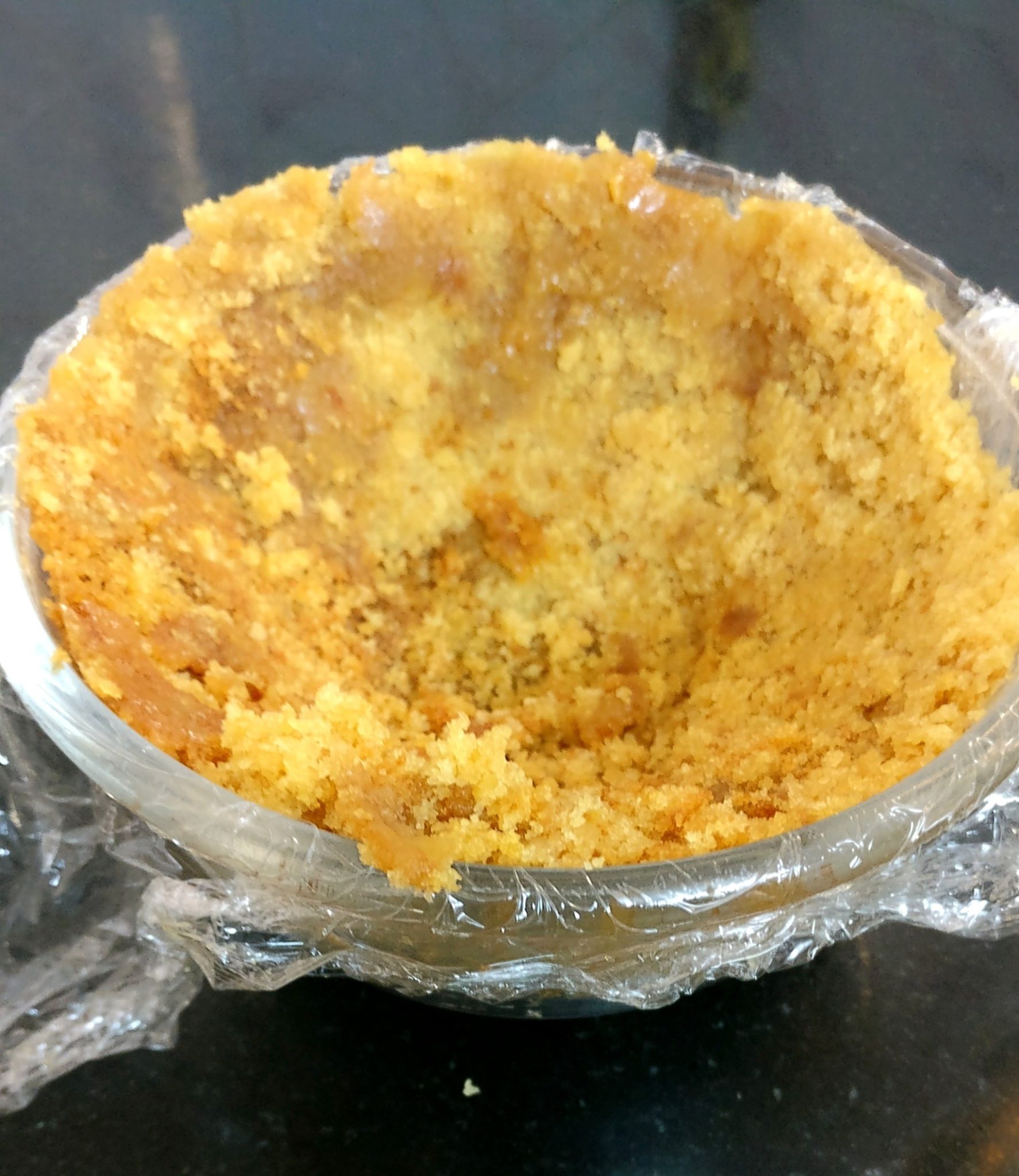 Soak it with simple sugar syrup and press with your fingers to form a shape. Place this in freezer to set for 10 minutes or more
Now make the filling :
Take 1 cup whipped cream and add Mango puree and chopped Mango pieces.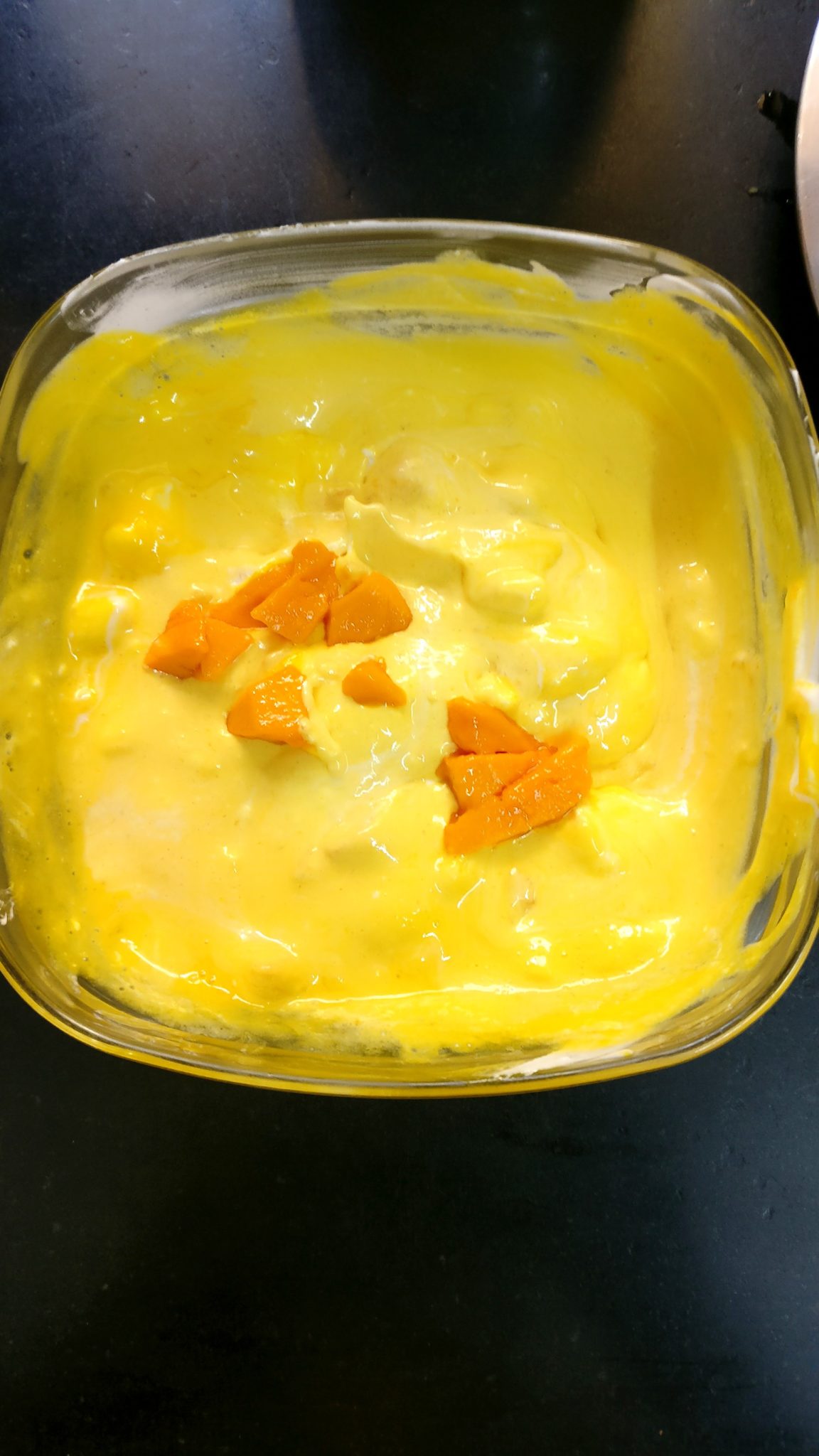 Remove cake bowl from freezer and fill with whipped cream filling till 3/4 of bowl.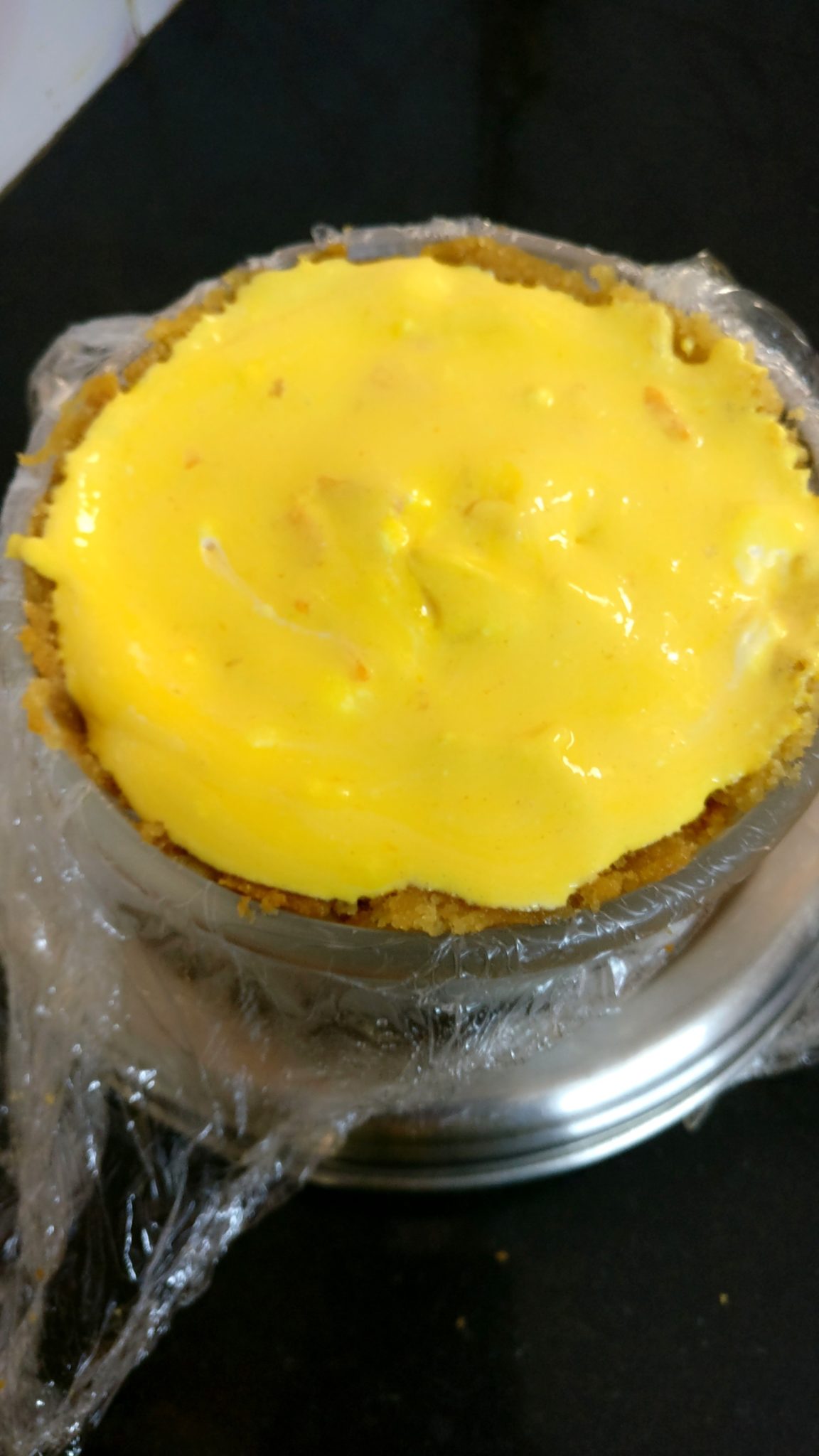 Now cover the top of dome with another half of cake piece. Again soak it with some more sugar syrup. Press lightly with fingers and cover the dome with overhung cling film.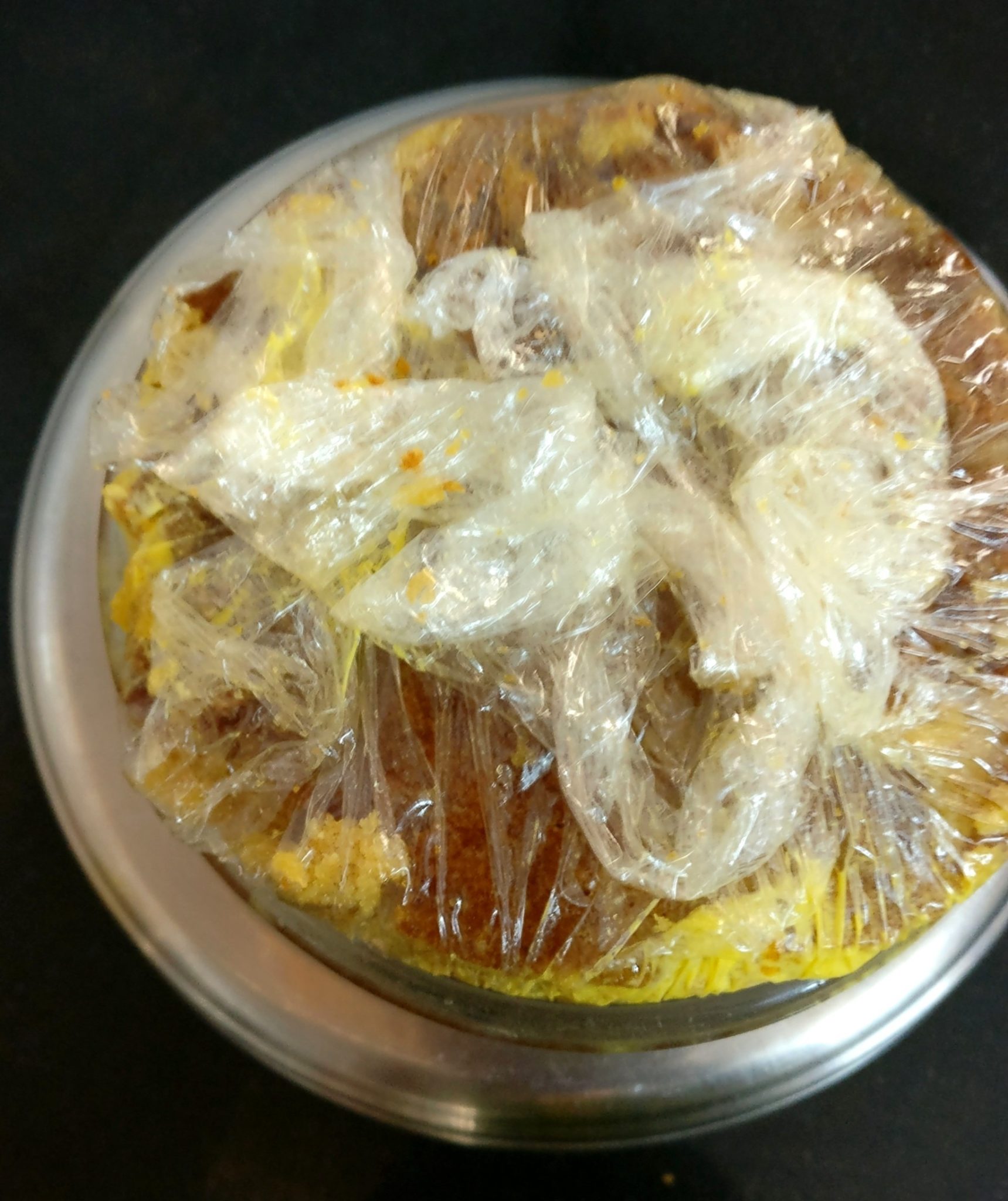 Put this back again in freezer to chill further for few hours. When serving take out and remove the cling film and un mould the dome on to plate.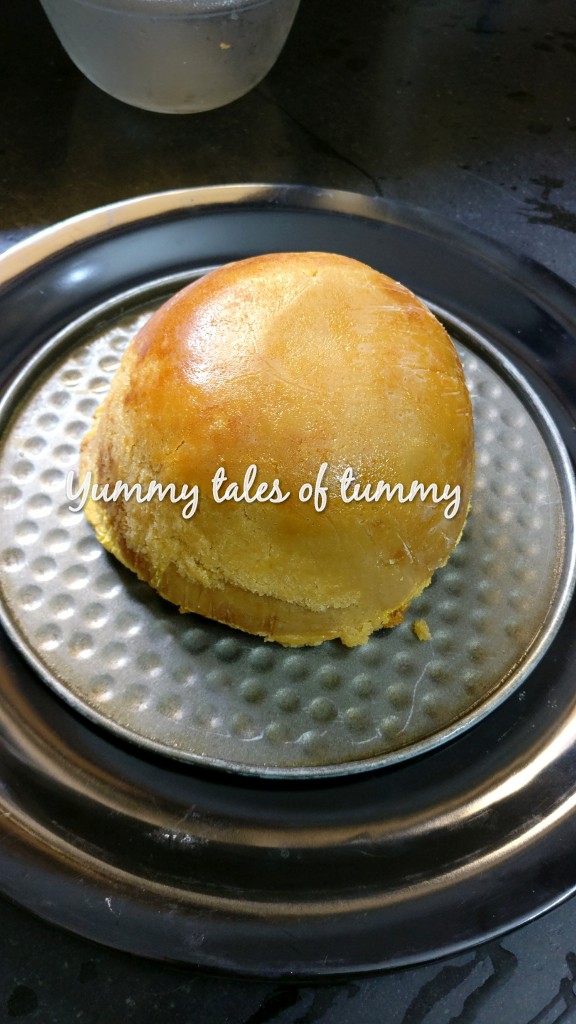 Decorate with Mango puree Nd Mango pieces.Garnish with some mint leaves and canned cherries.
Cut it into pieces and enjoy it chilled.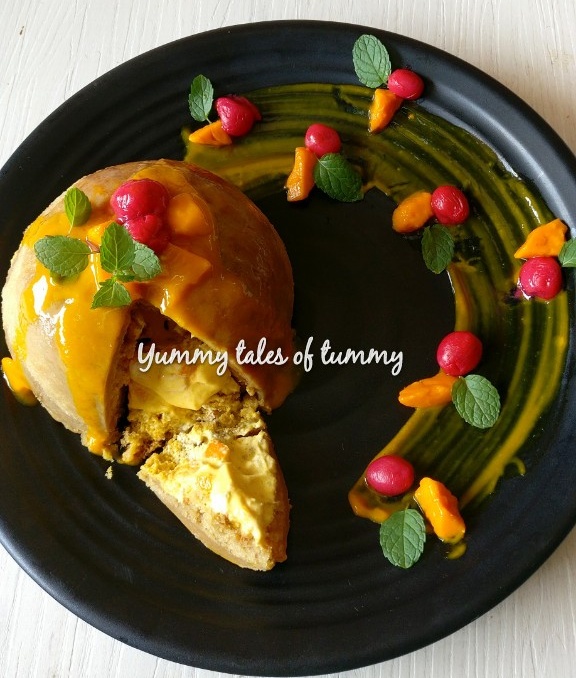 Thank you for stopping by my blog, I hope you liked the recipe. Please do share your valuable feedbacks in the comments section below and give a thumbs up to my Facebook Page. You can now also follow me on Instagram.
I love to hear from you all.
Regards