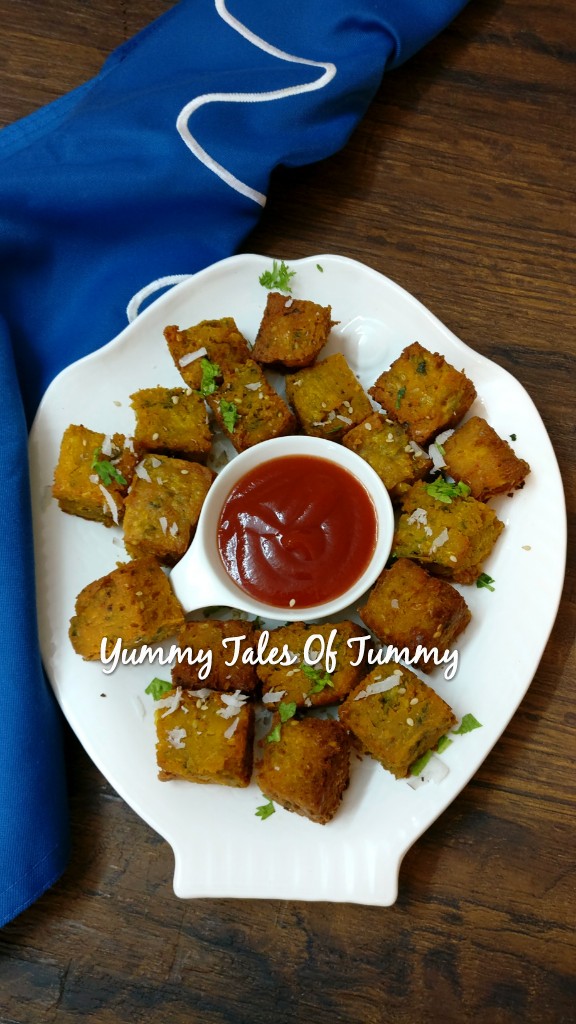 Corn kothimbir vadi is a popular vegetarian maharashtrian snack. Delicious corn and fresh coriander leaves cake which is steamed and then fried or shallow fried until crispy. This is best enjoyed with green chutney or ketchup.
Kothimbir vadi is a wonderful starter snack that is extremely popular among Maharashtrians and often prepared in most Maharashtrian homes served with steaming hot masala tea.
It is an excellent delicious snack from the Maharashrian cuisine made with besan flour (chick peas flour) tempered with cumin, mustard, hing and ajwain for flavouring, spiced with crushed green chillies and lots of kothimbir (freshly chopped coriander leaves) added to form a batter and is steamed and then fried as fritters. This can be served with tomato ketchup or sauce.
This is a quintessential Maharashtra dish which is a made with flavourful herb called kothimbir and this dish truly showcases this ingredient instead of giving it the seemingly superfluous role of only for garnish. The steamed or cooked vadi is perfectly fine for eating on its own (a very tasty and nutritious snack), but is liked when it is shallow fried in oil as it gets crispy edges and takes this snack to a complete new level.
Ingredients to make corn kothimbir vadi :
American corn kernels , crushed 1 cup
Coriander leaves(kothimbir)  1 cup
Gram flour 1 cup
Rice flour 1 TBSP
Ginger chilli paste  1 TBSP
Roasted sesame seeds 1 TSP
Lemon juice 1 TSP
Turmeric powder 1 TSP
Asafoetida 1/4 TSP
Soda Bi carb 1/4 TSP
Salt to taste
Oil for frying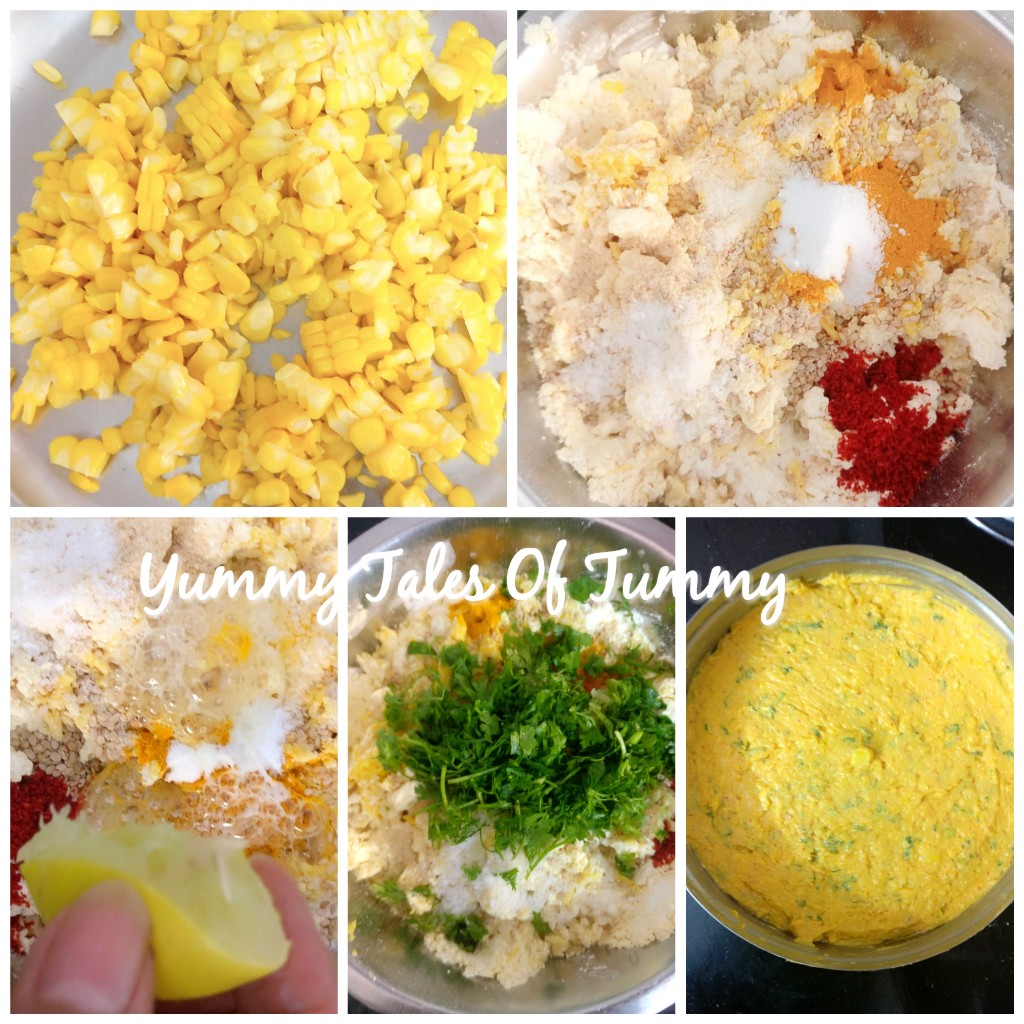 Method :
1)Take the crushed American corn kernels, finely chopped coriander/dhania/kothimbir and add the besan/gram flour, then the chawal ka atta/ rice flour, turmeric/ haldi, garlic paste, the ginger chilli paste, lemon juice, sesame seeds, asafoetida and some salt as per your taste, mix everything in
2)Once everything is mixed in add little water at a time and make a thick batter like dosa batter, which should be of pouring consistency. Make sure there are no lumps.
3) Now into baking soda add 1 tsp of water and mix it in and then add this soda water to the corn batter and mix vigorously going in one direction.
4)Now take any deep dish and coat is evenly with some oil, make sure all that every inch of this plate is coated.
5)And now pour batter in the dish and keep aside.
6)Now in a big cooker/ steamer/ kadai and add some water and to that, keep a stand in the center and now simply wait for the water to come to a boil.
7)And once that happens place this dish on top of the stand and cover the lid and cook it for the next 20 -25 minutes on high flame.
8)After 25 minutes remove the lid and to pierce a toothpick in the steamed plate and if nothing sticks to the toothpick that means that the batter is nicely steamed.
9)Now  wait for the next 10 minutes for it to come down to room temperature.
10)And then cut it. If you cut it while it's still hot then it will start crumbling.
11)After 10 minutes the steamed kothimbir vadi cake should be at room temperature, so you can start cutting it.
12)So first using a knife make vertical cuts and then horizontal cuts giving it square shape.
13)Now run the knife around the corner as well.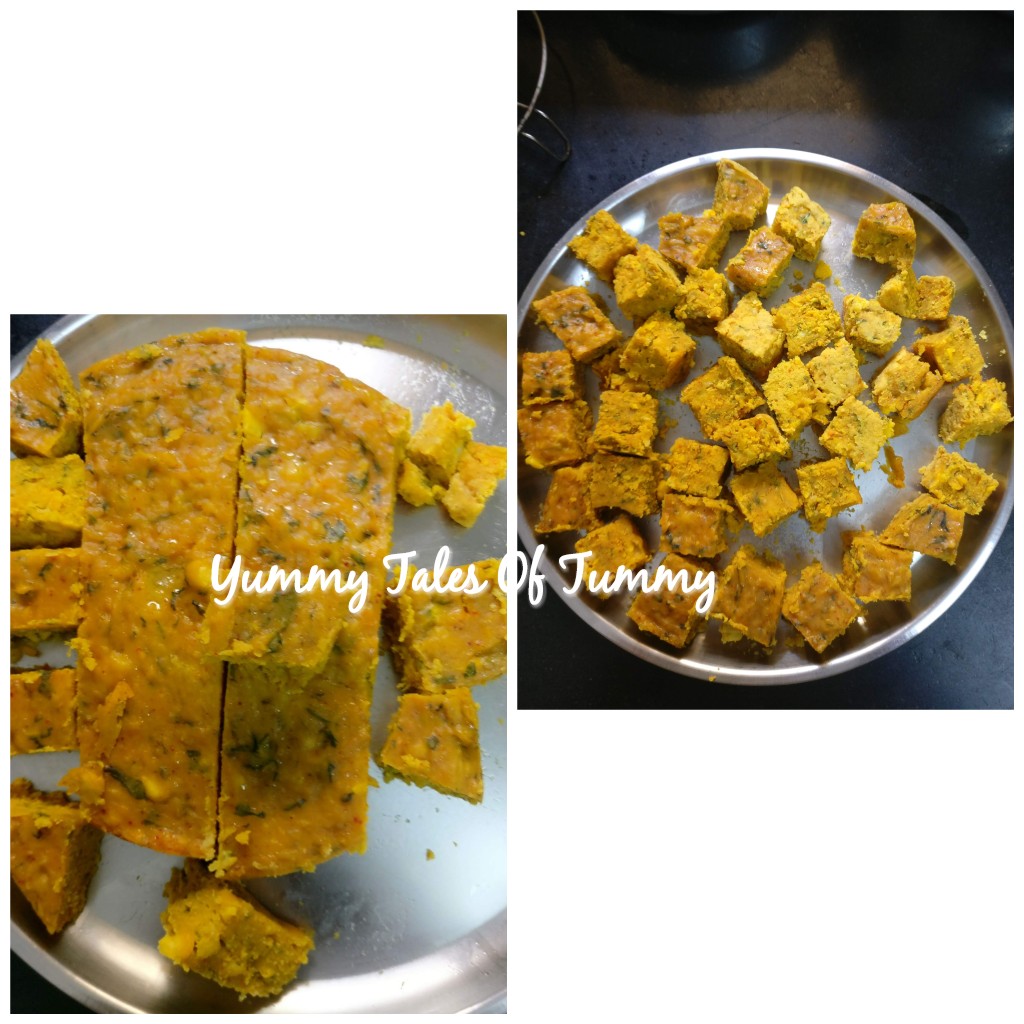 14)  Use a very thin spatula and dig it in the cuts that you had made with the knife and very gently remove the vadis from the plate.
15)Now that all the vadis are out it's time to shallow fry  or deep fry them.
16)So heat up some oil in the pan and then one by one add about 10 of these Kothimbir vadis.
17)Shallow fry on a medium flame in batches of 10 for the next 5-6 minutes or until the bottom looks golden brown in color.
18)Once the bottom is nicley fried and is looking golden brown in color it's time to flip them
19)So slowly one by one flip and again fry for 5-6 minutes or until we get to the same color as top.
20)Once the kothimbir vadis are nicely fried and it's now time to remove them in a plate and serve while hot.
Serve this delicious snack with chutney or ketchup and hot masala tea.
Microwave Method:
In a large bowl, mix all the ingredients add 1/4 cup water and make thick batter.
Grease tray and pour the batter.
Microwave it for 5 to 7(microwave oven settings may vary) minutes till a toothpick inserted in the middle comes out clean.
Let it cool for 15 minutes, unmold and cut into peices.
Heat oil in frying pan on medium heat.
Shallow Fry the peices till golden and crispy.
Serve hot with green chutney or ketchup.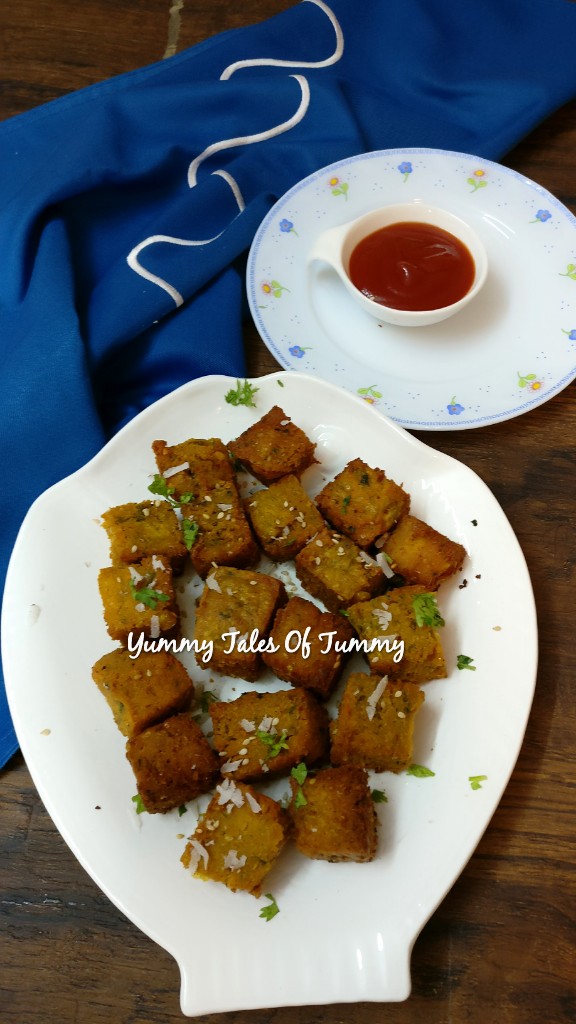 Tip – When you are expecting a lot of guest then you can prepare the vadis beforehand and fry them just before serving.
If you have liked my post or recipe, please do share your feedback in the comments section below and give a thumbs up to my Facebook Page.
You can now also follow me on Pinterest and Instagram.
You can also send me your pictures of the recipe if you try and I would love to feature you on my Social Media Pages. Sharing your feedback always makes me happy and motivated me to create more such content.
Regards.