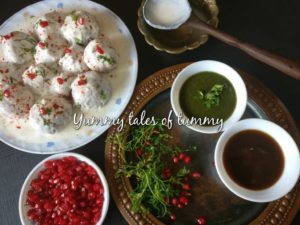 Are you among those who do not like to waste food? Are you thinking what to do with the leftover food ? I believe that's the right thing to do. Our motto is to encourage everyone to cook and eat healthy food at home. At the same time it is important that you find smart ways to use up the left overs.
It is not practical to make a perfect amount of food every time. Left over food is very common, especially when you have guests at home. I m sure in most of kitchens there is always some extra chapati dough lying in fridge. Or after making chapatis one forgets to place dough  back in fridge. Na…… Don't even think of discarding it. Let's creat something interesting out of it.
With few more ingredients avaliable at home & you are sorted.
So come join me in making dahivadas out of leftover dough.
Prepration time : 5 minutes
Cooking time : 10 minutes
Serves : 6
Ingredients
Chapati dough 1 bowl ( if you have kept it out for few hours well & good)
If its 1 or 2 days old dough which is kept in the fridge, Keep it out for 1 to 2 hours.
Rava/Sooji/semolina  2-3 tbsp
Besan 2-3 tbsp
Whole jeera 1tsp
Soda bicarb a pinch
Adrak mirchi paste 1 tsp
Salt as per taste
Lalmirch powder as per your taste
Coriander leaves chopped
Beaten curds as required
To garnish:
Imli ki meethi chutney
Lalmirch powder
Green chutney
Bhuna Jeera/roasted cumin powder
Method
Take chapati dough in big bowl. Flatten it with your palms. Add 1/2 katori of water to it. Blend it with hand blender.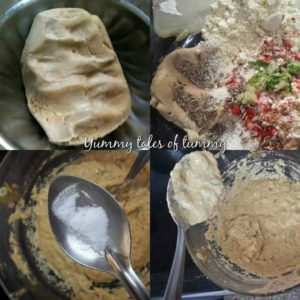 Now add Rava, Besan, jeera, Adrak harimirch paste, Soda, chopped hara dhania, Salt, Lalmirch powder & if required little more water to make dahiwada  batter like consistency.
Meanwhile prepare kadai to deep fry dahivada balls. You can make vadas in appe pan also to make it more healthier with few drops of oil.
Drop  vada batter into oil first on medium heat then keep the flame on low to cook it properly. Caution, if fried on high heat it may turn into dark golden brown colour because of wheat flour dough.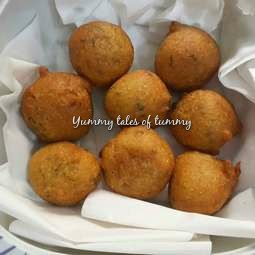 Meanwhile take a big bowl filled with lukewarm water. Add little salt to it. Drop fried vadas into lukewarm water.
Remove vadas from water. Press it softly between ur palms to remove excess water. Keep it aside.
 Now take beaten curds.(i like it sweet so put sugar its optional). Put salt & lalmirch powder into it. Put vadas into curds. Pour imli gud ki chutney over it. Sprinkle chaat masala & bhuna jeera powder. Garnish with fresh coriander leaves.
Place it in fridge fr few hours.
Serve chilled