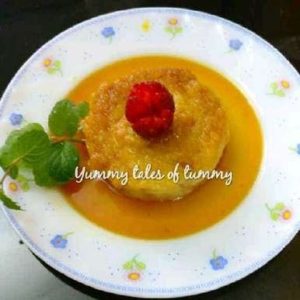 When you don't know what to do with those leftover slices of your bread loaf – turn them into fluffy, custardy pudding with this super quick and simple dessert!
Looking for something warm and sweet to curb your sweet cravings? "Instant" bread pudding goes just right with that.
It sounds like a quick and inexpensive dessert. Delicately sweet with a hint of coffee and cinnamon, takes only 3 minutes to prepare. It makes a lovely dessert, breakfast, or comfort dish any time. If you happen to have a couple of slices left over in a package of bread, this recipe is a perfect way to use them up.
Preparation time : 10 minutes
Cooking time       : 3 minutes
Serves                   :  2
Ingredients to make Leftover Bread Pudding in Microwave in 3 minutes
Leftover sugar syrup 2 spoons

Coffee powder 1/2 tsp

Leftover Bread slices 3

Milk 1/2 cup

1 egg

Sugar 2 tsp

Butter 1 tablespoon

Salt a pinch

Cinammon a pinch

Vanilla essence 2 drops
To make Caramel I have used 2 spoons leftover sugar syrup. Heat it on low flame. Swirl the pan in between. Add 1/2 Tsp coffee powder for flavour.
After few minutes the colour of sugar syrup will turn into golden brown. Remove it from heat. If it's too thick add some water/leftover sugar syrup to adjust the consistency. Pour this into 2 remakins. Keep this aside.
Take 3 slices of leftover bread. Pour 1/2 cup of milk over to soak it for 5 minutes. Add 2 Tsp of sugar, a pinch of salt and cinnamon and 2 drops of Vanilla essence.
Add 1 Tbsp of unsalted butter and 1 beaten egg. Mix everything together. Pour this bread mixture in to greased remakins.
Micro high these for 3 minutes. Insert a toothpick and see if it needs few more seconds to micro.
Take it out once it cooks down a bit. Invert remakins on a plate.
Drizzle some more Caramel over it. Garnish it with Strawberry and few mint leaves.
Video recipe 👇