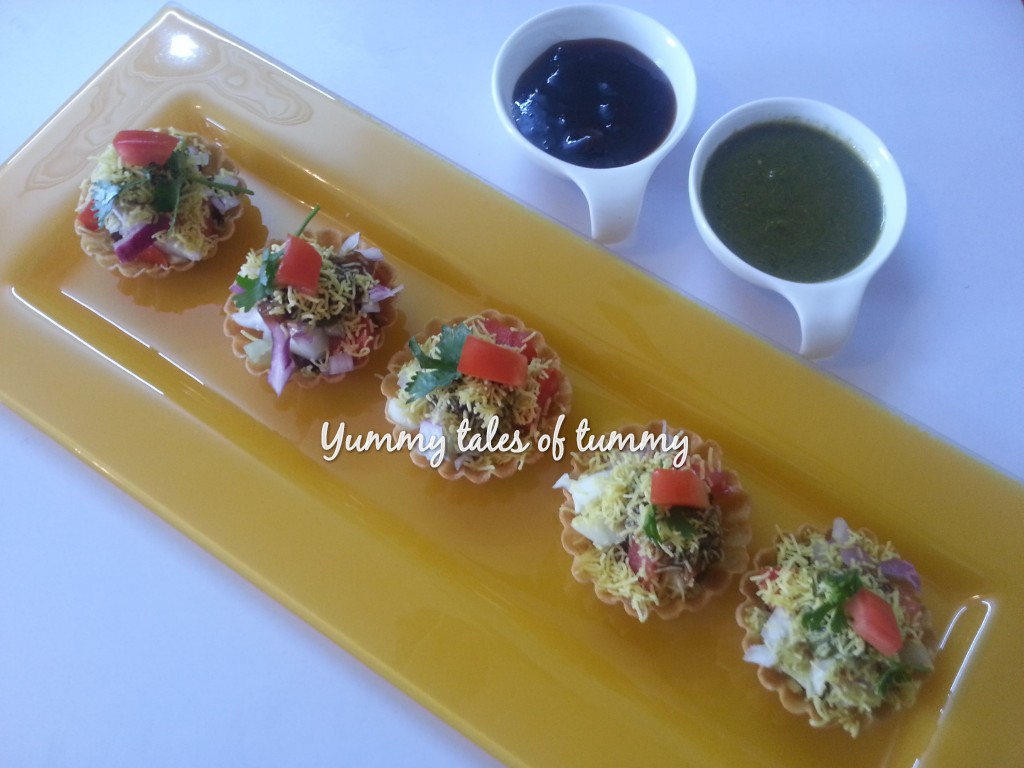 Black chickpea salad is easy to make, low calorie, salad with a tinge of spice and chutneys.
Chana Chaat is nutritious and delicious snack. This is a delightfully sweet and tangy snack. Channa Chaat will also make a very enjoyable lunch box meal too.
Here I have combined mumbaiya ishtyle murmura bhel with salad served on canapes/monitas. Easy and filling snack to munch on when you are hungry.
This is a very versatile recipe. You can adjust or skip or add the ingredients as per you liking and taste. So don't go for exact measurements. If you like more spicy, add more chilli powder or add green chilies. Like it more tangy, add more lemon juice. Don't like potatoes in chaat, skip it. Like more tomatoes, add little extra. Don't like kala chana, use other beans like black beans or white garzbano beans/ chole.
In short, everything is adjustable in this kala chana chaat recipe. So go with your palate and make it how you like it or how your family like to eat.
This chana chaat has tangy and spicy taste. The flavors will tempt you to eat more and more. Enjoy this chaat in rainy season with your family and friends.
Prep Time      20 minutes
Cook Time      5 minutes
Ingredients to make Kala chana salad on Canapes
Soaked and boiled kale chane 4 tsp (prepared one day beforehand)
Boiled Potatoes 2 tsp
Onion finely chopped 2 tsp
Tomatoes chopped 2 tsp
Cucumber chopped 2 tsp
monitas/canapes 8 (store bought)
Masala moongfali 2 tsp
Murmure 3 tbsp
Chaat Masala 1 tsp
Jeera/cumin powder 1 tsp
Fresh Coriander chopped 1 tsp
Mint leaves chopped 1 tsp
Lemon juice 1 tbsp
Dhania pudina chutney 3 tsp
Imli Khajoor ki chutney 2 tsp
Pomegranate to garnish
Sev to garnish
How to make Kala chana salad on Canapes
Soak and boil kale chane with salt beforehand.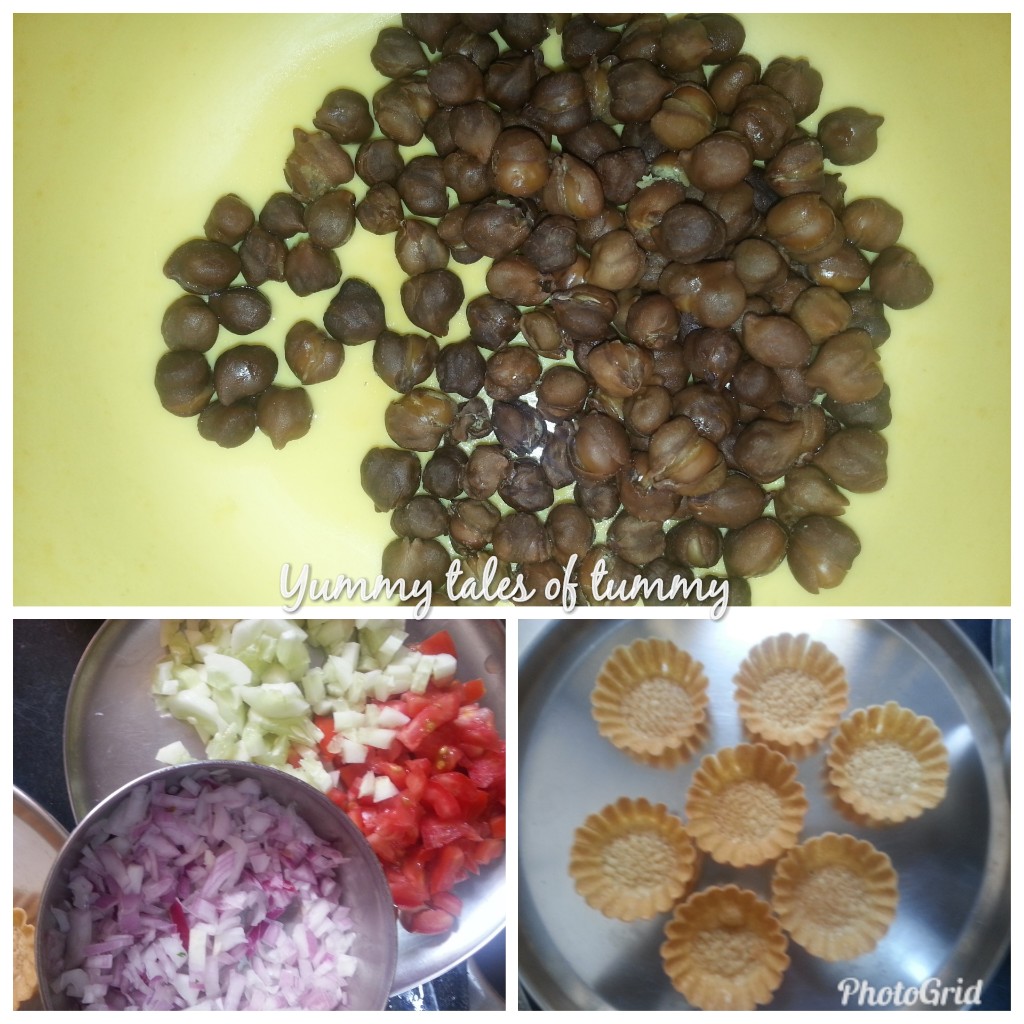 Chop boiled potatoes, tomatoes, cucumber and onion. Sprinkle chat masala and jeera powder.
Now assemble canapes/monitas. Here I have used readymade  canapes, easily available in the market. Or else you can bake monitas at home in an OTG.
For assembling of monitas/canapes, in the bottom put boiled kale chane. Top it with potato, tomato, cucumber, marsala peanuts and murmure. Sprinkle some chaat masala over it. Add chopped dhania pudina leaves.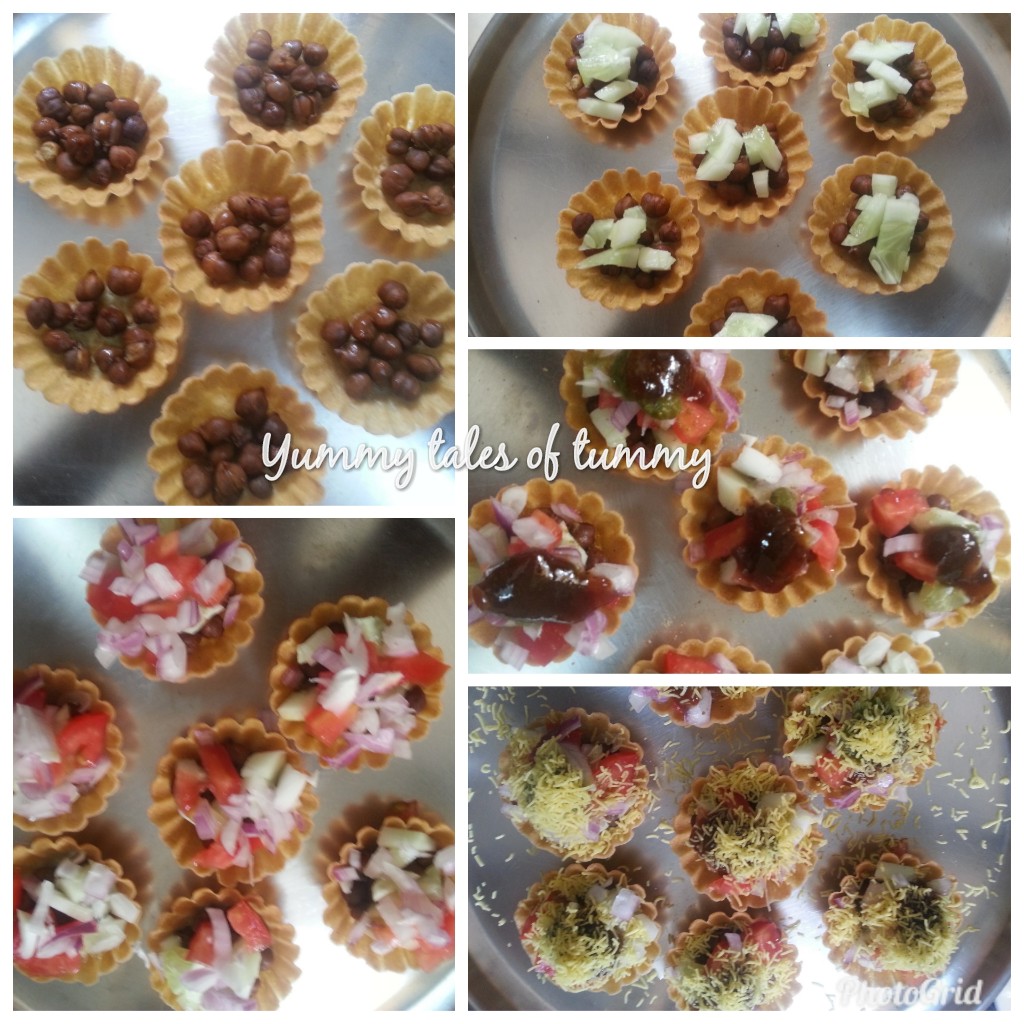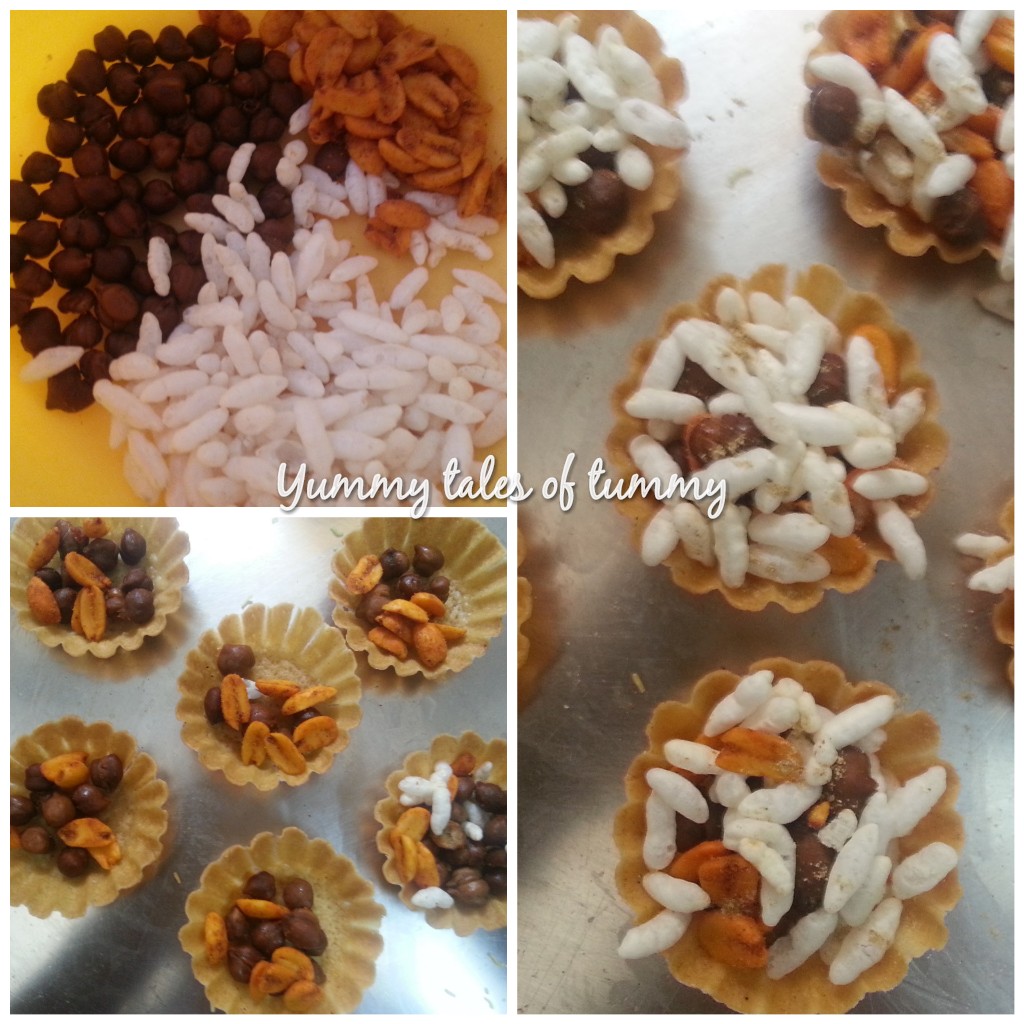 Now drizzle dhania pudina chutney over it. Pour imli ki chutney. Garnish with sev. Put some coriander leaves,tomato pieces and pomegranate over it to decorate.
Enjoy your healthy snacky chaat with hot cup of cofee or Tea.
Notes
Green chutney and imli khajoor chutney can be made the before day itself. Or you can use store bought too.
Adding chaat masala and red chilli powder is according to your own taste.
You can drizzle sweetned curds over the chaat and then pour chutneys over it.
Fill the canapes only at the time of serving.