Kaju karela (no onion & no garlic)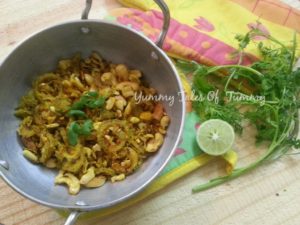 Due to bitter taste, karela/bitter Gourd is not one of the favourite vegetable of most people. But due to it's medicinal properties, it's  very beneficial for diabetics. I never throw even the green skin of karela. Just scrape karela and add salt to scrapping. Leave aside for few minutes. Wash and just fry in little oil.
This recipe of kaju karela, a unique sabzi made with cashew nuts and bitter gourds. It is a dry dish, and little crunchy.when Cashew nuts are added to the bitter vegetable,  makes the dish less bitter and adds the required crunch to it. I must say, karela never tasted so good ever before. One of the jhatpat receipes which doesn't require onions or garlic, and when you want to eat light and healthy.
Preparation time 20 minutes
Cooking time 10 minutes
Ingredients
3 Karela/Bitter Gourd
4 tsp  Cashew Nuts
1-2 tsp clarified butter
2 tablespoon Oil
1/4th tbsp Turmeri Powder
1 tsp Red Chilli Powder
1 tsp Coriander Powder
Grated coconut 4 tbsp
Salt to Taste
Juice of half lemon
Coriander leaves for garnishing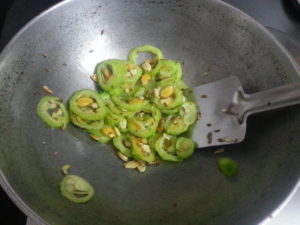 Method :
Scrape the skin of karela/bitter gourd and cut them into small circles.Now sprinkle some salt and mix,  so that all the karela pieces are coated well with salt. Keep aside for 15 minutes. Sprinkling some salt to karela makes it less bitter. Now wash the karela  with water. Washing the karela in water will remove the bitter juice and extra salt from karela pieces. Don't discard seeds.
Now heat clarified butter in a non stick pan add cashew nuts and roast them for a minute.Transfer the kaju in a bowl and keep aside.In the same Kadai put oil. Add the karela pieces and saute for a minute.Now add red chilli powder, turmeric powder, coriander powder and a little salt( While adding salt be careful because karela already has absorbed some amount of salt when we sprinkled on it)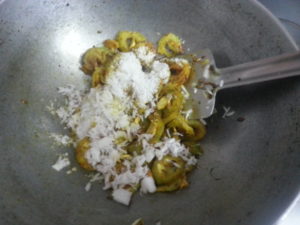 Mix all the ingredients well and add grated coconut. Saute for a while.Cover the lid and cook on medium flame till the karela pieces are tender.
Now mix all the ingredients well and add kaju pieces and cook for about 2-3 minutes.Delicious Kaju Karela sabji is ready.
Sprinkle juice of lemon and garnish with chopped coriander  leaves.
Serve hot with phulkas or Parathas and  dal of your choice.