This particular startter is in huge demand with my family. It's great Protein packed evening snack. With little of preparation like soaking & boiling chana beforehand, can be made in no time.
Preparation  time : soaking 8 hours
Cooking time  : 10 minutes
Serves: 2 persons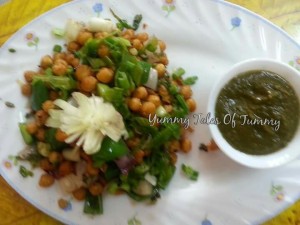 Kabuli chana salt & pepper
Ingredients:
Boiled kabuli chana 1 big bowl(soak for atleast 8 hrs)Dont overcook chana.
Cornflour+maida 50:50 fr coating
Onion 1 chopped in to big squares
Capsicum chopped in big squares
Garlic roughly chopped 4-5 cloves
Coarsely Pounded black peppercorns
Spring onion full
Salt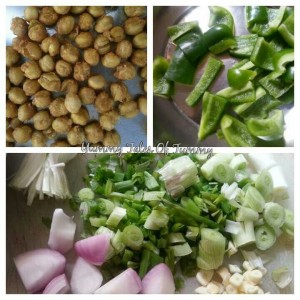 Receipe:
Coat kabuli chana with cornflour& maida
Deep fry boiled chana on fast flame till turns crisp. Place it on tissue paper to absorb oil.
In a kadai put oil. Add chopped garlic. Saute now add coarsely pounded peppercorns. Saute. Add chopped onions. Saute on high flame. Throw in chopped capsicums. Add salt. Now add deep fried chana. Saute on high flame. Add chopped spring onion.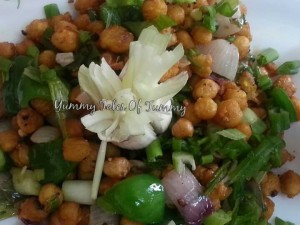 Remember to keep flame on high during entire process otherwise veggies would loose their crunchiness.
Serve immediately otherwise chanas would turn soggy.
Serve hot with green chutney.