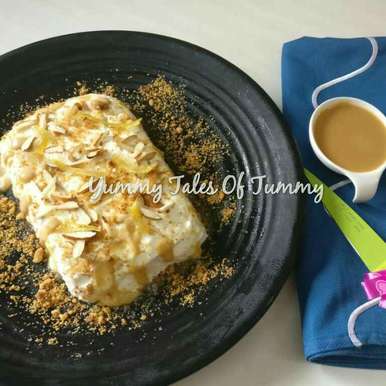 What is Semifreddo
If you've never had a semifreddo, it translates as "semi frozen" or "semi cold" in Italian. It is basically a mousse-like dessert made from combining a custard with whipped cream, and then freezing until firm.
Semifreddo is an Italian semi frozen dessert. It's similar to ice cream, yet the glories lie in how it is not. No ice cream machine needed to make this yummy dessert.
Meaning"half cold" in Italian, semifreddo maintains a soft, velvety texture, even right out of the freezer. Because it contains so much sugar and air, it will never freeze into a hard, dense block the way ice cream does. And since you don't need an ice cream maker or any other special equipment to make it, it's easy to whip one up whenever the craving strikes.
There are certainly no shortage of recipes for semifreddo out there. But I settled on adapting the honey semifreddo with lemon crumb from the TV show Master chef Australia.
The thing that intrigued me most about this recipe was first that it was no-cook. And while it is just a tad bit labor intensive, by no means is it difficult.
So here is step-by-step guide to making this lush, creamy frozen Italian dessert. This elegant dessert is easy to slice straight from the freezer.
Prep Time  10 min
Cook Time  60 min
Serves  2 people
Ingredients for Honey Semifreddo

:
For making honey semifredo
1 egg white
4 yolks
1/3 cup honey
1/2 cup Caster sugar
1 cup Cream
For making lemon crumb :
60 gm butter
Juice of 1/2 a lemon
Zest of 1/2 a lemon
50 g caster sugar
80 gm flour
For making Candied Lemon:
1 cup caster sugar
Rind of 1/2 a lemon, cut into thin strips
For making Honey Lemon Caramel:
1/2 cup Honey
1/4 Cup Cream
Slivered almonds for garnish
Juice of 1/2 a lemon
Salt, to taste
How to cook Honey Semifreddo 

:
For the Honey Semifreddo, place eggwhite, yolks and caster sugar into a bowl.
Bring a pot of water to a simmer. Place it over a saucepan with simmering water make sure the bottom of the bowl does not touch the water.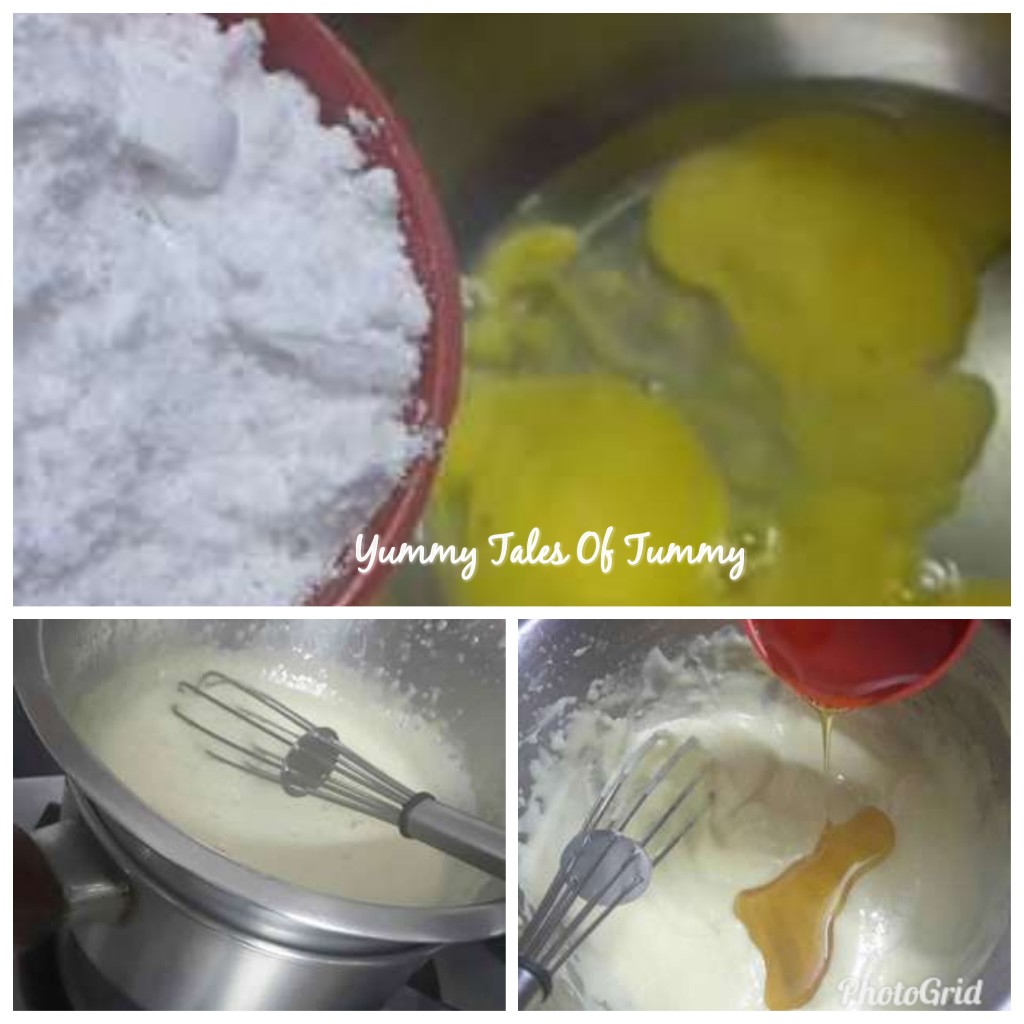 Whisk until pale and thickened, about 6 minutes.
Remove from heat and gently fold in honey until fully incorporated.
Meanwhile, whip cream to stiff peaks. Fold the honey egg mixture into the whipped cream.
Line a loaf pan with cling wrap and make sure allowing at least 3 inches of overhang on the long sides.
prepared loaf pan or hemisphere moulds.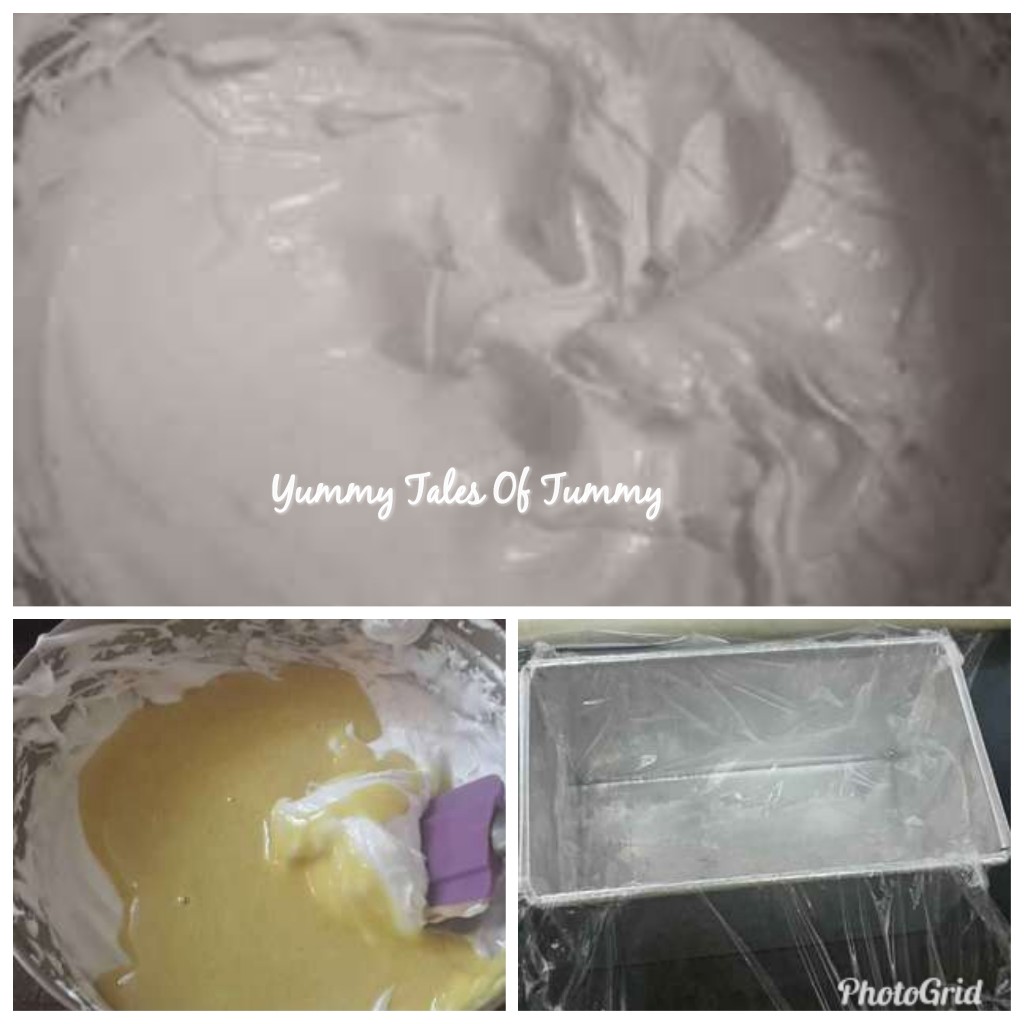 Cling wrap it from top and sides too. Set aside in freezer for 6 hours or overnight or until set.
For the lemon crumb :
Line a baking tray with baking paper.
Preheat oven on 180 degrees for 10 minutes.
Place all ingredients into a bowl. Knead well until mixture has just come together like dough.
Roll it thin with pin using baking paper. Place this onto tray and bake until golden, about 10-12 minutes.
Remove from oven and set aside to cool completely.
Once cooled, break up biscuit and blitz in a food processor to  to a coarse crumb.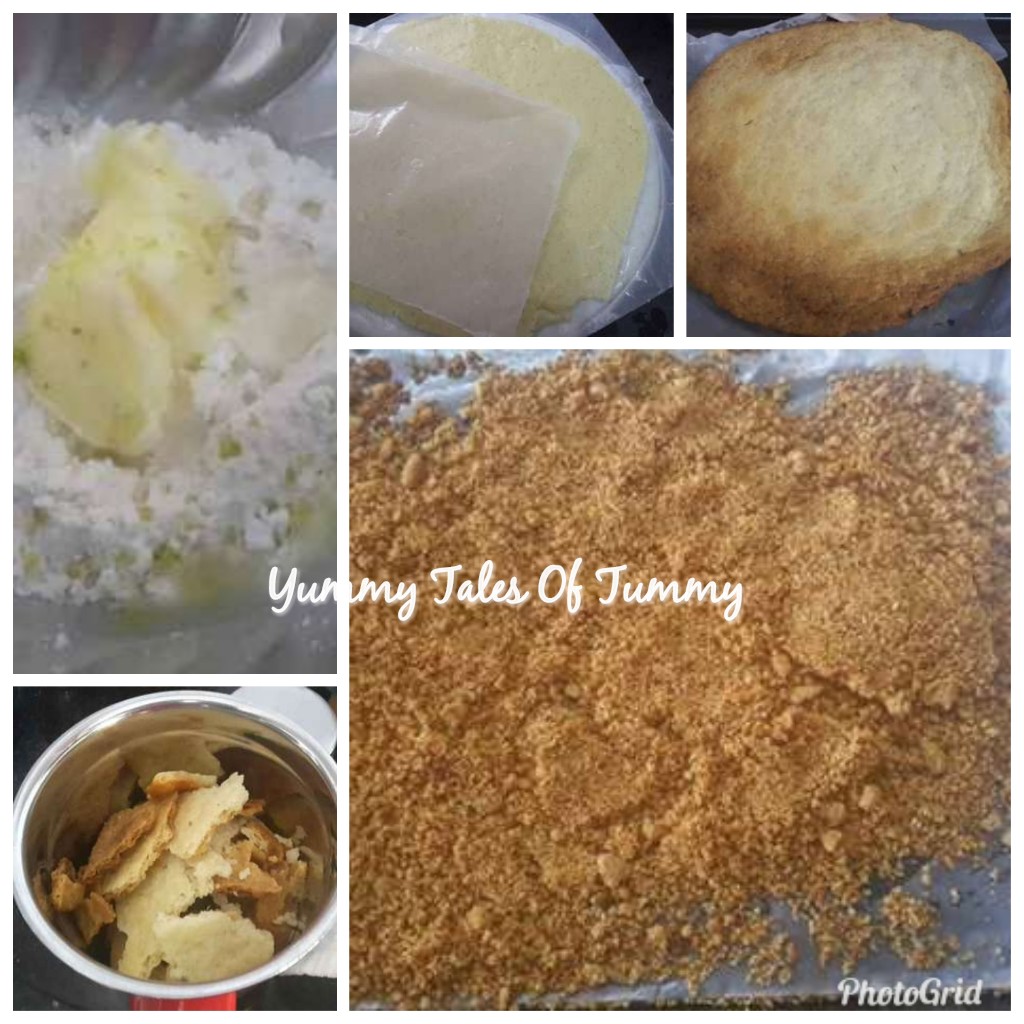 Transfer again to baking tray and bake until lightly golden, about 8 minutes.
Set aside.
For candied lemon peels :
combine sugar with 1 cup of water in a small saucepan.

Heat until sugar has dissolved. Add lemon rind and cook for 15 minutes.
Remove lemon strips and set aside on a tray lined with baking paper.
For honey lemon caramel

 

:
Combine all ingredients in a small saucepan over medium heat.
Stir until brown, about 12 minutes.
To serve :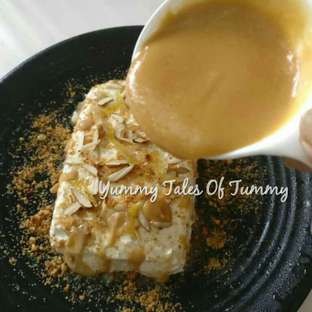 Unmould semifreddo on the plate by pulling cling wrap.
Drizzle some more honey in criss cross method.
Sprinkle lemon crumb over it. Drizzle honey lemon caramel over it.
Garnish with slivered almonds.
Top with a pieces of Candied Lemon.
Serve chilled.
If you love the recipes, do share it with your friends and family. Also, like us on facebook & Instagram. Pin us on Pinterest, we would love to hear from you. Do leave your comments below
You can also send me your pictures of the recipe if you try and I would love to feature you on my Social Media Pages.
Sharing your feedback always makes me happy and motivated me to create more such content.
Regards.
Honey Semifreddo with Lemon Crumb and Honey Lemon Caramel
Prep time:
Cook time:
Total time:
Semifreddo is Italian semi frozen dessert. It's similar to the ice cream. It is basically a mousse-like dessert made from combining a custard with whipped cream, and then freezing until firm.
Ingredients
For making honey semifredo
1 egg white
4 yolks
⅓ cup honey
½ cup Caster sugar
1 cup Cream
For making lemon crumb :
60 gm butter
Juice of ½ a lemon
Zest of ½ a lemon
50 g caster sugar
80 gm flour
For making Candied Lemon:
1 cup caster sugar
Rind of ½ a lemon, cut into thin strips
For making Honey Lemon Caramel:
½ cup Honey
¼ Cup Cream
Slivered almonds for garnish
Juice of ½ a lemon
Salt, to taste
Instructions
How to cook Honey Semifreddo :
For the Honey Semifreddo, place eggwhite, yolks and caster sugar into a bowl.
Bring a pot of water to a simmer. Place it over a saucepan with simmering water make sure the bottom of the bowl does not touch the water.
Whisk until pale and thickened, about 6 minutes.
Remove from heat and gently fold in honey until fully incorporated.
Meanwhile, whip cream to stiff peaks. Fold the honey egg mixture into the whipped cream.
Line a loaf pan with cling wrap and make sure allowing at least 3 inches of overhang on the long sides.
prepared loaf pan or hemisphere moulds.
Cling wrap it from top and sides too. Set aside in freezer for 6 hours or overnight or until set.
For the lemon crumb :
Line a baking tray with baking paper.
Preheat oven on 180 degrees for 10 minutes.
Place all ingredients into a bowl. Knead well until mixture has just come together like dough.
Roll it thin with pin using baking paper. Place this onto tray and bake until golden, about 10-12 minutes.
Remove from oven and set aside to cool completely.
to a coarse crumb.
Transfer again to baking tray and bake until lightly golden, about 8 minutes.
Set aside.
For candied lemon peels :
combine sugar with 1 cup of water in a small saucepan.
Heat until sugar has dissolved. Add lemon rind and cook for 15 minutes.
Remove lemon strips and set aside on a tray lined with baking paper.
For honey lemon caramel :
Combine all ingredients in a small saucepan over medium heat.
Stir until brown, about 12 minutes.
To serve :
Unmould semifreddo on the plate by pulling cling wrap.
Drizzle some more honey in criss cross method.
Sprinkle lemon crumb over it. Drizzle honey lemon caramel over it.
Garnish with slivered almonds.
Top with a pieces of Candied Lemon.
Serve chilled