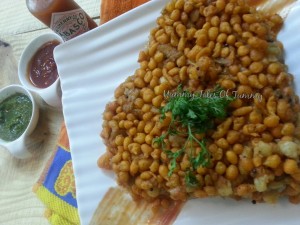 First look at the picture of savoury cake reminds me of Moti pak which is indian style of mithai made with sweet boondi which is made from chickpea flour & sugar syrup. Then added khoya to it, which tastes like boondi ladoos.
While going through my diary of receipes, i came across this receipe and it immediately clicked , let me try this one. This receipe i have learnt from my friend's Mum, which she made for us all while studying during our college exams. I so loved it and took note of it and handwritten it in my diary.
Many a times we all get bored of eating regular sweet cakes. This one is hatke savoury cake worth a try.
Preparation time : 20 minutes
Cooking time : 10 minutes
Baking time : 20 minutes
Serves : 4
Ingredients :
200gms Masala Boondi
500 gms Boiled potatoes
3 green chillies
2 onions finely chopped
1 inch ginger piece
2 big tomatoes grated
50 grams of butter
1 tsp tomato chilli sauce
2 spoons oil
Salt to taste
Red chilli powder 1 tsp
Garammasala powder 1 tsp
1 tsp muatard seeds
Few curry leaves
Dry mango powder (aamchoor) 1/2 spoon
Coriander leaves to garnish
Method:
Peel & mash boiled potatoes. Make paste of ginger & green chillies.
Take a thick bottomed pan. Add oil. Upon heating, add mustard seeds. Let it crackle. Throw in some curry leaves. Now add chopped onions. Saute it for a while till onions become transparent.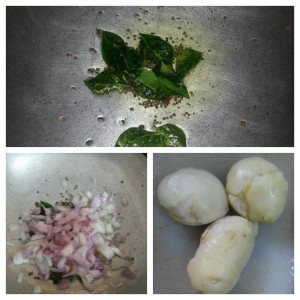 Now add spices and salt. Saute again. Now add grated tomatoes. Mix till everything combines well. Now add mashed potatoes. Saute for 2 minutes. Now add sauces. Mix well. Add 100gms of masala boondi. Mix well and remove pan from flame.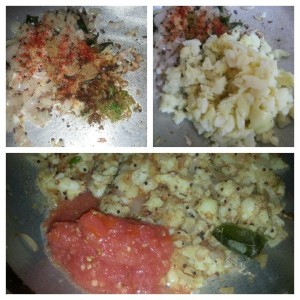 It's time to bake the dish now. Take a deep round or heart shaped baking dish. Grease it well. Now layer it with half of remaining boondi. Second layer it with potatoes mix. Too layer it with remaining boondi. If you wish you can spread cheese over final top layer of boondi to enhance the taste.
Spread butter pieces over layers.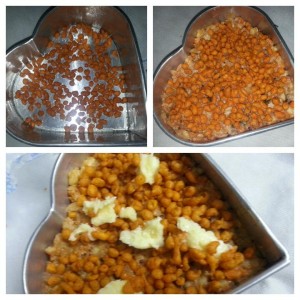 Preheat oven for 10 minutes on 180º. Place the baking dish on medium rack and bake it for 20-25 minutes. Transfer on to serving plate. Garnish with fresh coriander leaves. Serve hot with green chutney and tobasco sauce.