Flavoured Kokum Sharbat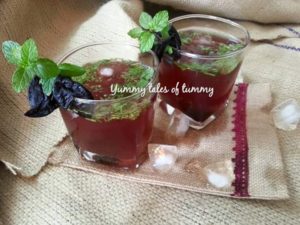 Kokum is a fruit which is famous for its healthy and refreshing cool drink. Kokum juice is not only delicious but it also has several health benefits.
Kokum, is used mainly in Maharashtrian, Konkan and Gujarati cuisine. When added to food it imparts a pink to purple colour and sweet/sour taste. It is a preferred substitute for tamarind in curries and other dishes.
Kokum juice is preferred especially during hot summers. It is delicious and has a cooling effect on the body. It is very refreshing drink. It not only quenches your thirst, but also helps to prevents dehydration and sunstroke due to heat.
During summer Kokum Sharbat is served as a refreshing drink. You can either add sugar to it or salt depending on your taste.
Make this yummy  drink to tickel your tastebuds.
To make Kokum Concentrate at home:
Ingredients required :
100 gm Kokum (I have used wet variety)
2 cups Water
100 gm Sugar
1 tsp Roasted Cumin Powder
1/2 tsp Pink salt
Regular Salt to taste
Instructions :
Soak the  kokum in 2 cups of warm water for 1-2 hours.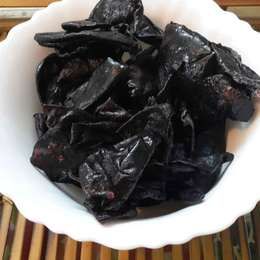 Mash it nicely and strain the water. Keep it aside.
Add the leftover Kokum in a pan along with sugar, roasted cumin powder, & both salts.
Cook on low heat for 6-8 minutes until sugar melts.
Add previously made Kokum water in the pan and bring the mixture to a boil.
Cook for another 5 minutes. Kokum syrup should reach almost 1 string consistancy.
Remove the pan from heat and let the mixture cool completely.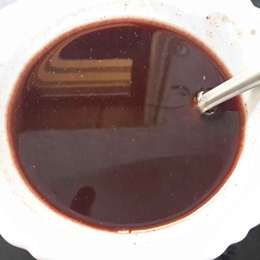 Strain the mixture and store in a glass bottle in refrigerator for later use.
Ingredients to make Flavoured Kokum Sharbat
Prep Time : 10 mins
Chilling Time : 2 Hours
Serves : 2
Kokum Concentrate- 5-6 spoons ( less or more as per your taste)
1 green Chilli chopped for extra zing
Coriander-1 tbsp chopped
Ice cubes few
Red Chilli flakes 1/2 tsp
Mint leaves to garnish
Water- 2 glasses
Ginger- small piece (chopped)
Garlic cloves- 2 chopped
Kokum pieces to garnish
How to make Flavoured Kokum Sharbat
Pour water in a jar, add kokum concentrate. Now add chopped Garlic, Ginger and chopped green chilli. Place it in refrigerator for few hours to cool and let the spices get infused in kokum sharbat.
Take it out from the fridge and strain it. Now pour into glasses and add chopped fresh coriander leaves. Sprinkle some red chilli flakes. Add lots of ice cubes.
Garnish with mint leaves and enjoy your spicy kokum sharbat.