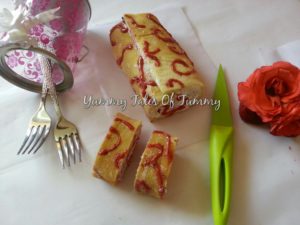 Eggless Patterned Swiss Roll
Swiss roll cake reminds me of days when I was working, and on my way back home, i used to buy them from Monginis for my son who used to love it.
Swiss roll is basically a sponge cake which is baked in a sheet pan and then filled with jams, frosting etc. The tricky part lies in rolling the cake perfectly and making sure that it doesn't crack.
When I made it the first time, the cake was very thick and impossible to roll. After trial and error,  and going through many videos on you tube , I have figured out few important things that one should keep in mind while making this swiss roll cake. I have shared those in Notes section.
Making them has been on my "to bake list" for long. I wanted to bake not the regular swiss roll but the patterned one. I knew it would be a challenge but when it comes to baking I'm always game for it. The pattern just makes the cake look more prettier. You can either use print outs to trace the pattern on parchment paper or draw free hand.
Prep time : 20 minutes
Cook time : 10 minutes
Serves 6
INGRIDIENTS:
Vegetable oil 1/4 cup
condensed milk 3/4 Cup
Vanilla essence 1 Tsp
Maida 1 Cup
Baking soda 1/2 Tsp
Baking powder 1 Tsp
Warm Water 1/2 Cup
FOR WHIPPED CREAM
Icing sugar 1 cup
Whip cream 1/4 cup
Method :
Mix all dry ingredients maida, baking soda, baking powder in a bowl.
Mix wet ingredients like condensed milk, vanilla essence and oil in a separate bowl. Whisk it well.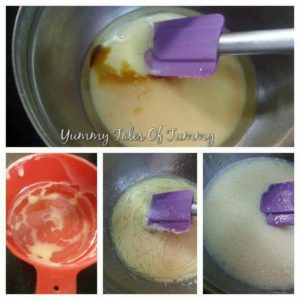 Now mix dry ingredients with warm water & put it in the condensed milk and oil mixture. Blend with hand blender. Keep aside.
(Before you start the blender make sure the flour mix is wetted completely. Then blend well.)
Then take out 4 table spoons of this mixture into 1 seperate bowl. And then add strawberries puree(by blending strawberries into mixer and strain it to make a thick puree to be used as colouring agent to make pattern for swiss cake)+ a pinch of red food colour(optional)

And keep rest of the cake mixture sperate,at room temperature.
By the time pre heat oven at 180degrees.
Take a piping bag. fill with fruits puree( dark pink) mixture in it.
FOR MAKING PATTERN FOR SWISS CAKE:
Cut the baking paper which fits your baking tray.
Then make your pattern by piping it onto the baking/parchment paper.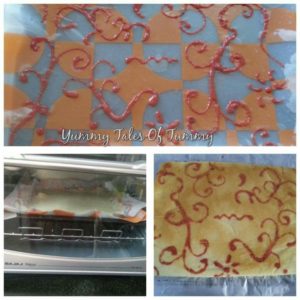 Then place this baking tray in the freezer for about 4 hours or more, to go firm.
FOR WHIPPING CREAM :
mix icing sugar and cream untill smooth with hand blender and keep it aside in fridge.
FOR BAKING A CAKE FOR SWISS ROLL: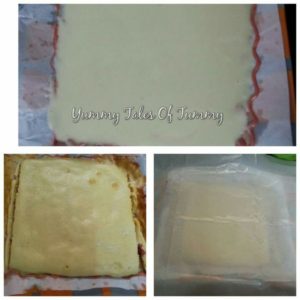 Take out the patterned tray from freezer.
Pour the cake mixture over your frozen pattern and spread it evenly, right to the edges with spatula, making it as thin as possible (it will rise after baking)
Bang the tray on kitchen platform a few times to make sure the mixture gets all around the pattern.
Then bake in the oven for 7 minutes in the centre rack of the oven. It doesn't have to be over baked otherwise it would be difficult to roll the swiss roll.
Once your cake is ready take it out of the oven and immediately trim off the edges using a serrated knife.
Cover cake with baking paper, and invert it on another flat baking tray or chopping board on top and flip it over.
(And then you will be able to just lift off your tray, the edges will stay in the pan and you're left with a neat cake)
Peel off the baking paper straight away while it is still hot. Then leave it to cool.
Place a clean sheet of baking paper over your cooled cake and flip it over again.
Once the cake is cooled a bit , spread whipped cream and icing sugar mixture on top of it.
Then starting at one end using the paper to help you roll up the cake up and transfer it to your serving platter.
Decorate with strawberries puree on top( instead of putting fruit puree inside the swiss roll, up on the layer of whip cream, i have decorated on top).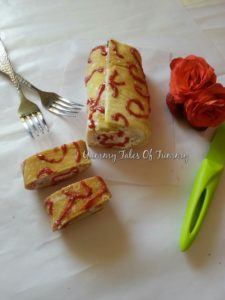 Place the cake roll in the refrigerator for 2-3 hours before slicing into pieces.
Enjoy a light and spongy cake with whipped cream frosting inside it!
Notes :
Don't try to slice the cake as soon as you roll it. Keeping it in the refrigerator for 2-3 hours gives it time to set and then you will be able to cut clean slices.
You can fill these cakes with anything you like. The easiest options would be nutella or any jam of your choice.
A lot of sponge cake recipes do not use butter/oil. I would encourage you to use oil like I did, my cake had no crack and it was super soft and moist.
While spreading the batter of cake on frozen pattern, make it as thin as possible, as after baking cake would rise and otherwise would be difficult to roll the cake.