Good Afternoon Viewers 😄
Summer heat is at it's peak. All the time all hands are reaching out for something chilled. Icecreams & cold juices/drinks are hot favourite with everyone. So let's do some magic, and create a dish which is chilled and yummy too. Actually no magic required 😁
Just rush to the kitchen, assemble few things from your kitchen pantry, and make Edible Choclate glasses. … yup you can eat the glasses too along with icecream/custard/fresh fruits. Amazing na….
Preparation time : 10 minutes
Cooking time : 20 minutes
Freezing time: 24hours
Serves 4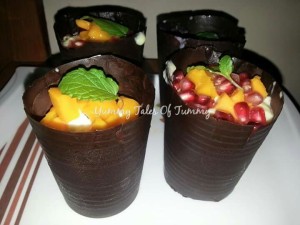 Edible Choclate glasses
Disposable plastic glasses 4
Morde brand dark chocolate 200gms approx
Vanilla custard as required made previous day
Fresh seasonal fruits of your choice
Vaanilla icecream readymade
Chocolate sauce
I hv used disposable small chai wala plastic glasses, Slit the top slightly. (U can see in pictures)
Melt chocolate in microwave or by using double boiler method. Put chopped chocolate in microwave safe bowl first for 30 seconds in full power, remove mixx it once, put it back in for another 30 seconds, remove from micro. mix again…continue to mix till all the chocolate is melted.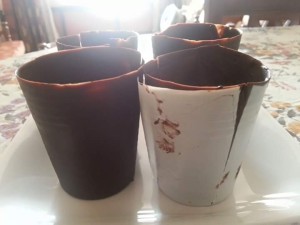 First give a small cut on the centre top of plastic glasses. Give another slit exactly on the opposite side of the glasses. Kp ready all slitted glasses.
Now fill one plastic chai glass with chocolate, ensure that the whole cup is covered, and then pour the excess chocolate out of it into the next cup and so on until I had enough number of cups with chocolate in it.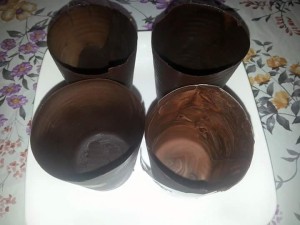 put it all in the fridge for 3 hrs. I kept it fr 24 hrs ensuring it sets well.
Take out, tore out the plastic from the slit from where originally cut. This has to be done with a little bit of patience, if done it too fast the glasses would crack. Put them back in the fridge.
Now make fillings of ur choice.
U can use icecream with chocolate sauce or Vanilla custard with seasonal fruits or with mousse.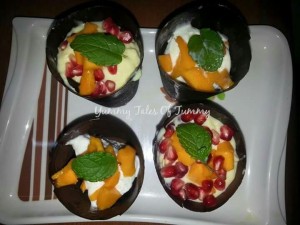 Serve in chilled edible chocolate glasses.
Eat fillings along with chocolate glasses.