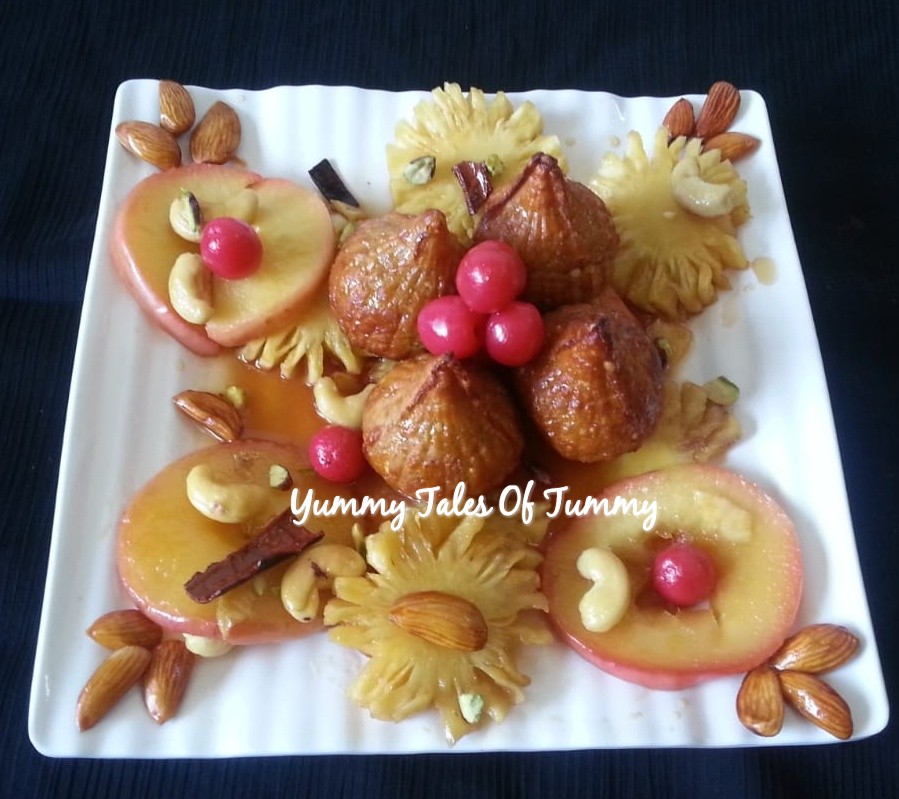 A very happy Ganesha Chaturthi to all the viewers and readers of my blog. I pray that may Lord Ganesha bestow his blessings to everyone.
Ganesh Chaturthi is one of those festivals which is celebrated with much fervor and excitement across India, especially in the states of Maharashtra, Andhra Pradesh, Tamil Nadu and Goa. This 10-day long festival is commemorated as Lord Ganesh's birth Anniversary. These modaks/Indian dumplings are a special treat to lord Ganpati and his devotees.
From Ganesh's sthapna to Visarjan, devotees offer various sweets and savouries to the Deity, amongst which modaks make for the most prominent prasad of the festival. According to the Hindu mythology, modak is believed to be Lord Ganesh's favourite food.
Modaks are also known as Ukadiche Modak and are slathered with hot ghee before savouring it. The outer cover is made of rice flour which is steamed first and stuffed with sweet stuffing  made with grated coconut and jaggery. It takes quite some time to learn and make perfect  modaks, and it can be a messy affair if you don't get the things right. Preparing modaks at home does require a lot of patience and effort. The things get easier when you have modak moulds, as the stuffing work and then moulding it gets easier and quick too.
There is another version of the recipe where modaks are fried even. It is made with all purpose flour/ maida and stuffed with jaggery-coconut stuffing. These don't require any steaming. So to offer something different, I have come up with this nutritious version of traditional modaks by using broken wheat and soyabean flour, nd have served it with caramelised fruits
Broken wheat also known as Cracked wheat, Dalia, Fada, Lapsi,  is made by crushing whole wheat grains, which is high in protein, iron and fibre.
With the trend inclining towards healthy living, we proactively choose to have a nutritious meal. Consider it a healthy trait or increasing passion to look great, something as basic as a bowl of dalia looks tempting to health enthusiasts.
Dalia is a tasty cereal dish that's made from cracked wheat, which is high in protein, fiber, and iron. Cracked wheat dishes are popular in India, where they're eaten for breakfast, lunch, and dinner. There are many ways you can prepare this dish, and vegetable dalia and sweet dalia are among the most popular. Preparing dalia is quite simple and very similar to making rice, and you can customize the dish with all your favorite spices, fruits, and vegetables.
It is always recommended to include whole grain cereals in your diet which are excellent sources of fibre. Broken wheat provides nearly 3–5 gm of dietary fibre per serving.
So if you wish to make modaks at home, try this simple, different and easy recipe.
Ingredients to make outer covering :
1/4 cup dalia
Soya atta 2 tbsp
Besan 2 tbsp
Wheat flour 2 tbsp
Milk powder 2 tbsp
1 tspoon ghee
Milk 2 spoons or less or more to knead the dough
Salt a pinch
Fruit salt  1/2 tsp
Oil to deep fry
For sweet stuffing :
1 cup grated jaggery (gur)
1+½ cup grated fresh coconut
1/2 tsp cardamom (elaichi) powder
1tbsp ghee
To make outer cover first dry Roast dalia in a pan first. After that cook it in a pan with water. It will become double now. Drain excess water if any. Keep aside to cool.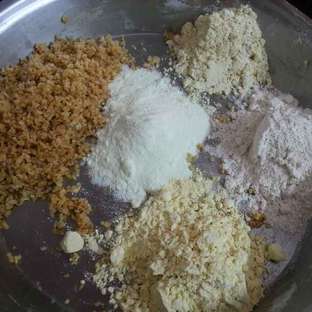 Mix all the attas with cooked dalia. Add 1 spoon ghee for moyan. Add  fruit salt. Mix lightly with fingers. Add very little milk to knead dough to medium thick. Keep aside.
For the sweet stuffing , in a non-stick pan first add 1 tsp Clarified butter.
Add grated coconut, and jaggery and cook over a slow flame till the jaggery melts and the mixture comes together.  Sprinkle cardamom powder. Mix nicely. Cool it.
To assemble modaks :
Grease the inside of the modak mould using ghee.
Take one portion from the dough of outer covering and press it in modak mould.  Make the hollow center. Gently press with your fingers to form a wall.
In between fill it with sweet stuffing of coconut mix and seal the lower open part with dough.  Close the lid of modak. Press it nicely to form a shape of modak.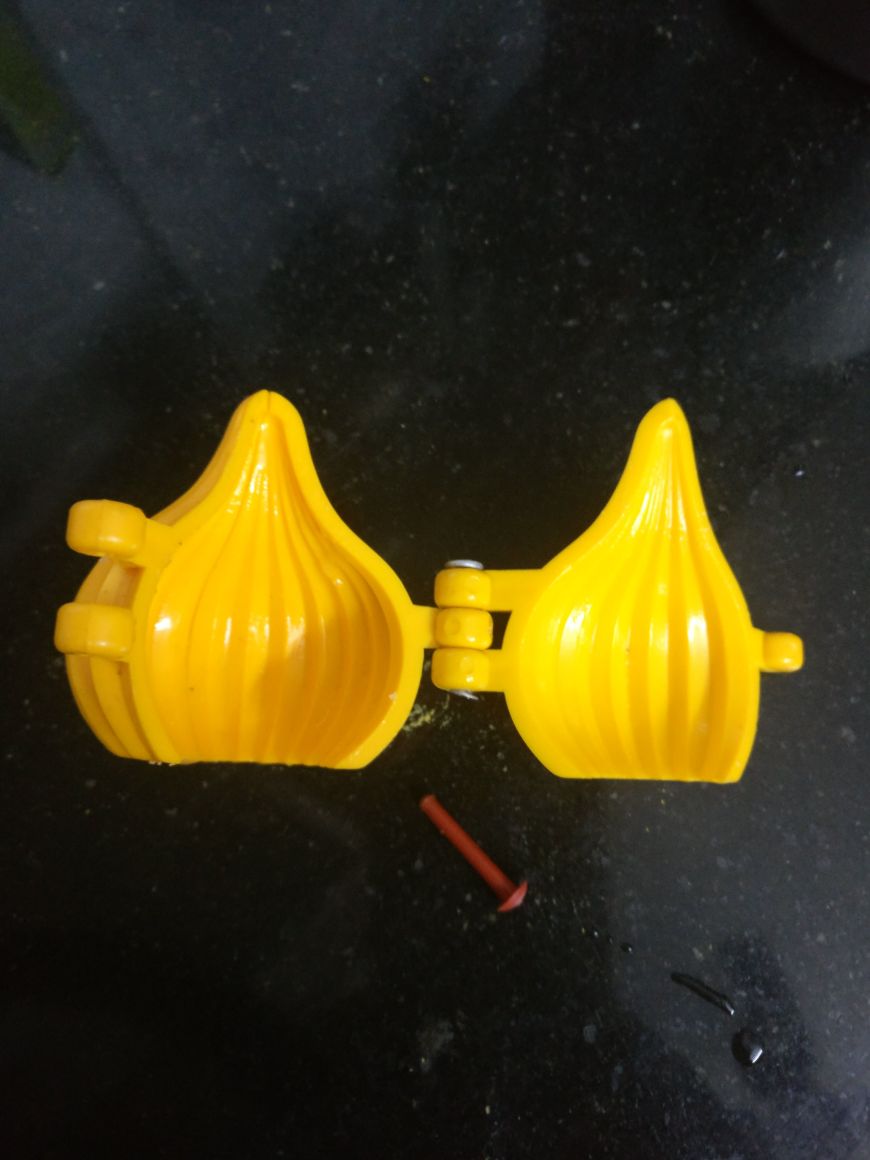 Now gently open the mould, remove and place it on the plate.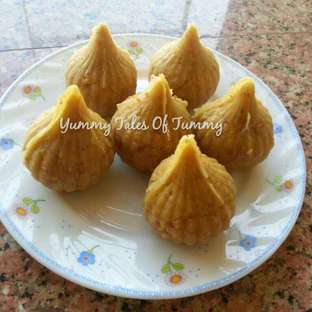 Deep fry/ bake them on very low flame otherwise it will turn brown very quickly. Cook till its light golden brown.
NOTE:
Dumplings don't need much frying as dalia is cooked previously.
Keep aside.
To make Caramelised  fruits
1 spoon ghee
Cinnamon stick 2
1 cup Pineapple cut into thick rounds
1 Apple cut into rounds
Almonds 8
Kaju 8
Brown suagr 2 spoons or more
Lemon juice 1/2 tsp
Honey 2 tsp
Cherries to garnish
In a pan put ghee. Add cinnamon. Add pineapple and apple pieces. saute it. Add almonds. Saute it.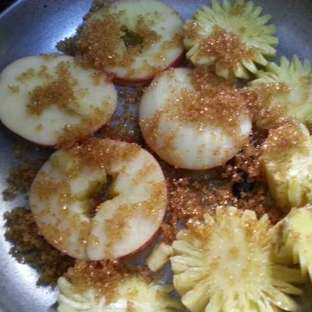 Now add brown sugar for caramelised effect. Keep the flame on sim,  It will coat fruits. Drizzle lemon juice over it.
Add fried dalia dumplings in it.
Drizzle honey over it.
Switch off the flame.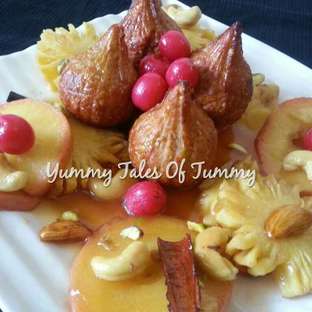 Garnish with cherries and more chopped  dry fruits.
If you love the recipes, do share it with your friends and family. Also, like us on facebook and Instagram. Pin us on Pinterest, we would love to hear from you. Do leave your comments below.
Regards.