Good Afternoon  &  happy sunday to you all..
This no cook receipe is more than a welcome change for ladies who don't want to spend much time in kitchen because of heat of summer, as what to cook everyday is a big task itself.
Everytime eating same salads in same way in so passe. Being mother of grownups, kinda always throws challenge at you to create something new nd different. So to make salads more interesting here comes the new, exiting nd  very cute looking Creamcheese filled Penguins. Black olives are filled with creamcheese nd with use of carrots as their feet makes a pretty looking appetizer.
This can be served with drinks or can be eaten as salad. Serve it to your guests and look at their smiling faces. It's very easy to make and can be prepared beforehand and kept in refrigerator. Just remove it and serve chilled.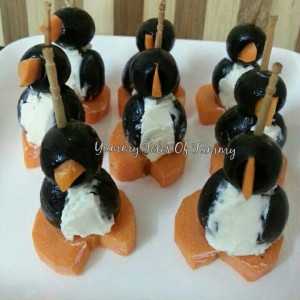 Creamcheese Penguins
Preparation time : 10 minutes
Assembling time: 15 minutes
Ingredients:
8 black olives, pitted(hollowed) to form lower body
package cream cheese, softened
8 black olives pitted to form upper body
1 carrot cut into thick roundels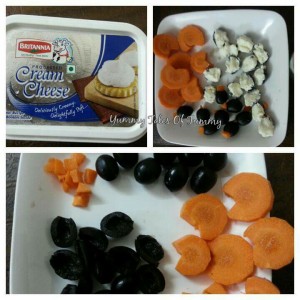 Method
Give a slit from top to bottom, lengthwise to 8 olives,for lower body.
Carefully insert about 1 teaspoon of cream cheese into each olive, apply creamcheese on both halves.
It's bit messy but worth it. Clean excess with tissue paper.
Slice the carrot into thick rounds; cut a small notch out of each carrot slice to form feet. Save the cut out piece and press into center of olive to form the beak for upper body(neck).
Set an olive, vertically, large hole side down, onto a carrot slice. Then, set another olive with toothpick, horizontally onto the vertical olive, adjusting so that the beak, cream cheese chest and notch in the carrot slice line up.
Secure with a toothpick.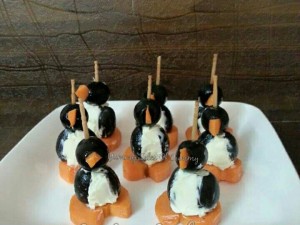 Chill it in refrigerator & enjoy ur Appetizer with choice of ur drinks