VEGETARIAN EGG CURRY (With no eggs)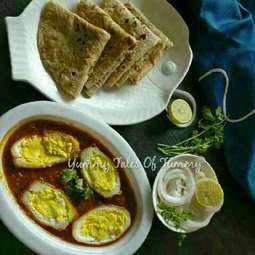 Vegetarian Egg Curry sounds cool na😃 when I heard about this for the first time, I was pleasantly surprised. Many people don't eat eggs so this is a cool option for them as the texture and look wise it is kind of similar to eggs. Why should only non vegetarians have fun.
Paneer ke ande is a vegetarian curry where grated paneer is shaped like an egg.
Soft paneer eggs are served in flavourful curry with mild spices. This can be served with Roti/chapati/flat bread, naan or even rice too. Surprise your family and friends with this unique dish and I am sure they all will love it.
This recipe of Paneer Eggs in Gravy is so simple and easy that even beginners can try it out. So, the next time you have a party at home do not forget to make this and impress your near and dear ones.
Ingredients
For making Paneer eggs—
Grated paneer: 1 pack cup + 6 tbsp,
Turmeric powder or haldi: ⅛th tsp,
Corn flour: 2tbsp,
Oil: 1tsp,
Salt,
For making gravy:
Oil: ¼ cup,
Bay leaf / tej patta: 2,
Cinnamon stick/ dalchini: 1 stick,
Small cardamom/ choti elaychi: 1,
Cloves: 3-4,
Cumin seeds/ Jeera: 1 tsp,
Kashmiri lalmirch powder: 1 tsp,
Fine chopped onions: 1 cup or I medium size,
Ginger Garlic paste: 1½ tbsp,
Tomato puree of 2 tomatoes
Turmeric powder/haldi: ½ tsp,
Red chilly powder / lal mirch
powder: 1 tsp,
Coriander/ dhania powder: 1½ tsp,
Cumin/ jeera powder: 1tsp,
Dry mango / amchur powder: 1 tsp,
Garam masala powder: ½ tsp,
Salt,
water
Instructions
For making paneer eggs—
Take 6 tbsp of grated paneer, mix turmeric powder and salt.
Mix nicely and make 6 small rounds like egg yolk.
Now in a big bowl take 1 cup of grated paneer, corn flour, some salt.
Mix and knead it like dough.
We have to knead it for almost 5-6 minutes till paneer becomes very smooth.
Divide it in six portions. Roll each ball to disc shape.
Put small yellow ball (yolk) in the center.
Cover with the part from all the sides.
Roll it between palms and give it an egg shape as shown in the video.
Heat very little oil in pan and put the eggs in the pan to shallow fry them.
Drop little oil on the eggs too.
Turn them couple of times and cook till they are golden brown from all the sides.
When eggs are done take them out in a plate and let them cool down.
Once paneer eggs cool down cut them in two pieces.
For making Gravy—
In a medium hot pan heat oil.
Add bay leaf, cinnamon stick, small cardamom and cumin seeds. Stir it well.
Now add degi mirch/ paprika powder. Stir and add fine chopped onions.
Reduce the heat to medium low and cook onions for almost 10 minutes.
In between add salt and saute after every few minutes so onions don't burn. Add fine chopped onions. Reduce the heat to medium low and cook onions for almost 10 minutes.
In between add salt and saute after every few minutes so onions don't burn.
When you can see oil separating out from the onion, add tomatoes puree.
add haldi, coriander, red chilly and cumin powder. Mix all the spices well.
Add little water so that masala do not burn and mix it nicely.
Cook onion and masala till it looses oil again.
Add water according to the consistency of the gravy you like.
Increase the heat to medium and boil the gravy for 5-8 minutes.
After almost 8 minutes switch off the heat and add garam masala and dry mango powder.
For Serving—
In a serving dish place paneer eggs and pour hot gravy over them slowly. Paneer egg curry is ready to serve.
Serve it hot with hot steaming rice, soft rumali rotis, parathas or naan..
Notes
1. If you do not wish to make curry like this just make eggs, shallow fry them and garnish with coriander, green chilly and chaat masala.
Hindi Video Recipe :
English Video Recipe :
Recipe courtesy Shilpi Agarwal.