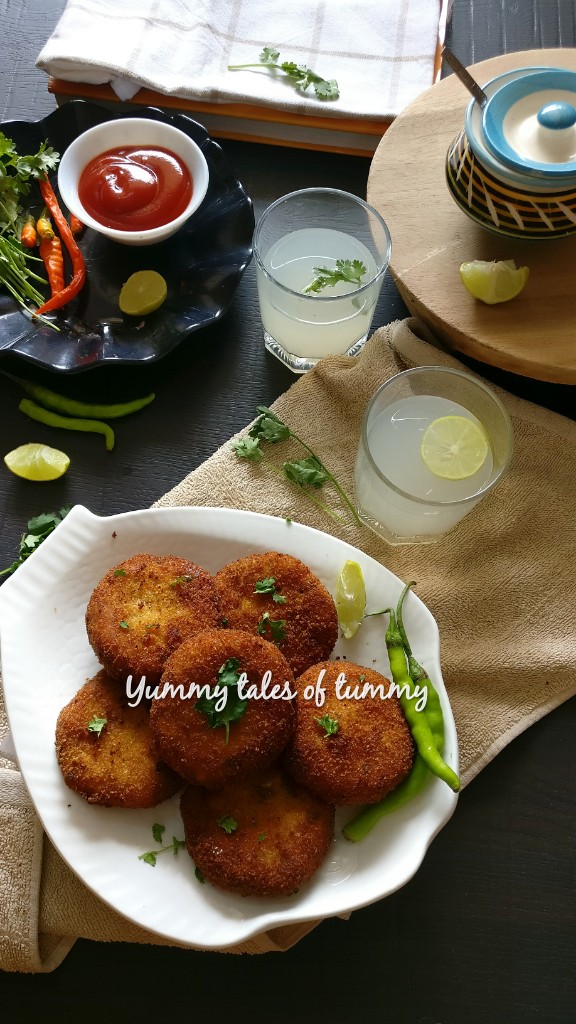 Today i have for you all a delicious snack made from Corn. It's called Corn kababs/patties. Also known as Makai Kababs, these kababs are made with lots of vegetables and they taste irresistibly delicious.
It's simple , quick to prepare and tastes really yum.  Relish it as your tea time snack or serve as a starter in your next get together or stuff between buns and munch as burgers .. the choice is all yours . But which ever way.. i'm sure that everyone would love it plus its so easy and simple to make.
These corn kababs are perfect for kiddo birthday parties to get them to eat more vegetables. Crispy on the outside and meltingly tender within, you will be surprised how many adults easily fall in love with these deep fried delights.
A must try snack recipe especially for the monsoon season!
Ingredients to make corn kababs :
1 Cup boiled/steamed american corn grinded to a thick paste
1/8 Cup whole corn pieces
4 small potatoes grated
1/2 Cup green peas
1 small piece of cabbage chopped
1 large carrot finely grated
1 medium onion diced small
juice of 1 lime
1 tsp ginger
2 green chills
3 slices of bread grinded to make fresh bread crumbs
1/4 Cup chick pea flour dry roasted in a pan
1 tsp chaat masala
1 tsp red chili powder
1/4 tsp turmeric powder
1/2 tsp salt
1/4 cup fresh coriander leaves chopped
For coating :
Cornflour slurry 1 cup
Or
Whisked/beaten egg 1
Bread crumbs 1 cup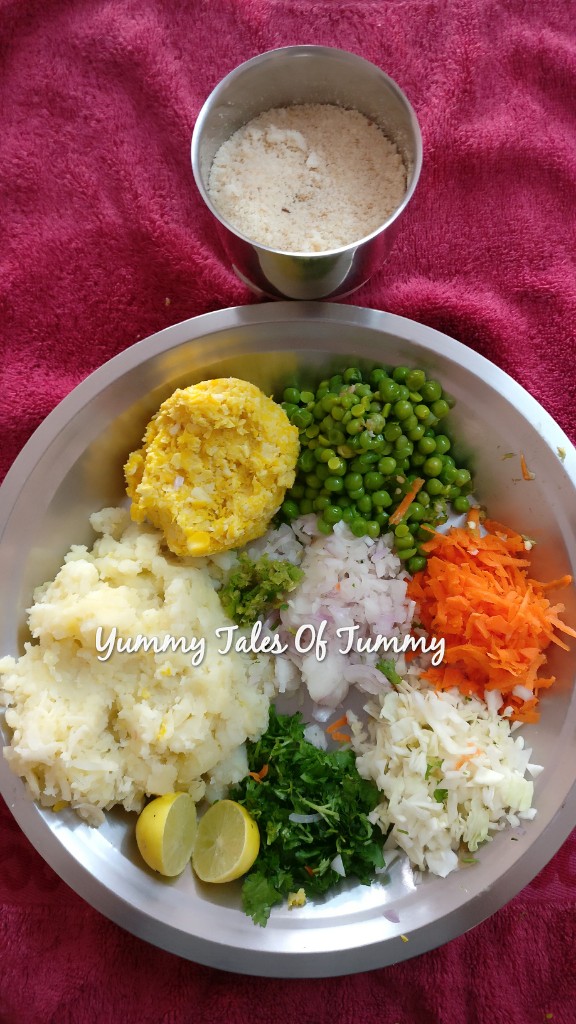 Make a stiff dough with these ingredients and use oil on the hands to make round/oval /log shape (any shape which you like) kebabs.
Stick a short skewer into the centre, if making log shaped and roll kababs in the  cornflour slurry or beaten egg, followed by  breadcrumbs.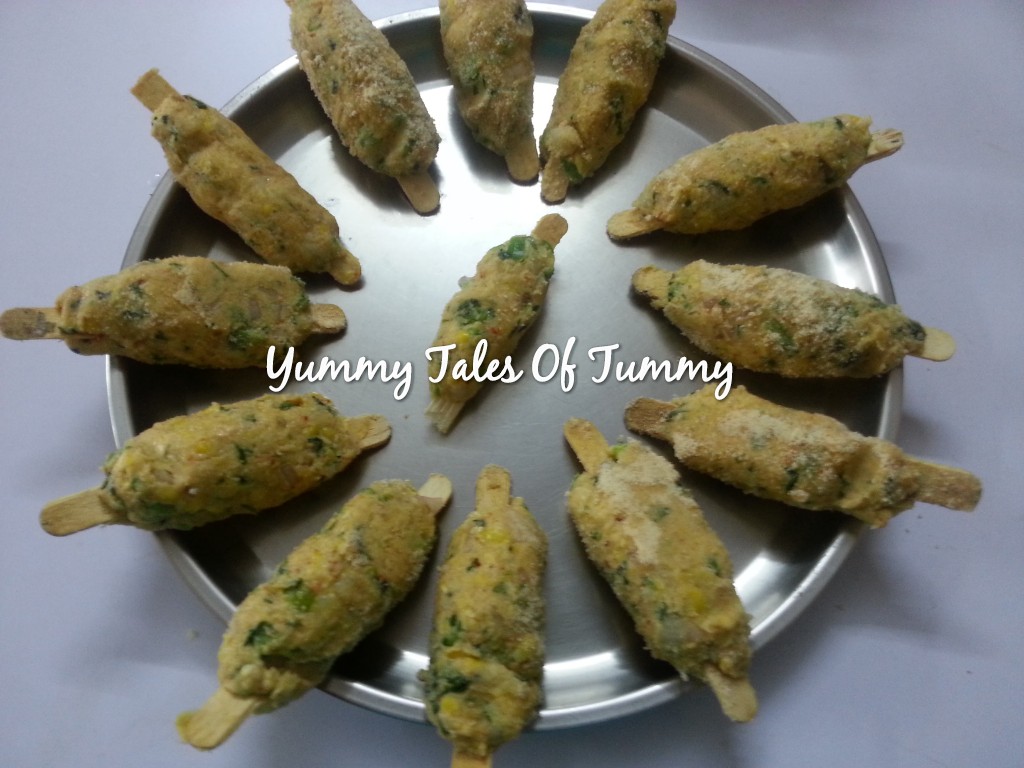 Repeat with the rest.
Heat a pot of oil, covering ¼ from the base. To test the oil temperature, insert a wooden chopstick in the centre of the pot and if small bubbles start to form around the chopstick, the oil is ready.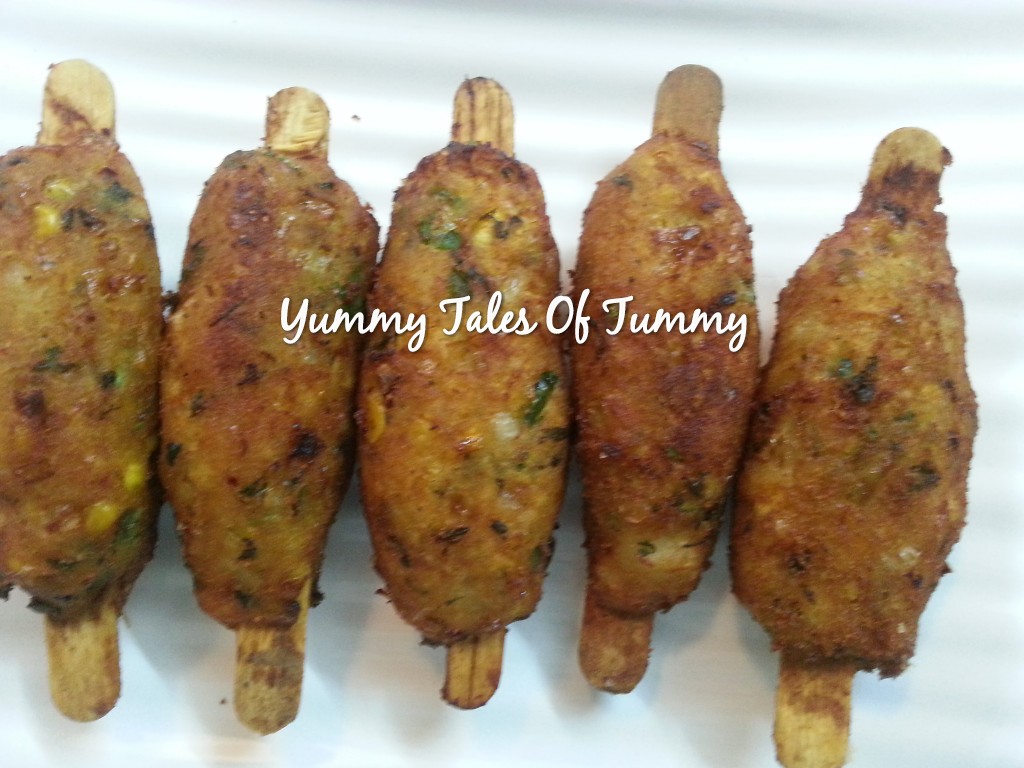 Place a few pieces of the corn cakes into the hot oil and fry until golden brown.
Fry over medium heat to ensure the inside is cooked through thoroughly. Remove and drain on paper towel before serving.
NOTES :
Add any vegetables of your choice to make it more nutritious.
Refrigerate the dough for 15 minutes, before frying to avoid kebabs breaking in oil.
Adjust the amount of green chilli if you do not like spiciness.
Corn kababs taste great when deep fried as they turn crunchy.
If you have liked my post or recipe, please do share your feedback in the comments section below and give a thumbs up to my Facebook Page. You can now also follow me on  Instagram.
Regards