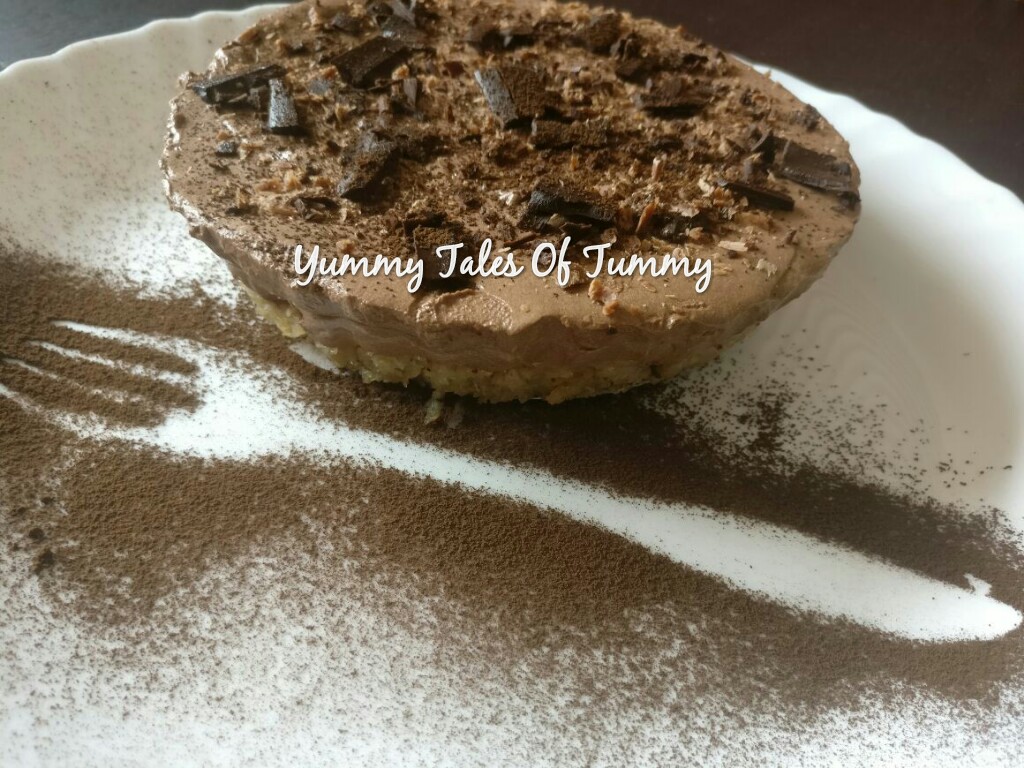 A match made in heaven dessert :
Coffee  Mousse Pie with Toasted Coconut Crust is a celebration of coffee,coconut and chocolate. . A coconut  crust combined with a creamy coffee – chocolate mousse filling makes for one irresistible dessert.
The combination of coffee, chocolate and coconut really shines in this cool and creamy Coffee Mousse Pie with Toasted Coconut Crust. All of that toasted coconut combines with the dark chocolate filling for an irresistible dessert!
Coffee and chocolate is a fabulous and sophisticated combination. A soft coffee-chocolate mousse flavoured with brown sugar, and set on a crunchy coconut crust… doesn't that sound heavenly!
Delicious crust
Let's start with the crust – holding this all together is a coconut crust! It's super chewy with a little bit of crunch, and it's so absolutely delicious. It comes together in like two minutes, or as much time as it takes you to gather and measure the few ingredients and then stir them together.
What goes in for filling the pie
Making the chocolate mousse filling for this pie is quite easy and quick, needing just few ingredients. It can, however, be a bit tough to get it mixed thoroughly. After you've let the chocolate mixture sit, it will be thick and probably a little hard to stir.
Once you've made the whipped cream, I strongly suggest that you add about a quarter of it to the chocolate and mix it well. Then you can fold in the rest more easily without deflating all of your whipped cream.
Time: 3 hours 30 minutes
Makes 6 wedges
Ingredients
For The Coconut Crust
1 1/2 cups grated fresh coconut
3 tbsp butter
3 tbsp brown sugar
For The Coffee Mousse
2 cups roughly chopped dark chocolate
1/2 cup milk
1 1/2 tbsp powdered sugar
3 cups beaten whipped cream
1 1/2 tbsp coffee powder dissolved in 1 1/2 tbsp warm water
For The Garnish :
Castor sugar and for dusting
Choclate shavings
Method :
For the coconut crust
Combine the coconut, butter and brown sugar in a deep-non stick pan and cook on a slow flame for 4 to 5 minutes or until the coconut is lightly browned, while stirring continuously.
Spread and press the mixture at the base of a loose-bottomed pie/cake tin.
Refrigerate for atleast 30 minutes.
For the coffee mousse:
Combine the chocolate and milk in a microwave-safe bowl and microwave on high for almost 50 seconds at the burst of 20 seconds each. Remove and mix well until no lumps remain.
Strain the mixture using a sieve and keep aside.
Combine the sugar and beaten whipped cream in a deep bowl and fold gently.
Add the chocolate-milk mixture gradually and fold gently.
Add the coffee mixture and fold gently. Keep aside.
Pour the coffee mousse mixture immediately over the prepared coconut base and spread it evenly using a palate knife.
Refrigerate for 2 to 3 hours hour or till the mousse sets.
Demould the pie and garnish with castor sugar and cocoa powder. Garnish with chocolate shavings.
Cut into equal wedges and serve chilled.
Notes :
1) You can also melt the chocolate-milk mixture on a double boiler.
2) Any time chocolate is the primary flavor, I feel I must recommend that you use a good quality chocolate.
3) Not everyone loves coconut. In fact, it seems to be one of those foods that you either love or hate. If you want to make this pie with a different crust, that's no problem at all.
4) I recommend a cookie crumb crust or a different shortbread crust. If you're a fan of nuts, then you can substitute nuts for the coconut in this recipe.
Video recipe in Hindi :
Thank you for stopping by my blog, I hope you liked the recipe. Please do share your valuable feedbacks, I love to hear from you all.
Happy cooking!
Pin it for later :