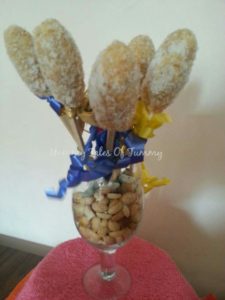 A warm welcome to you all and wish you all a very happy new year.
The year 2017 has started on a great note. I am doing what i love the most, travelling. Nothing much was planned for new years eve. But all of sudden from nowhere the idea of spending the new year and ushering it on a friend's farmhouse in Gujarat, came upon, as whole bunch of friends planned to do so. We drove down there and had a blast.
The year has begun and makar sankranti/pongal is fast approaching too. Everytime i make sweets like sesame seed/til ladoos, chikki of different varieties. This time i thought to make unusal stuff using the same ingredients.
I once saw this dish made by my dear friend Kanwaljeet,on other forum. So i decided to give it a shot. And pops turned out delicious.
So here i present very healthy and nutritious Coconut and roasted peanut pops which is actually served as ladoos. The shape of pops gives it a added attraction and can be served in individual portions too.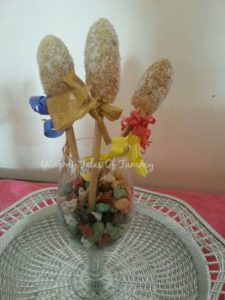 Ingredients:
2 cups dry coconut powder
1 cup roasted peanuts (grind coarsely)
1/ 4 cup condense milk or more
Dry coconut for coating
Icecream sticks or kulfi sticks
Method :
In a nonstick kadhai put dry coconut powder. Add coarsely grinded peanuts. Add condense milk. Cook on medium flame till it leave the sides. Turn off the flame. Keep aside to cool.
Adjust quantity of condensed milk to check pops are formed properly.
Make round balls. Put icecream sticks in centre. Flatten them to give the shape of pops. Roll pops into dry coconut powder.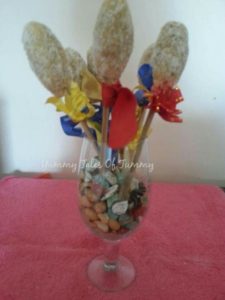 Notes:
You  can dip the pops in chocolate sauce and roll into cake decoration silver balls.