Green tea, native to China and India, has been consumed and hailed for its health benefits for centuries globally.
Tea is considered the most consumed beverage in the world after water, however 78% of the tea consumed worldwide is black and only about 20% is green.
Green tea is made from un-oxidized leaves and is one of the less processed types of tea (with white tea the least) and therefore contains one of the most antioxidants and beneficial polyphenols.
It is loaded with antioxidants and nutrients that have powerful effects on the body. This includes improved brain function, fat loss, a lower risk of cancer and many other incredible benefits.
The green miracle drink from China made its way long ago into the mugs of all over the world, for its touted health benefits. From a weight loss aid to targeting pancreatic cancer, green tea has evolved into a medicinal drink that caters to a myriad of illnesses. The reality is there are surprising benefits to reap from this magical drink in just one cup.
So how to make your grownups drink GreenTea, who doesn't want to even have a sip of it?  A big pack of Chocolate flavoured green tea leaves was lying in my pantry unused as no one was ready to have it. A contest was going on, where i had to make some different receipe using Green tea. So an idea struck my mind to make candies out of it. And  i become the winner of that contest. I am so pleased to share the winning receipe of it.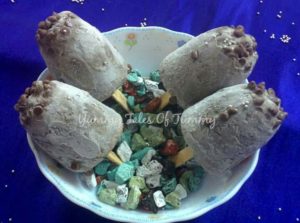 Chocolate-Tea Candies
Ingredients:
Chocolate flavoured Tealeaves 1 tsp
1& 1/2 to 2 cups milk
Cashews, Almonds & walnuts  1/2 cup
Salt a pinch
Sugar 2 – 3 tbsp or according to your taste
Few drops of vanilla Essence
8-10 choclate biscuits with cream ( I have used Bourbon. U can use oreo or some other cream biscuits)
Chocolate chips for garnishing
Candy sticks few
Candy moulds ( I have used small glasses)
Method :
1) Soak dry fruits in water for atleast 4-5 hours.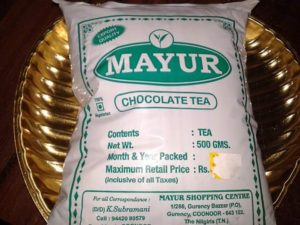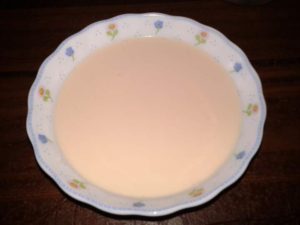 2) Now brew tea leaves. Boil milk. Reduce the heat.Add 1 tsp of chocolate flavoured tea leaves into it.
Put off the flame. Let it sit for few minutes. Cool it. Drain milk.
3) When milk is at room temperature add pre soaked dryfruits by removing water. Now add salt, sugar & vanilla essence. Blend it in mixer for a while.

4) Now add Bourbon biscuits into it. Blend it again enough to crush cookies.
5)Now add chocolate chips at the bottom of mould. Pour milk dryfruits & biscuits mixture over it (here I have used small glasses).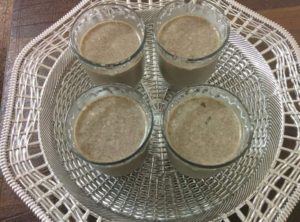 6) freeze candy mix for about 1 hour. Remove and put Candy sticks in the centre. Keep it in Freezer again for atlest 4-5 hrs to set.
Remove from freezer. U can garnish it with chocolate sauce. Enjoy chilled candies.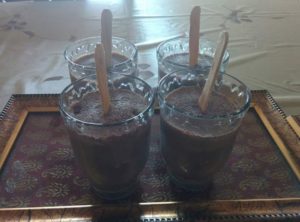 Handy Tip to unmould candies:
Fill big bowl with water. Hold ur candy moulds in water for few seconds. Gently keep rotating candy stick. Unmould & consume immediately.