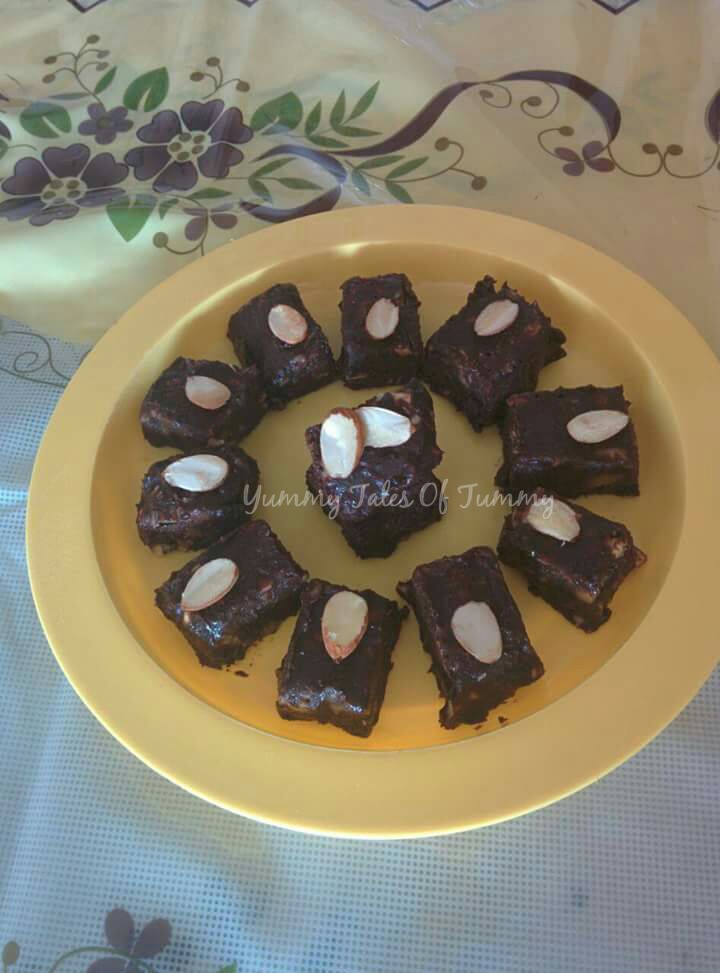 Chocolate fudge is a top crowd-pleaser, especially with this creamy, deliciously rich recipe.
Sometimes the simplest recipes yield the richest results. This glossy combination of chocolate morsels and sweetened condense milk gives a total satisfaction to your sweet tooth.
With bare minimum 4 ingredients from your pantry and you are ready to make gooey chocolaty fudge.
During our visits to Lonavla, and from a particular shop, i used to always pick up fudge in large quantities. Not any more 😃
Now whenever I want, just mix 4 Ingredients and it's ready in minutes as it's so easy to make.
Once i gifted a box full of fudge to my dear friend and her daughter was all gaga over it. She and her family so loved it. And i was more than happy to receive so many compliments.
Preparation time : 15 minutes            Cooking time :  10 minutes
Ingredients:
200 gms Dark chocolate (Morde brand)
150 gms condense milk (homemade, make it previous day )
Chopped Dry fruits like cashews , Almonds , raisins and walnuts 1/2 Cup
Peanut butter 2 spoons
Loaf Tin
Butter paper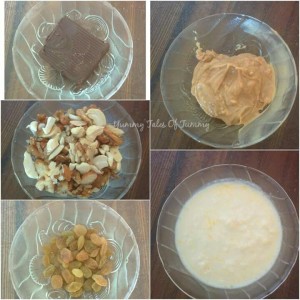 How to make Condense milk at home :
Boil 1 liter whole milk. Add one small bowl of sugar in to it. Keep the flame high. As milk starts to boil reduce the flame and keep stirring it. After some time colour of milk would start to chage & it would start to thicken. Keep stirring it. Cook for abt 5 – 8 minutes more. In all it wd take around 15 minutes to thicken. it has to be of runny consistency.
Now add 1 spoon butter and 1/ 2 tsp vanilla essence. Cool & use. You can store this in glass jar or bottle. It lasts upto 15 – 20 days.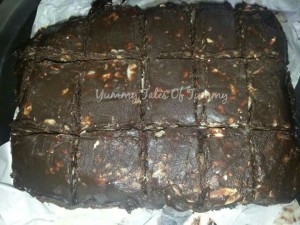 Method to make Chocolates Fudge:
Break dark chocolate into pieces and micro high for 1.5 minutes. After every 30 seconds remove and stir as chocolate has tendency to burn.
Mix condense milk into chocolate. Add chopped dry fruits. Mix well so that there are no lumps. Add peanut butter. Mix nicely.
Pop this mixture into loaf tin which is lined with butter paper. Level it. Keep loaf tin in fridge for about 2- 3 hours to set.
Remove from fridge and transfer into plate. cut into square pieces. After every cut wipe the knife clean with tissue paper.
Garnish with Slivered dry fruits.
Enjoy.