Hello & a very warm welcome to you all.
Ahhh.. it feels so good to come back to what you like the most.  For me it's cooking and writing for my blog. As Diwali was round the corner, so got busy with routine and many more things. Kind of taken a short break but was missing it so badly.
Today I want to share my happiness with you all. The recipe which I am shring today is winner amongst 500+ entries. I have adapted this recipe from Chef Pankaj with few changes.
Chicken in chocolate Mole (sauce) is a lipsmacking variation for people who would  like to experiment.  We all eat chicken in gravy or in the form of starter/ appetizer or chinese or muglai. Here addition of chocolate in chicken takes the whole dish a notch higher. Amazingly different and yet yummy, i wonder why i have not ever tried chocolate in my gravies earlier. It perfectly strikes balance between sweet and sour, and not sweet at all.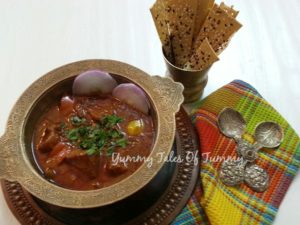 Prepration time  25 minutes                             Cooking time  50 minutes                      Serves 4
INGREDIENTS
1 Onion, chopped
4 cloves garlic, chopped
1 cup chopped tomatoes
1 cup chopped Capsicum red, yellow and green
2 jalapenos, roughly chopped
2 tablespoons peanut butter
1/2 cup water
1/2 cup bittersweet chocolate, chopped
250 gms chicken, cut in medium pieces
Oil 4 tbsp
2 tablespoons chili powder
1 teaspoon cumin powder
1/4th teaspoon cinnamon powder
Salt to taste
Steps
Heat oil in a pan over medium heat.Add onion and saute until translucent. Add garlic and spices and continue to saute.Add diced tomatoes, half of peppers, jalapenos, peanut butter, chocolate and water.
Simmer for 10 minutes.Keep an eye on gravy and saute continuously, as chocolate in that may get burnt.Cool it and pulse it in mixer. Strain the puree for silky smooth finish.
Sear the chicken in a heavy bottomed pan over medium-high heat until browned on both sides by adding oil time to time.
Now transfer the gravy into seared chicken. Keep the flame on low and cook the chicken for about 30-35 minutes or until is done and tender.
In between stir the chicken and gravy.Transfer this into serving dish and serve it with rice or roti or lavaash sticks