PANEER LABABDAR KATHI ROLLS/FRANKIE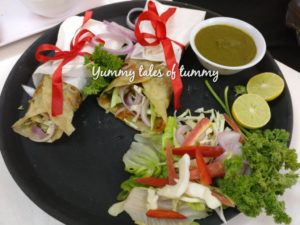 Kathi roll is an Indian street food, originated from Kolkata, where Indian roti/chapati/ flatbreads are filled with veggies, chicken, mutton etc along with some chutneys and salad.
As Paneer is loved by all, and for a change other than potato tikki filling, I opted for this. These wraps have stuffing of paneer, which is sautéed in spicy masala. The mouth watering spicy masala of paneer wrapped in chapati or paratha is a treat to taste buds at anytime anywhere.
This recipe is fairly simple and the good part is that it's quite easy. Traditionally the tortilla for kathi roll is made my mixing all purpose flour or whole wheat flour, but to make it healthier, you can use 100% whole wheat flour, or can use 50 : 50 ratio.
You can get whole wheat tortillas from store or make it at home. Or you can use your leftover chapatis/Roti's. Just place them in the fridge if not using the same day, next day warm it on griddle and you are sorted.
It is a healthy, nutritious and quick recipe that you can easily prepare at home. Perfect for kids tiffin too! Serve thus along with some fresh salad and you are sorted.
Preparation time : 15 minutes
Cook Time : 20 minutes
Serves 4
INGREDIENTS :  To make Tortillas/roti
DOUGH INGREDIENTS
1 cup Maida
Or 1/2 cup maida & 1/2 cup whole wheat flour
Salt to taste
3/4 cup Water (approx)
1 teaspoon Oil to finish up the dough
Assemble all the ingredients and knead a soft pliable dough. Make equal size balls out of the dough. Dust it with dry dough. Using a rolling pin, roll it like a big circle. Heat a griddle/tawa.
When tawa is hot, transfer the rolled out roti onto the hot tawa. Flip and cook until evenly cooked and brown from both the sides.
Fully cooked and puffed up Tortillas/ roti is ready. Take it off the flame and apply ghee. Place it in a container and cover. Repeat the process with rest of the dough.
To make Paneer & Mushroom lababdar
200 gms paneer
1 pack of mushrooms
3-4 tbsp oil
1 tsp Cumin seeds ,
2 bay leaves,
2-3 cloves
1.5 tsp crushed ginger garlic
1 medium size onion  chopped,
2 medium size tomato chopped
Salt, turmeric, red chilly powder, cinnamon to taste
1.5 tbsp kitchen king masala
Grounded 1/4 cup of almond, cashew, poppy seed powder
1 medium size onion
2 medium sized tomatoes
1 small sized  green capsicum
1 tsp Kasuri methi crushed
2 tsp Fresh cream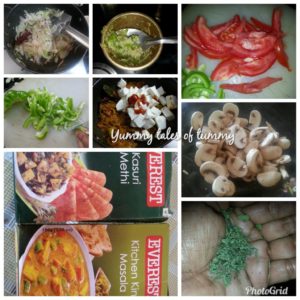 Method
Add cumin, cloves, ginger garlic paste, bay leaves to oil
Add chopped onions and cook it well until it turns translucent.
Once onions are done nicely, add chooped mushrooms. Saute nicely for a while. Add finely chopped tomato, turmeric powder, red chilly powder, kitchen king powder and add 1 tsp garam masala, salt to taste, cinnamon powder, grounded cashew, almond, poppy seed powder and cook it really well until it starts oozing out the oil
Once all these are cooked really well, add onion, tomato, green bell pepper that was cut in big pieces and paneer at this step….after adding the paneer..stir very gently else paneer will break or scramble….
Let it cook well but do not cover the pan at this time….once done you can add lil of dried fenugreek, chopped cilantro/coriander leaves and fresh cream to it.
ASSEMBLING KATHI ROLLS
You will need :
Green chutney
Lahsun chutney
Peeled, washed and cut onions
Shredded lettuce
Pre cooked Rotis/wraps/Tortilla
Let's start assembling them.
Spread green & red chutney on the wrap/roti.
Place lettuce in the center.
Spread spoonful of paneer mushroom lababdar over lettuce leaf.
Add some onion.
Generously spread some more green chutney on top. As per one's taste add lemon juice or chaat masala on top.
Start folding the roti.
Secure the edges with a toothpick.
Or wrap the kathi roll in wax paper.
Warm kathi rolls are ready.
Serve hot with potato fingers.