Mushroom Matar/ Green peas masala 

curry
Mushroom matar masala curry with detailed photo and step by step recipe.
A creamy and spicy curry or north indian gravy recipe prepared mainly with green peas/matar and mushrooms.
The recipe for mushroom matar masala curry is extremely simple and is prepared by cooking green peas and tossed mushroom in a creamy, spicy and tangy tomato and onion based gravy.
Mushroom Matar, or mushrooms and peas in a creamy onion, tomato sauce, is a staple of Indian restaurant menus. But this creamy, spicy, saucy dish is just as easy to put together quickly in your own kitchen.
The masala curry gets its flavour and richness from its tomato and onion based gravy. it is an ideal side dish to roti / chaptai and jeera rice or plain steamed rice.
There are several ways this recipe can be prepared but i have tried to show it in a simple way by just sautéing onion and tomatoes. There is no need of grinding the masala after sauting it. My family likes this way and it turns out very smooth without grinding too.
You may try these main course dishes :
What is Masala :
Masala means many things in Indian cuisine. It can be a dry spice blend, a wet spice blend or a sauce which can be used to make a dish.
This simple Masala sauce works well with any veggies, chickpeas or lentils. Make the sauce creamier with more cashews, creamy  butter to make makhani or butter sauce, tangier with more tomatoes, spicier or milder.
So here we go 🙂
Prep Time : 10 mins
Cook Time : 20 mins
Serves : 3
Ingredients required :
2 packs of Mushrooms
1 cup Green Peas Shelled
2 large onions grated
2 large Tomatoes
1 tsp ginger
8 cloves of garlic
2 green chillies
1 tsp black pepper powder
1 tsp coriander powder
1 tsp salt
1/2 tsp Haldi/ Turmeric powder
1 tsp Red chillies powder
1 tsp Kitchen king masala
1/2 tsp garam masala powder
1/4 cup cream or full fat milk
Coriander leaves to garnish
METHOD FOR MAKING MATAR MUSHROOM MASALA RECIPE :
Heat half a tbsp of oil in a cooking vessel, add the sliced mushrooms and saute for few minutes. Cook till water evoparates and mushrooms look a bit dry. Now add salt and black pepper powder to it. Saute for few minutes more.
Switch off the flame.
Set aside.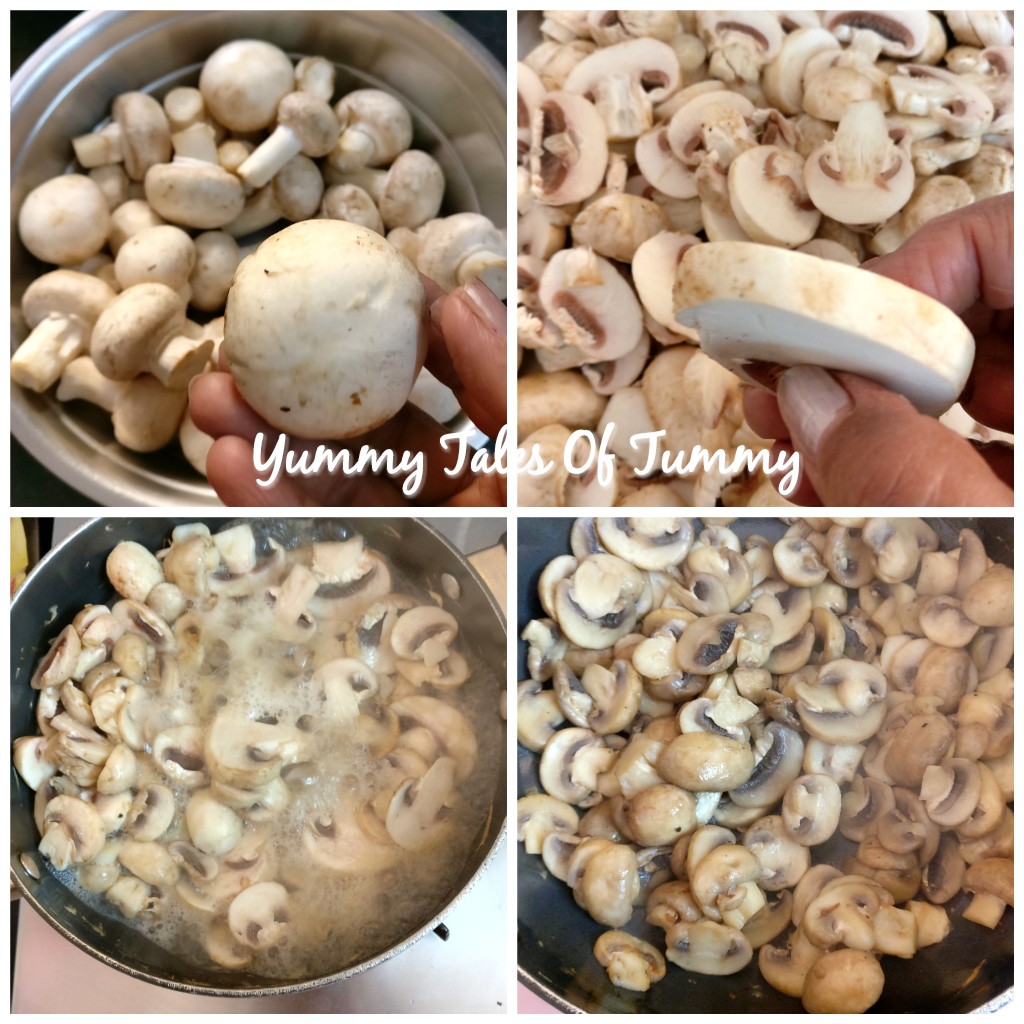 In the same vessel, add a tbsp of oil and add the bay leaf, cumin, &  finely chopped onions. Saute it till onions turn light brown. Add the minced garlic, chillies and ginger paste and saute for 3 minutmi on low medium flame.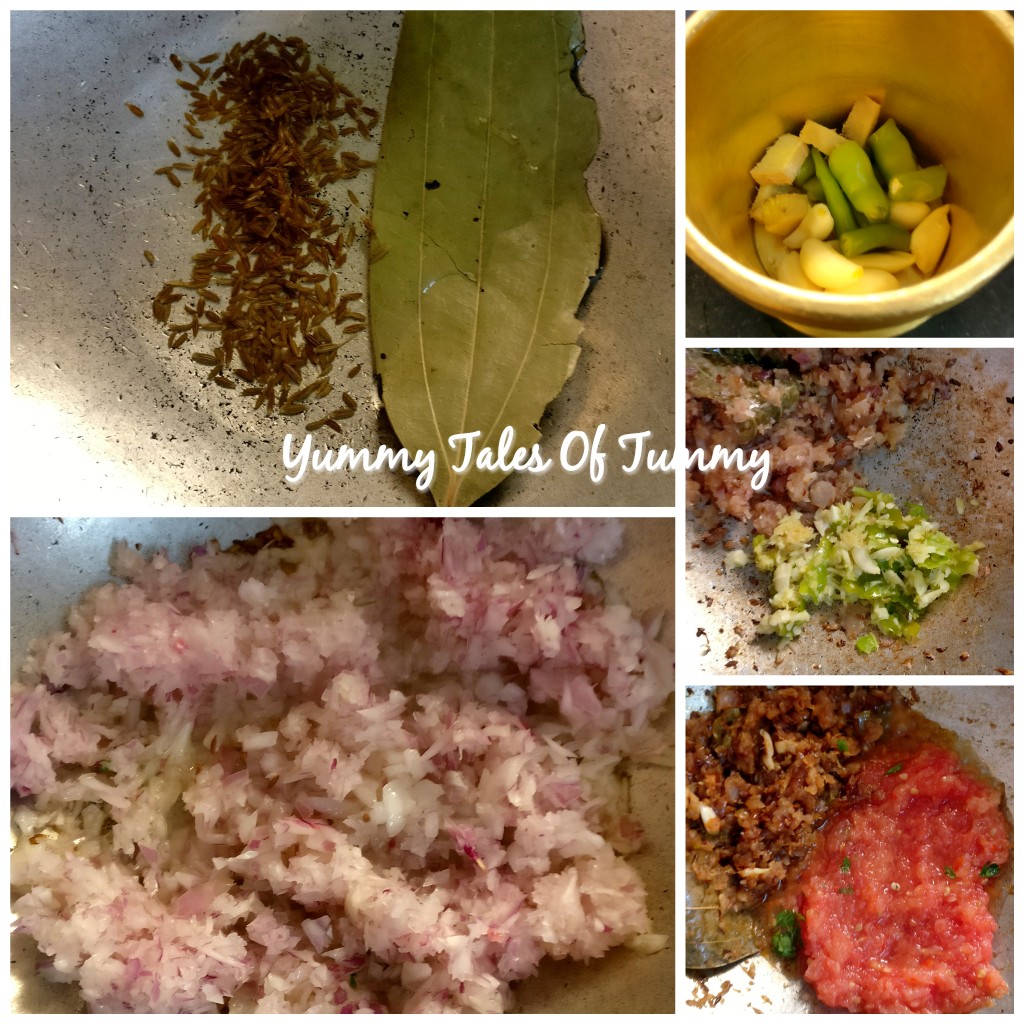 Add turmeric powder, red chili powder, Salt & coriander powder and mix well. Next add kitchen king masala powder.
Add tomato puree and cook on low-medium flame for 7-8 mts or till oil separates. Add 1 cup water,  and bring to a boil.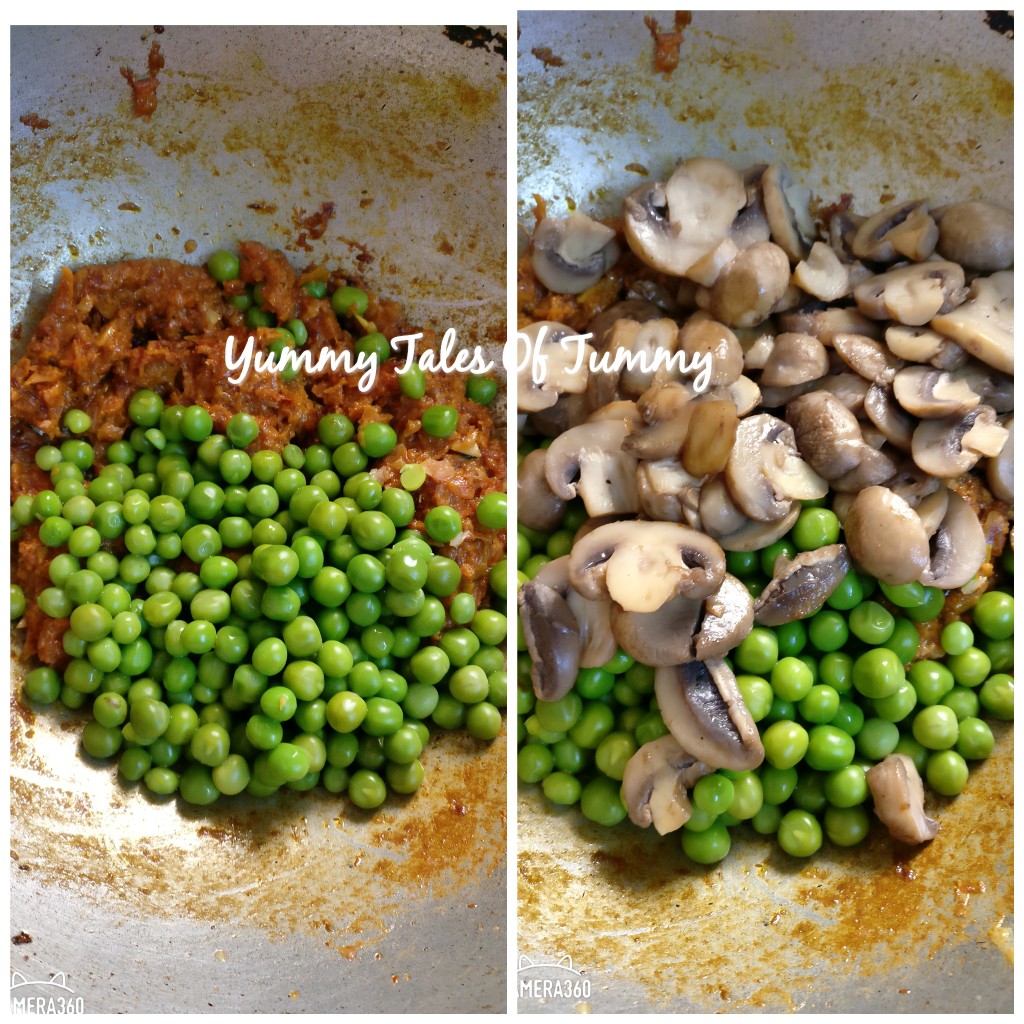 Add the sauteed mushrooms and boiled peas.  Simmer for 10-12 minutes or till everything is cooked and the desired curry consistency is achieved.
Add a pinch of ground garam masala powder and cream/milk and mix well. Adjust salt, if required. While adding cream put the flame on low as otherwise cream would split.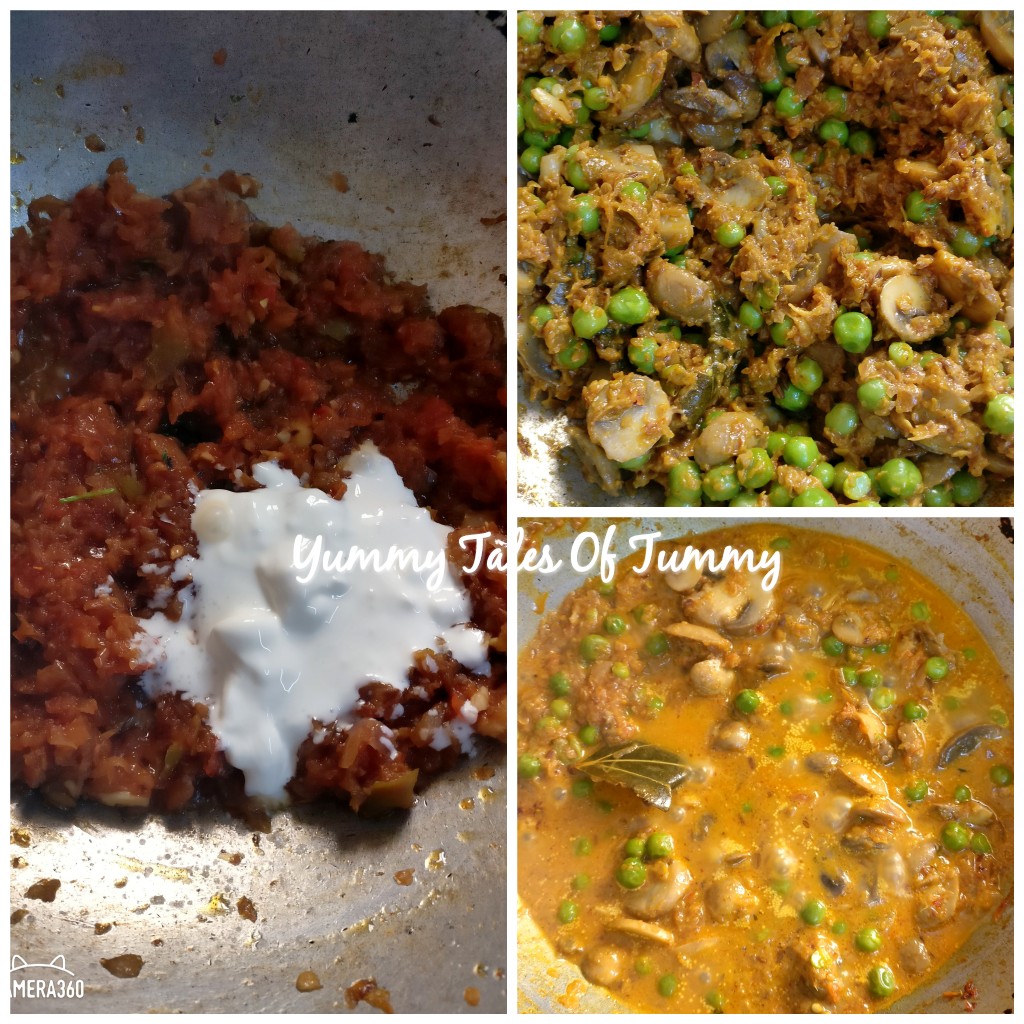 Turn off flame. Remove to a serving bowl, garnish with fresh coriander leaves and serve with chapathi, naan or pulao.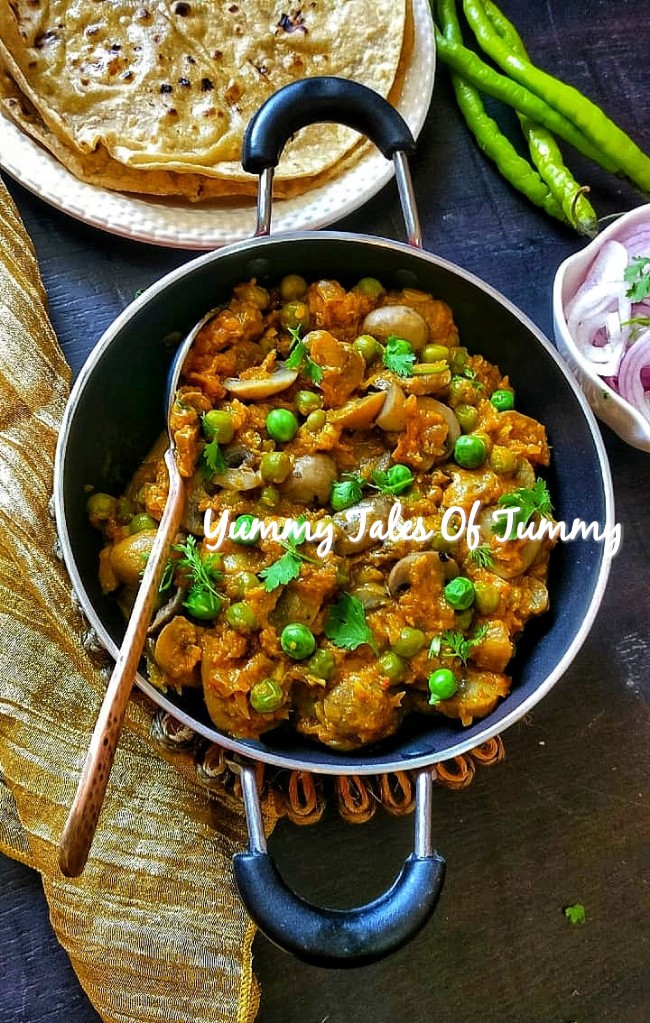 TIPS :
1. You can add a tbsp of cream or malai towards the end of the cooking process for a richer flavor.
2.You can substitute cream/ milk with cashew nut paste.
3.Use  fresh and tender mushrooms, else the curry wont taste great.
4. Use less or more peas according to your preference.
5. To make the sauce without nuts, use pumpkin seeds or cottage cheese/paneer or plain unsweetened non dairy yogurt, or full fat coconut milk or coconut cream.
6. Seasoning mushrooms with pepper and salt, increases flavour.
7. Matar mushroom recipe taste best when prepared slightly spicy and creamy.
Thank you for stopping by my blog, I hope you liked the recipe. Please do share your valuable feedbacks, I love to hear from you all.
Please like my Facebook page to continue to get healthy,easy and tasty recipes from me. If You try my recipes, please share your feedback on my blog or my facebook page with a comment or picture. Would love to hear back from you.
Also, like us on Instagram, and Pinterest.
Regards.
Pin it for later :

Mushroom Matar/ Green peas masala curry
Recipe type:
North indian
Prep time:
Cook time:
Total time:
The recipe for mushroom matar masala curry is extremely simple and is prepared by cooking green peas and tossed mushroom in a creamy, spicy and tangy tomato and onion based gravy
Ingredients
2 packs of Mushrooms
1 cup Green Peas Shelled
2 large onions grated
2 large Tomatoes
1 tsp ginger
8 cloves of garlic
2 green chillies
1 tsp black pepper powder
1 tsp coriander powder
1 tsp salt
½ tsp Haldi/ Turmeric powder
1 tsp Red chillies powder
1 tsp Kitchen king masala
½ tsp garam masala powder
¼ cup cream or full fat milk
Coriander leaves to garnish
Instructions
Heat half a tbsp of oil in a cooking vessel, add the sliced mushrooms and saute for a few minutes.
cook till water evoparates and mushrooms look a bit dry.
Now add salt and black pepper powder to it. Saute for few minutes more.
Set aside.
In the same vessel, add a tbsp of oil and add the bay leaf, cumin, & finely chopped onions.
Saute it till onions turn light brown.
Add the minced garlic, chillies and ginger paste and saute for 3 minutes on low medium flame.
Add turmeric powder, red chili powder, Salt & coriander powder and mix well.
Next add kitchen king masala powder.
Add tomato puree and cook on low-medium flame for 7-8 minutes or till oil separates.
Add 1 cup water, and bring to a boil.
Add a pinch of ground garam masala powder and cream/milk and mix well.
Adjust salt, if required.
While adding cream put the flame on low as otherwise cream would split.
Turn off flame.
Remove to a serving bowl, garnish with fresh coriander leaves and serve with chapathi, naan or pulao.

TIPS :
You can add a tbsp of cream or malai towards the end of the cooking process for a richer flavor.
You can substitute cream/ milk with cashew nut paste.
Use fresh and tender mushrooms, else the curry wont taste great.
Use less or more peas according to your preference.
To make the sauce without nuts, use pumpkin seeds or cottage cheese/paneer or plain unsweetened non dairy yogurt, or full fat coconut milk or coconut cream.
Seasoning mushrooms with pepper and salt, increases flavour.
Matar mushroom recipe taste best when prepared slightly spicy and creamy