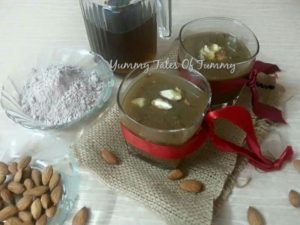 Ragi/finger millet/Nachni is also known as Red Millet or Finger Millet. It has tremendous health benefits like – aids in weight loss, increases bone strength, controls diabetes, reduces cholesterol, treats anemia, aids digestion etc.
Especially during fasting days, taking ragi drink in any form gives the body a cooling effect.
You may like my other Ragi recipes :
Calcuim-rich wonder grain, Finger millet /Ragi helps cool our body during summer. It's tasty, filling and nourishing!
With minimum 3 ingredients its ready in a jiffy.
Ingredients:
Ragi/Nachni/finger millet  powder/flour 3 tbsp
Jaggery 4 tbsp or less according to your taste
Roasted Almonds powder 3 tbsp
Coconut milk optional 2 tsp
Method :
Combine 3 tbsps ragi powder and 3 tbsps roasted almond powder with half a cup of water. Make a thick paste.
Take 2 cups of water & 4 tbsps grated jaggery in a pan and allow the jaggery to melt.
Bring water to a boil. Reduce flame and slowly add the ragi badam mix, stirring continuously till it thickens. Cook for 2-3 minutes.
Turn off heat and cool. Serve at room temperature or chilled.
When chilled, it thickens.
To enhance the taste :
At the time of serving, you can add some coconut milk. This is purely optional. Here I haven't added the coconut milk.
If you have liked my post or recipe, please do share your feedback in the comments section below and give a thumbs up to my Facebook Page. You can now also follow me on Pinterest and Instagram.
Regards.
Pin it for later :