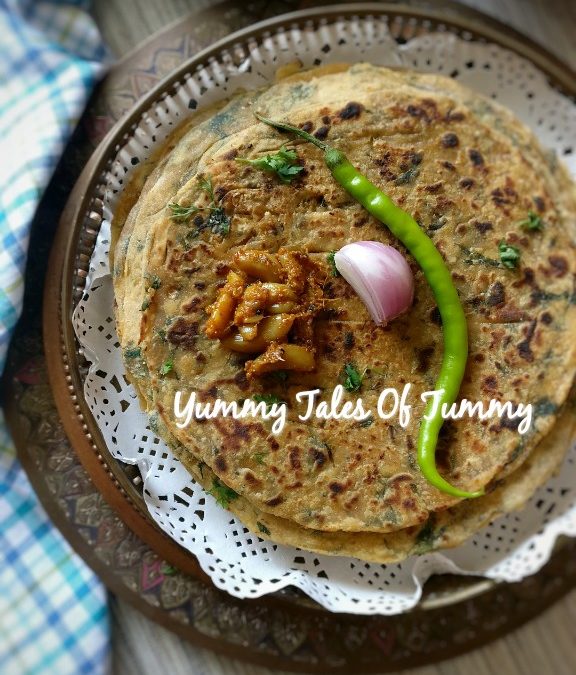 Winters are about to bid adieu, and so are the seasons vegetables. One last time i wanted to serve those yummy raddish parathas to my family for breakfast, as now we all to wait for almost few months to relish it again.
I always love to use green leafy vegetables in different forms in stuffed Parathas.
Stuffed Mooli Paratha is yummy shallow fried stuffed Indian flatbread belonging to Punjabi Cuisine. Parathas are served as breakfast with butter and lassi in North India. Try this delicious Mooli Paratha if you're in the mood for something filling…
Made with grated radish, radish leaves, whole wheat flour and common spice powders, these parathas are extremely nutritious and filling.
The twist i have given to these parathas is that instead of throwing leaves of mooli, i have used them by kneding it with flour for parathas.
Preparation time 15 minutes
Cooking time 25 minutes
Serves 3
Ingredients:
For Dough:
Radish Leaves/Mooli Ke Patte- 2 cups, very finely chopped
Whole Wheat Flour- 2 cups
Carom Seeds/Ajwain- 1 teaspoon
Asafoetida- A pinch
Salt- 1/2 teaspoon
For Stuffing:
Radish/Mooli- 4, medium sized, grated
Ginger- 1 inch piece
Green Chilies- 1 finely chopped
Red Chili Flakes- 1 teaspoon
Dry pomegranate seeds 1 tsp
Salt as per your taste
Clarified butter/ Butter- As required for cooking
Method:
1. Add 1 teaspoon salt to the grated radish or mooli and keep aside for 20-25 minutes.
Now squeeze the grated mooli with your palms and save this water to knead the dough.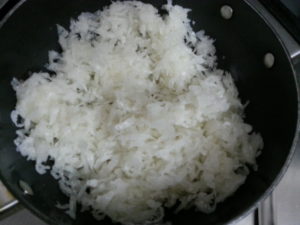 2. Meanwhile, heat oil in a pan and add carom seeds aka ajwain, asafoetida, finely chopped radish leaves aka mooli ke patte and salt in it and mix well. Saute it for 2-3 minutes on medium flame, just to remove the raw texture and flavor. Now it will remain about 3/4 to 1 cup in quantity.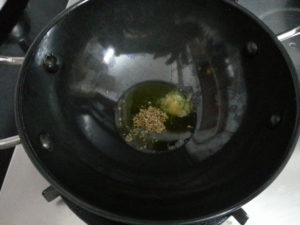 3. On cooling, mix these radish leaves with wheat flour.
4. Now knead a soft dough, using water that you have saved from squeezed mooli.
5. Now squeeze grated mooli once again to extract remaining water from the grated radish/ mooli.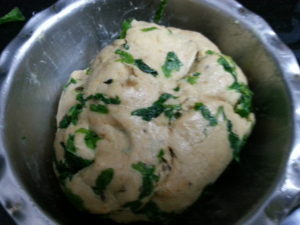 Mix ginger, chopped green chilies, dry pomegranate seeds and red chili flakes in it. Also add more salt if needed.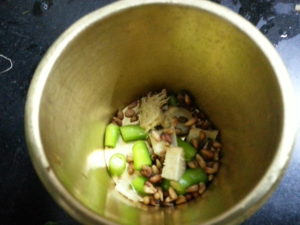 6. Divide the dough in equal portions, and make round balls with them.
7. Take one ball and make a well in it. Now stuff it with radish mixture. 8. Bring all the edges together and seal them. Dust it with some flour and gently flatten it a little with your palms.
9. Using a rolling pin roll into circular shape. Do not press it as masala may come out.
10. Cook on medium flame both sides.
Serve hot.
Serving suggestion:
Serve parathas with plain yogurt or raita (onion tomato raita, Bathua raita, tadka raita) or pickle as a light meal or breakfast.
I have served it with homemade yogurt sprinkled with roasted cumin powder and pepper powder and some salt.