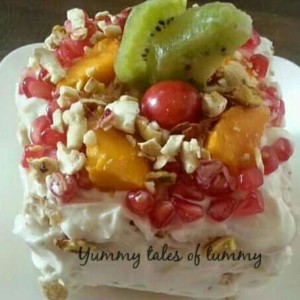 We all know that breakfast is the most important meal of the day, but it can be a challenge fitting it in when you have to rush out the door. This is easy breakfast idea to give your body the kick-start it needs.
A very yummy & healthy breakfast option for bread lovers. Its dilemma of every homemaker every morning, what to make for breakfast. Everytime eating same boring eggs with bread or pairing bread with jam or butter is so passe. This would definitely help to make your family's morning brighter.
Eating breakfast can help kids stay alert and do better in class. What better motivation to whip up a healthy and yummy breakfast in minutes with bit of preparation previous night?
So here is healthy Yogurt , Fruit & Nut filled Bread Pastry or Sandwich …..give it a try 😄
Preparation time 15 minutes
Cooking time 10 minutes
Chilling time 1 hour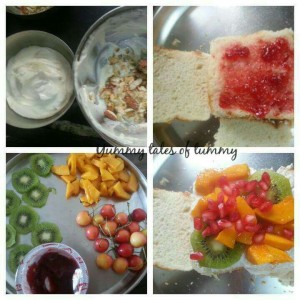 Ingredients
5-6 white bread slices
Mixed fruit jam or whichever is in your pantry.
Milk powder 2 tbsp
Chopped fresh fruits like Mangoes, cherries, Pomegranate & kiwis
Hung curd+ Amul Fresh cream mixed with Sugar(u can use Honey instead of sugar)
Vanilla essence 2 drops
Chopped dry fruits
Recipe….
Take 5-6 fresh bread slices & trim the edges.
In a bowl take 1 cup hung curd, Amul fresh cream 4 tsp, 2 tbsp milk powder , 4 tbsp sugar , few drops vanilla essence & mix till smooth. Divide it into two portions.
Chop some fruits i have used kiwis, mango, Pomegranate & fresh cherries. U can take fruits of ur choice like bananas, Apples & pineapple too. Mix one portion of hung curd into this.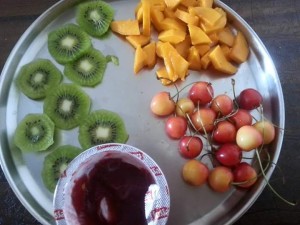 Now into another half portion of hung curd add some chopped nuts like cashews, Almonds & Pistachios.
Now take bread slices.
Spread the mix of hung curd+ fruits on a slice of bread &cover, spread jam on another, again a layer of hung curd+ nuts & so on.
cover the pastry with the leftover yogurt mix.Garnish with cherries & Dryfruits.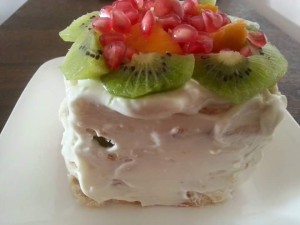 Chill & serve….
Recipe adapted from :Bejaya Sinha