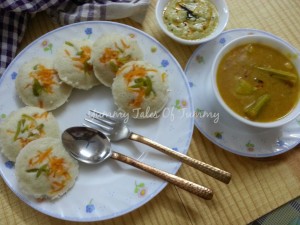 Barley/jau idlis recipe with step by step instructions.Idli is the first dish that comes to mind when one thinks of South Indian cuisine.
It's easy-to-digest and wholesome dish is perfect to have at any time of the day, for breakfast, evening snacks or dinner.
Barley Idli is a modified version of this traditional dish, which uses a batter of barley, rice and urad dal.

Barley is a major cereal grain, commonly found in bread, beverages, and various cuisines of every culture.
Barley and other whole grain foods have rapidly been gaining popularity over the past few years due to the various health benefits they can offer.
Barley is a wonderfully versatile cereal grain with a rich nutlike flavor and an appealing chewy, pasta-like consistency. Its appearance resembles wheat berries, although it is slightly lighter in color. Sprouted barley is naturally high in maltose, a sugar that serves as the basis for both malt syrup sweetener. When fermented, barley is used as an ingredient in beer and other alcoholic beverages
The Oomugi which are barley grains were sent to me by @GoIndiaOrganic for Belly Nirvana programme through @Plattershare.
As i have never worked with barley so this was a challenge for me to incorporate it and make something interesting with it.
It looks like rice. It has numerous health benefits like it is rich in fiber, helps in losing weight, lowers cholesterol, promotes healthy blood sugar levels and reduces the risk of cardiovascular diseases.
It gives great health boost when added to our daily meal. This grain can be added to rice or roti and one can not realise the presence of barley while consuming all the health benefits of the super grain.
Though it is not as famous as oats or quinoa but it's numerous health benefits will surely compell you to pick this super grain.
On the safer side i begin my association with barley by adding  this into idli batter and to my surprise no one even came to know that barley grains have been added to it.
Soaking time: 2 hours
Preparation Time: 10 min             
Fermenting time: 4 hours
Cooking Time: 30 mins.
Makes 25 idlis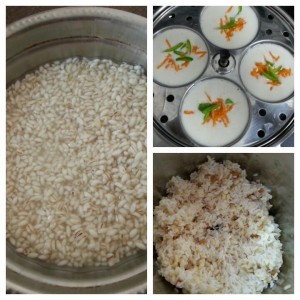 Ingredients
1/2 cup barley (jau)
1 cup parboiled rice
1/2 cup urad dal (split black lentils)
1/4 tsp fenugreek (methi) seeds
salt to taste
1/2 cup chopped and boiled mixed vegetables (carrot and capsicum)
Eno fruit salt 1/2 tsp
For Serving
sambhar & coconut chutney
Method
Wash and soak the parboiled rice, urad dal and fenugreek seeds in a deep bowl in enough water for 2 hours. Drain and keep aside.
Wash and soak the barley separately in a bowl in enough water for 2 hours. Drain and keep aside.
Combine the parboiled rice, urad dal, fenugreek seeds and and barley in a mixer to a smooth paste using little of water.
Transfer the paste into a bowl, add the salt and mix well.
Cover it with a lid and keep the batter aside to ferment for 4 hours.
After fermentation, mix the batter well once again. Now add eno. Mix well.
Grease the idli moulds with a little oil and pour spoonfuls of the batter into each of the idli moulds.
Sprinkle a few mixed vegetables over each idli.
Steam in an idli steamer for 15-20 minutes or till they are cooked.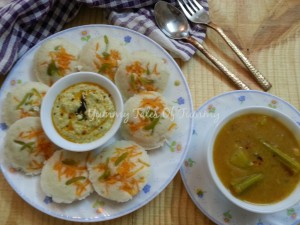 Serve hot with Sambhar & coconut chutney.