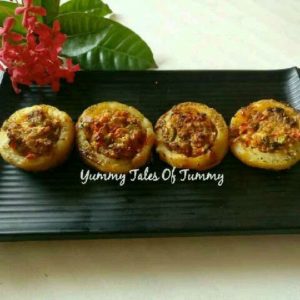 Today I am sharing a very cute, attractive and tasty, baked potatoes cheese rings loaded with veggies and paneer. I have earlier shared the similar recipe of Cheesy Discs here.
This is my innovation with potatoes as it's universal favourite with everyone.Cheesy potatoes  discs stuffed with mix vegetables, ketchup, spices and cheese and then baked in oven till golden.
A delight to behold and a greater delight to bite into, Cheesy potatoes & vegetable Discs make a fabulous, eye-catching starter for any party or a power packed evening snack for children.
With two discs of potatoes seated one above the other, layered with tangy sauces and topped with a yummy, cheesy vegetable mixture, this baked snack is just too exciting.
You will experience a burst of flavours and textures when you bite into it, so be prepared for a thrilling experience.
Serve cheese rings hot with tea or coffee
Here is how to make cheese rings recipe with potatoes. Do try this out!
Preparation Time:  20 Minutes
Cooking Time: 40 Minutes
Servings: 4
Ingredients :
Big size potatoes par boiled 4
For filling :
Cottage cheese/paneer 25 grams
Chopped onions 2 tsp
Chopped green bell peppers 2 tsp
Deeseeded tomato 1/2 piece
Grated processed cheese 2 spoons
Salt to taste
Black pepper powder 1 tsp
Oregano 1 tsp
Chilli flakes 1 tsp                                    Tomato sauce 2 tsp
To make spread 1 :
Butter 2 spoons
Tomato sauce 1 spoon
Grated processed cheese 2 spoons
Spread 2 for potatoes while baking :
Butter 1 tsp
Pizza masala 1 tsp
Method :
Par boil 4 big sized potatoes with salt, in pressure cooker. Cool and peel it. Cut in thick pieces horizontally.
Now we will need two round shape cookie cutters, one big and one small.
With big sized cookie cutter, make 8 roundels of potatoes.
From these 8 big roundels, keep 4 roundels separate.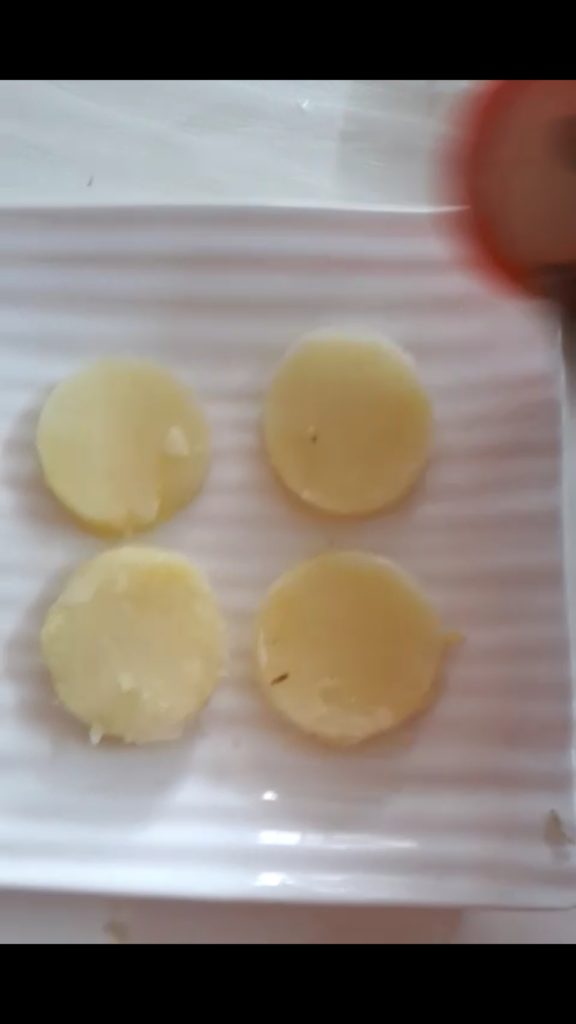 With remaining 4 big roundels, cut roundels again with small cookie cutter.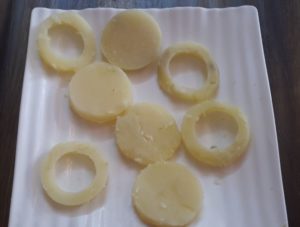 That way you will make 4 rings out of it, which you will be using on 4 pieces of potato roundels which are kept separate earlier.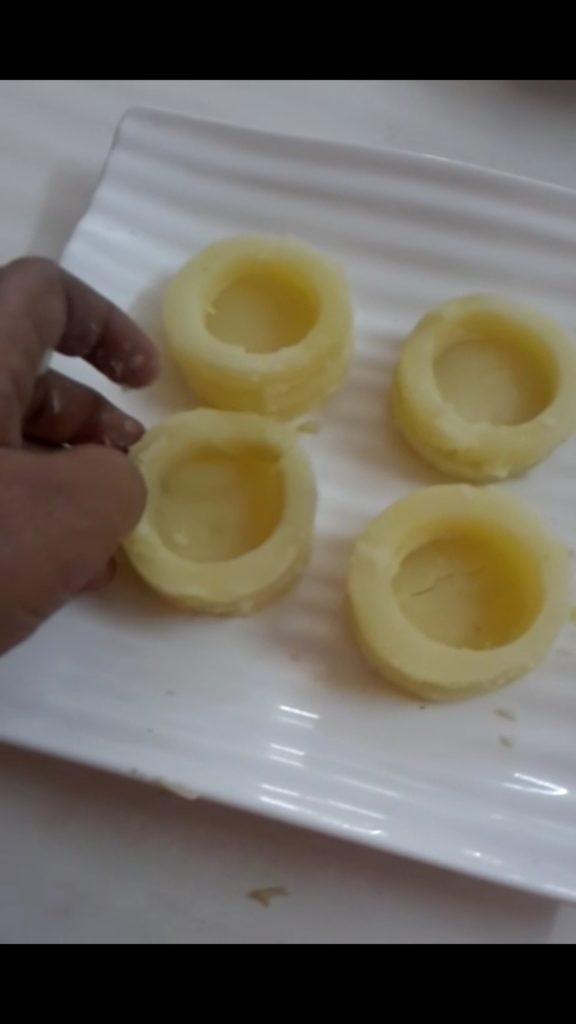 For making filling :                                               in a bowl mix everything together given under the list of filling ingredients.
For making spread 1 :  Mix Butter, Tomato sauce  and Grated processed cheese tohether. Spread is ready.
Now take a baking tray. Lay a parchment paper over it. Place 4 potato roundels on it. Brush spread number 1 over potatoes. Now place 4 rings of potatoes over spread. In the cavities place filling with spoon carefully.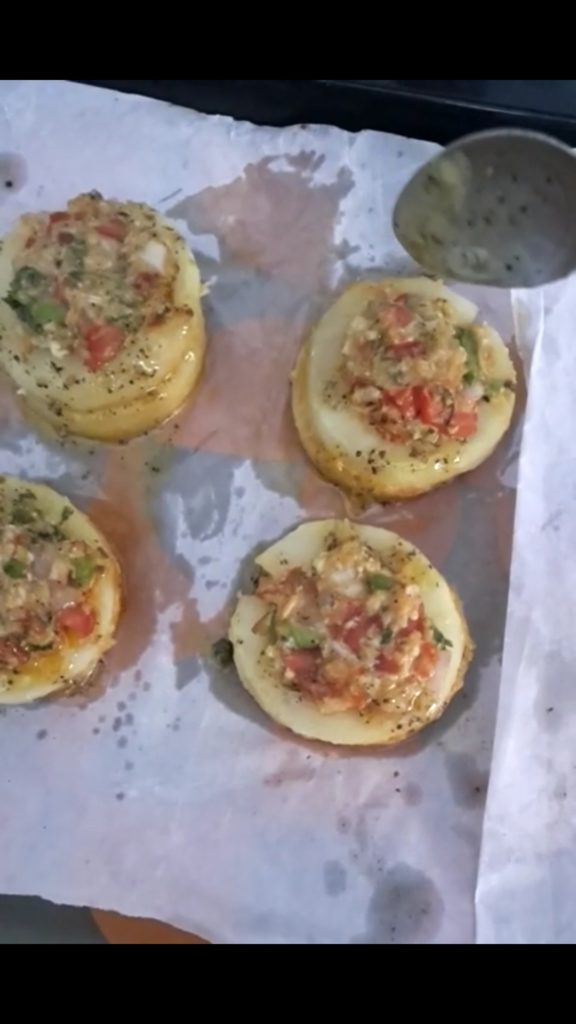 Bake it in a preheated oven at 180 degrees for 10 minutes first.  After 10 minutes remove it from oven and brush with Spread number 2 for potatoes while baking (Butter 1 tsp + Pizza masala 1 tsp).
Again place the baking tray back and bake at 200 degrees for 20 more minutes. In between I increased the temperature at 250 degrees for 5 to 7 minutes and went back to 200 degrees again. Bake till potatoes turn golden brown. Serve hot.
Video recipe in Hindi 👇